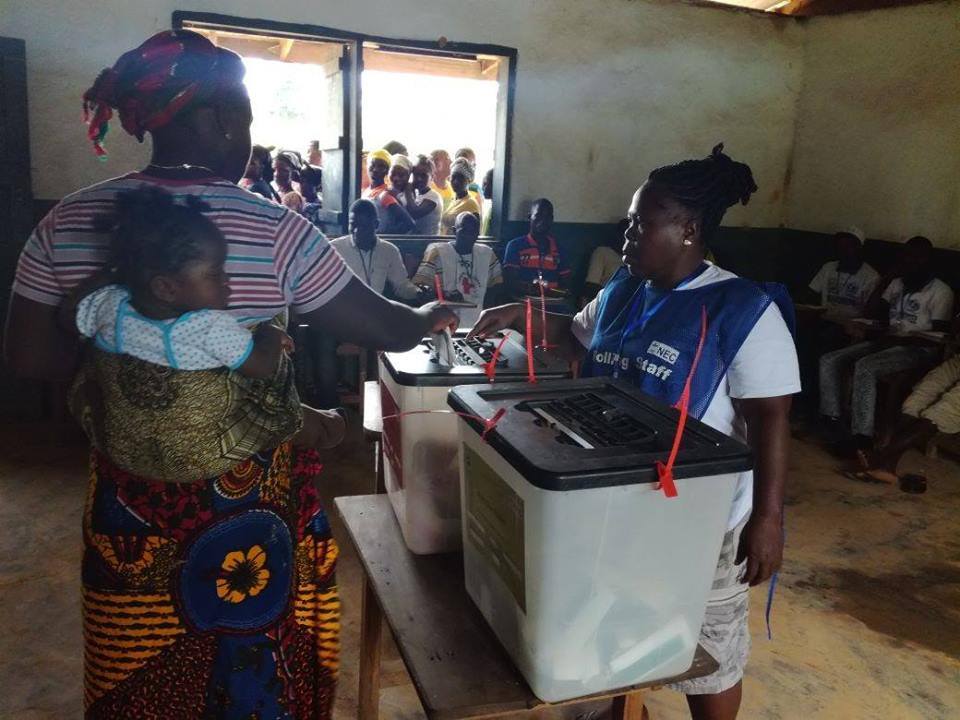 Gbarpolu County – The Region Two Coordinator of the National Elections Commission (NEC), Paye M. Toekpei has admonished electorates to be committed to their many recommendations in the future.
He made the assertion on May 17, in Henry Town at a Community Media Forum (CMF) organized by the Female Journalist Association of Liberia (FeJAL) with support from Internews with funding from USAID. The CMF aims to generate public discourse about Liberia's electoral reforms issues where citizens can make suggestions.
Participants at the forum made multiple recommendations on key electoral reform issues.
Mayanmu Tawalay wants the tenure of senators to be reduced from nine to six years and Representatives from six to four years.
"Let the six years be dropped down to 4 years and nine years to 6 years, let it be a law," said the Paramount Chief of Korninga Chiefdom in Bopolu Administrative, Karfa Manjoe.
"Our roads are not good, if we have elections during the rainy season, more people will not be voting, so let us change it to December in the dry season," suggests Musu Massaquoi, a female who was one of the panelists during the forum.
"I want the election time to be December," added Fatu Tulay, who spoke at a CMF in Henry Town.
For Moses Binda, a youth leader of Korninga Chiefdom, he wants the elections to be held in the second week of December every election year.
Several others suggested the establishment of a special tribunal to try cases of elections disputes instead of the current judicial power vested in the elections commission. They also suggested a law to ban current elected lawmakers from contesting in by-elections in the country.
A Panelist at the Bopolu forum, Olu Nangba said, "We cannot continue running our country like this, let us restrain our lawmakers from contesting in by-elections by making a new law for that."
Another panelist, youth leader Archibald Dean, supports the ban on sitting lawmakers from contesting in by-elections in the country.
These suggestions are similarly been expressed by other Liberians and subsequently recorded at other forums held across the country. Several other CMFs are being conducted by the Liberia Media for Democratic Initiative (LMDI) as part of the CLEAR project.
Meanwhile, the NEC official says his statement is to advise people in the county about their responsibility during future electoral reform exercise in the country.
"So, all the time or things you say it must be changed, we will put it in the law and bring it to you people," he added.
According to him, recommendations from Liberians on electoral reform issues are to enhance Liberia's democratic system are not yet law:
He said, "We will put it (recommendations) in what they called an election, the referendum is an election but only that you voting for issues and ideas."
"We would say do you want the current election date to be changed from October to December. YES or NO?
"Plenty of you will say no, so, it's left with you people to transform your recommendations into laws."
Report by Henry B. Gboluma, Jr. / henryv2030@gmail.com

The claim is rigorous and the content is demonstrably true.
The statement is correct, although it needs clarification additional information or context.
Evidence publicly available neither proves nor disproves the claim. More research is needed.
The statement contains correct data, but ignores very important elements or is mixed with incorrect data giving a different, inaccurate or false impression.
The claim is inaccurate according to the best evidence publicly available at this time.
Upon further investigation of the claim, a different conclusion was determined leading to the removal of the initial determination.
A rude, disrespectful, or unreasonable comment that is somewhat likely to make you leave a discussion or give up on sharing your perspective. Based on algorithmic detection of issues around toxicity, obscenity, threats, insults, and hate speech;