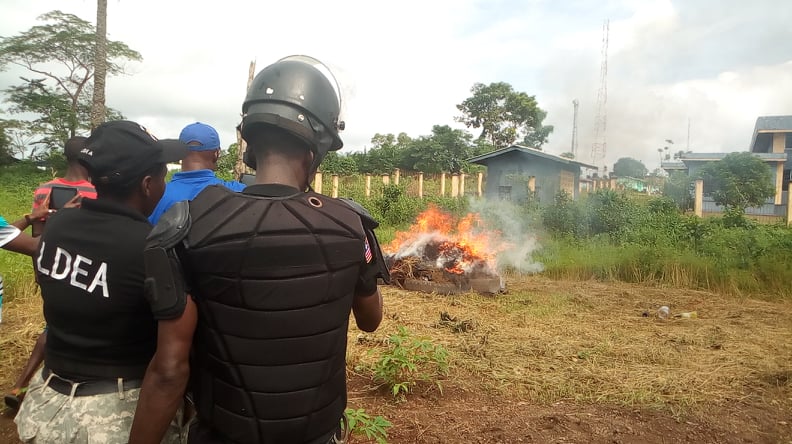 ---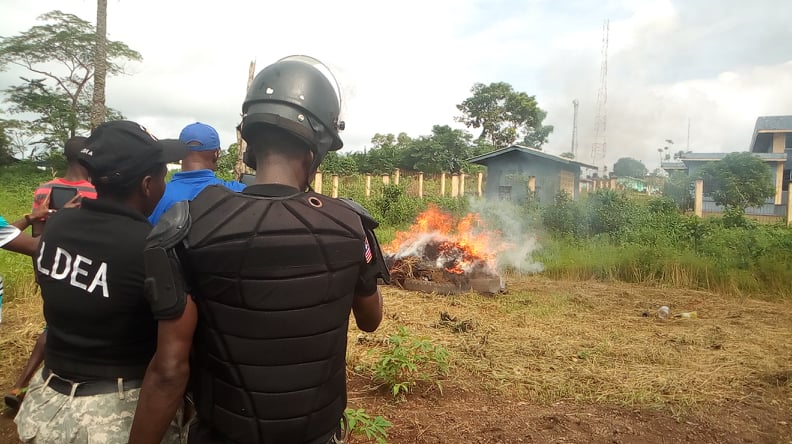 ---
Bopolu; Zwedru – The Liberia Drugs Enforcement Agency's detachment in Grand Gedeh and Gbarpolu County have received praises for combatting narcotic substances in the two counties.
The commendations came in droves on Wednesday, June 26 as the world celebrated International Drugs Day, as Liberians and LDEA observe the day throughout the country.
In Gbarpolu County, locals rained praises on the LDEA for its continue fight against narcotic substances in the county.
Over L$1.8 million wealth of narcotic substances were burned in the Gbarpolu County, according to the LDEA county commander, David Togba.
Togba said officers of the LDEA assigned across the county seized the necrotic substances in 2018 and 2019 in Bopolu City, Gbarma District, Bokomu and Guo Nwolola Districts.
---
---
"With your support, today we are burning 145kg of Marijuana with a street value of L$1,017,900 and 8-tube Heroin that cost L$464, 100.00. Also, 44 kg of Cocaine at the estimated cost of L$351,000.00 will all be destroyed right in your presence," the LDEA boss said.
Later, many who witnessed the drugs burning exercises described its as "a deterrence" to drug users in the county.
"This is the kind of exercise that brings deterrent to those who find interest in taking in drugs," says the CSO secretary of Gbarpolu, Alfred B. Scott
For another resident of Bopolu City, Sylvester Varmah said, "I would like to tell the LDEA commander thank you for what they have demonstrated here this morning."
He said, "Because these drugs issues giving our young people a hard time in the community, it makes some of them not going to school. In fact, once they take it in harmful drugs, they cannot go to school again.
"To my fellow youth, please stop drugs abuse; it is not good for our health," Bowel Nelson, a youth who attended the exercise, said.
Rev. Moses D. G. Tokpa, also a resident of the city, lauded the efforts of the LDEA that resulted in the seizure of the "huge quantity of harmful drugs."
"I want to also inform our young forces (people), if you continue with drugs, you will be destroying your future," said Rev. Tokpa
"Burning all these drugs today, for me I think is the beginning of the fight against drugs abuse in this county. So, LDEA. Thank you, we will help you to save our communities by not hiding drugs users," added Madam Bendu Jah, president of the Rural Women group in the county.
Making remarks during the event, the County Inspector Edwin Davis expressed support for the LDEA agents and described their work as "great steps taken towards the drug fight in the county."
Inspector Davis added that "Liberia wants citizens that she can rely on for the future".
"If youths are involved in drug abuse today, [this] means that Liberia is not going to build the way we want it to be."
He urged the communities to join the fight against necrotic substances in the country; adding, "Wherever you are living in Gbarpolu and the country at large if you see anybody with harmful drugs please let the LDEA know so that they can go there and seize it to help move our country forward."
More Drugs Burned In Grand Gedeh County
---
---
Meanwhile, LDEA Grand Gedeh County detachment has destroyed 426 kilograms of marijuana, Cocaine, and heroin on Wednesday, June 26.
The burning exercise was held north of Gamboe-Zwedru highway about 5 kilometers away from Zwedru, the county's capital.
the county commander Octavius Manning said another 28 kilograms of drugs could not be destroyed due to cases that are pending at the Zwedru Magisterial Court.

He named James Totoe, 32; Agnes Manneh, 45; and a lady identified as Pauline,37; are defendants in cases that are awaiting trial.
The total street value of the drugs burned is put at US$40,430.00 and L$$6,462,728.
LDEA official said the drugs were arrested from various checkpoints and other entrances of the county especially from the way of Nimba County.

Zwedru city Mayor Cecelia Jolo thanked LDEA and citizens of the county for working collaboratively to tackle drug use and trafficking.

"Since I have been witnessing the burning of drugs, when I was not even a city mayor, today has amazed me most, because this is the very first time to see the LDEA making such a hugged quantity report on marijuana, Cocaine, and heroin been arrested," Mayor Jolo said before the drugs were set ablaze.

---
---
"It has never been in this county, this means that you are working harder in my city and county as a whole, I must applaud for your hard work."

Nancy Quiah, a 40-year-old resident of Zwedru, also applauded the LDEA but stressed that more needs to be done in the anti-drugs campaign in the county.
 
"You cannot say you want to fight drugs war when farmers in Liberia are planting, or growing marijuana," she said. "So I think what the government should be thinking of doing now is to move on those that are planting marijuana in our country. If the government does that, I think they will be moving in the right direction."
 
It can be recalled early this month the LDEA in the county raided several farmers in Boe-Town, Cavalla District of Grand Gedeh County.
Report : Henry B. Gboluma In Gbarpolu and Ben T.C Brooks in Grand Gedeh County

The claim is rigorous and the content is demonstrably true.
The statement is correct, although it needs clarification additional information or context.
Evidence publicly available neither proves nor disproves the claim. More research is needed.
The statement contains correct data, but ignores very important elements or is mixed with incorrect data giving a different, inaccurate or false impression.
The claim is inaccurate according to the best evidence publicly available at this time.
Upon further investigation of the claim, a different conclusion was determined leading to the removal of the initial determination.
A rude, disrespectful, or unreasonable comment that is somewhat likely to make you leave a discussion or give up on sharing your perspective. Based on algorithmic detection of issues around toxicity, obscenity, threats, insults, and hate speech;