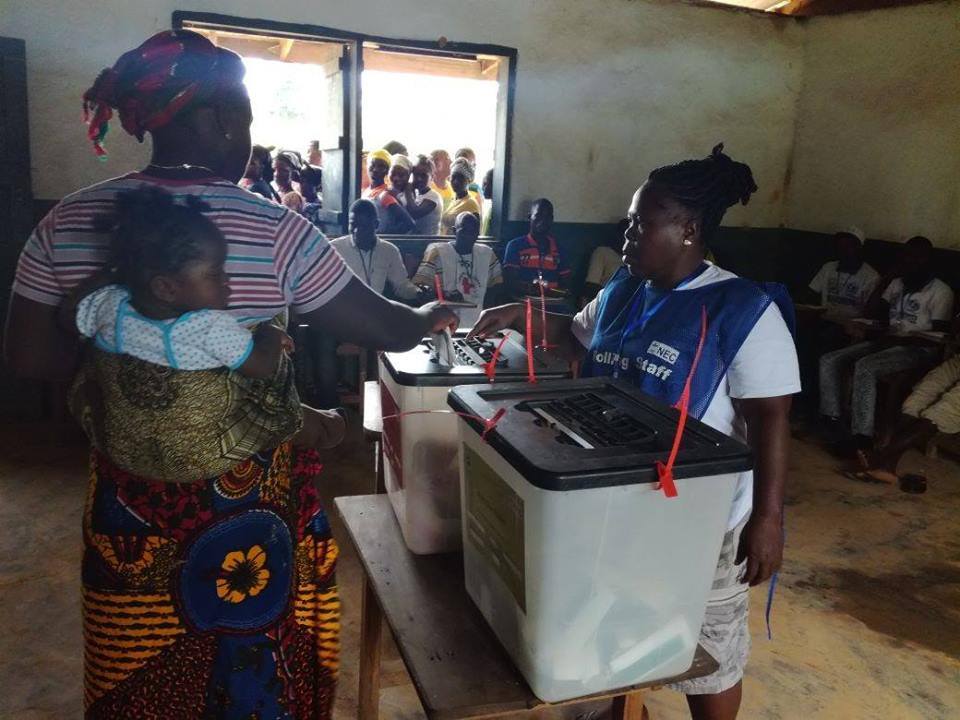 Bopolu City– The ongoing efforts aimed at reforming Liberia's electoral laws could enhance national social cohesion, good governance integration, according to some local leaders of Gbarpolu County.
These local leaders were responding to a LocalVoicesLiberia inquiry: how is election reforms timely for national social cohesion and integration?  
Their opinions were expressed in separate interviews at the end of a two-day workshop organized by the Liberia Peacebuilding Office on July 2 held in Bopolu City.
The district commissioners, clan and paramount chiefs of the six administrative districts described citizens inputs in the electoral reform process at various community media forums across the country as "cogent and timely suggestions".
"I was part of a forum here, where we talk about how our elections law is somehow not effective," says Mulbah Manneh, commissioner of Belle District.
"Because the constitution says there should be elections for local leaders like clan chiefs and paramount chiefs but that is not taking place."
Commissioner Manneh added: "Our election laws need to be look at carefully to address some of the small-small confusion about local leadership in this country."
An institution like the National Elections Commission (NEC) needs to be strengthened, adds Anthony Yarsiah, Bokomu District Commission.
"Yes, if our elections laws are smart and active, it will help to reduce some of the possible confusions that always threatening our elections in this country." 
He added that timely amendment of the elections laws will enhance the ongoing peace in the country.
For the Clan Chief of Bondi-Mandingo Clan, in Bopolu District, "If chiefs must be respected again, then, chiefs must be elected".
Norgbor Mawolo stressed that "since that seems to be hard, we need to quickly work on that part of the law that says chiefs [should be] be elected so that chiefs proud and dignity shall be restored."
Article 56 of the 1986 Constitution of Liberia states that there shall be elections for paramount, clan and town chiefs by the registered voters in their respective localities, to serve for the term of six years. They may be re-elected and may be removed only by the president for proved misconduct.
However, there have not been any elections for decades and many chiefs in Gbarpolu County say this is not helping social cohesion and integration in rural communities.
"If we are talking about social cohesion and integration, or working together peacefully in our communities and the country at large I think leading to the electoral reforms is timely and we need to do it to build trust in our electoral system," says Alfred O. Bah, Commissioner Gbarma District. 
Commissioner Bah says reforming the laws governing elections matters would remove factors that trigger to conflicts, adding "We need these reforms to reduce some tension during future elections."
"Because if our electoral laws [are] not responding to the Liberians people, then it means that there will always be some confusion during the electioneering period, which is not good for us."


The claim is rigorous and the content is demonstrably true.
The statement is correct, although it needs clarification additional information or context.
Evidence publicly available neither proves nor disproves the claim. More research is needed.
The statement contains correct data, but ignores very important elements or is mixed with incorrect data giving a different, inaccurate or false impression.
The claim is inaccurate according to the best evidence publicly available at this time.
Upon further investigation of the claim, a different conclusion was determined leading to the removal of the initial determination.
A rude, disrespectful, or unreasonable comment that is somewhat likely to make you leave a discussion or give up on sharing your perspective. Based on algorithmic detection of issues around toxicity, obscenity, threats, insults, and hate speech;