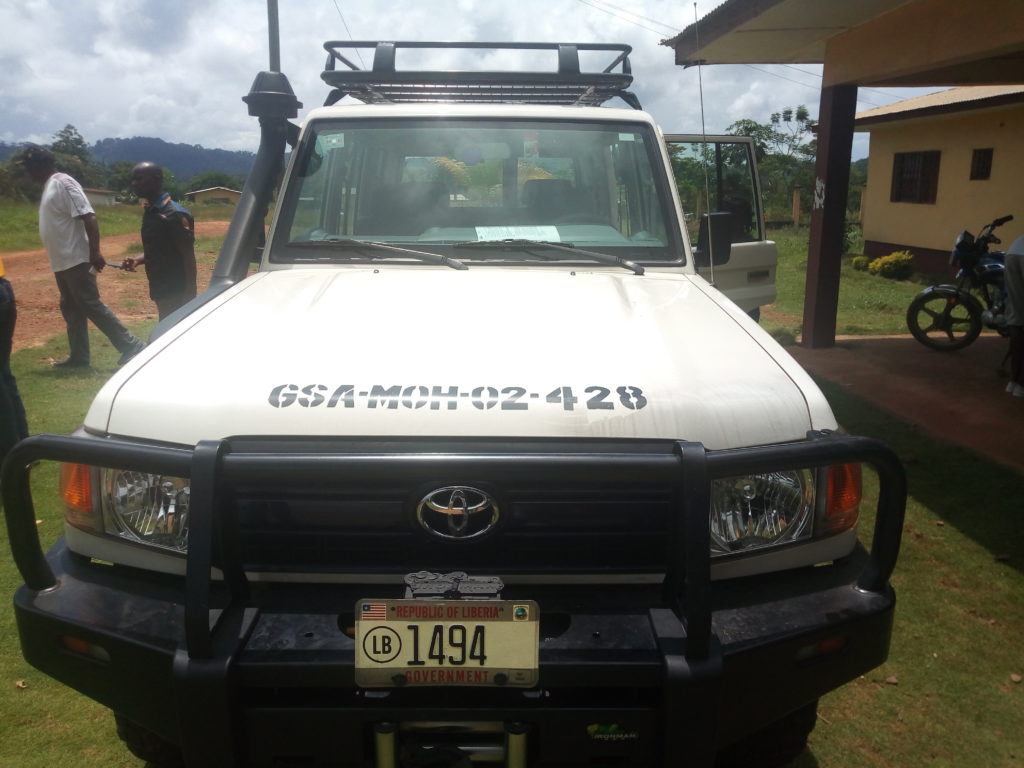 Bopolu City – The Gbarpolu County Health Team has received a new vehicle from World Bank through the Ministry of Health to boost the health care delivery system across the five health districts of the county.
Officials of the MOH officially turned the new four-door white jeep over to the health team through the Ministry of Internal Affairs.
Dr. Musa Zwannah, health officer of the county, delivered the keys of the vehicle to the county superintendent, telling him that it will enhance the Performance-Based Financing (PBF) unit at the MOH through the Minister of Health to the county to be used for supervision purpose.
"You've been the Chairperson of the County Health Board, we have therefore come to present to you this keys here of the vehicle that will be used to maintain the supervision in the county health team by the PBF unit."
"We want to say on behalf of the county leadership, we are very thankful to the PBF team and the World Bank for this great donation," says the Assistant Superintendent for Development of Gbarpolu County, Hon. Joseph Akoi said although the entire county is struggling for transportation; however, it is good and timely for the county health team to have a means of transportation.
He later returned the keys to the county health team.
"With no time to waste, I want to turn these keys over to the authority of the county health team; we pray that this vehicle will be used for its purpose".
"Please use it to please the donor and to meet their intent so that at least tomorrow we can be able to ask for another one."
Speaking to LocalVoicesLiberia after receiving the keys, the Gbarpolu county health services administrator, Mr. Desemond Campbell, added the vehicle will enhance the health care delivery system across the five health districts.
"This donation is timely because almost all our vehicles are down; it is the only one we have for our movement. So, with the addition of this one car, we must say thanks to the government and partners."
Mr. Campbell explained the Performance-Based Financing of PBF as a special program under the MOH, pushing healthcare providers to work harder towards meeting set target at a particular time.
"So is very good, we are grabbing the concept gradually and getting results and rewards as well," said the county health services administer.
Desmond Campbell also disclosed that the county health team would be maintaining the vehicle until they can get donor support.