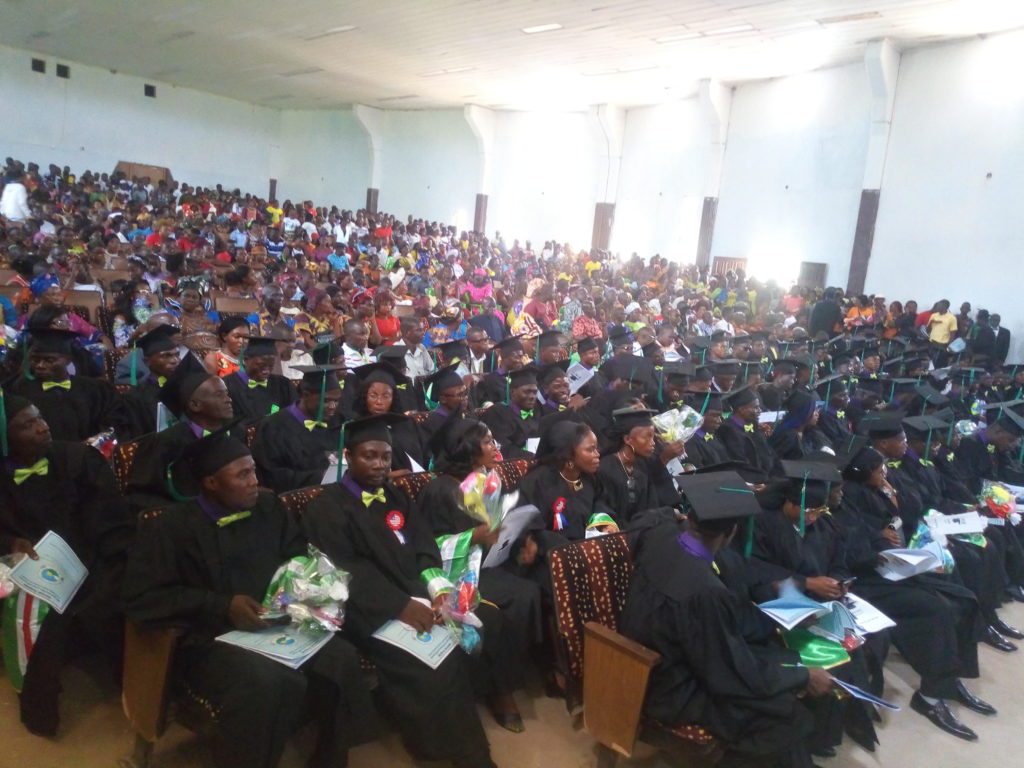 Zwedru – Grand Gedeh County Community College has held its 3rd commencement convocation with 102 Liberians and foreigners obtaining associate degrees in different field of studies.
The ceremony was held on Saturday, July 13, in the Zwedru City Hall and was graced by many national leaders, the county Legislative Caucus, presidents and vice presidents of universities and community colleges of Grand Bassa, Nimba, and Maryland Counties.
University of Liberia's Vice President for administration served as a commencement speaker and told the graduates that tackling poverty in Liberia will require the achievement of quality education.
Madam Weade Kobbah-Boley said the country's current illiteracy rate stands at 70%, which indicates that over three million Liberians cannot read and write beyond fourth grade.
She noted that all is happening in the 21st century although Liberia has subscribed or signed conventions for free universal public primary education for all.
The UL Vice President for Administration said Liberia's failed to meet the benchmarks for the Millennium Development Goals (MDGs) while expressing skepticism about the country's ability to achieve Sustainable Development Goals (SDGs).
The veteran Liberian educator said, "strategies in poverty reduction cannot be successful if poor people continue to remain uneducated, untrained, unskilled and unemployable".
At the same time, she described education in the southeastern part of Liberia as "elusive", stressing that the region is the least attractive for educational assignment.
Madam Boley, who started her education in Grand Cess in Grand Kru County, recounted that many parents, at the time, had not profited from schooling and could only dream of the benefits to be derived from formal education. By so doing, she said, they were encouraged as students to listen to their parents embark on their education sojourn.
For his part, the President of the Grand Gedeh County Community College said the College has made formidable progress in the area of enrollment, campus expansion and entrance exams among others.
Dr. Solomon X. Y Jallayu said enrollment at the college is high especially in the health sciences department with many students having the desire to pursue a career in nursing.
At the same time, the college president disclosed plans to upgrade the education department to a full bachelor degree level but added that it would require the support of all Liberians and Grand Gedeans [peope of Grand Gedeh County].
Forty-one persons obtained associate degrees in General Agriculture; 28 in Teacher Education of Mathematics and General Science, Social Studies and Language Arts; 16 in Business and Public Administration and Accounting, Management and Public Administration, five in Science & Technology of Geology; four in Divinity and eight n Public Health.
Grand Gedeh County Community College was established in 2010 by an Act of the 52nd Legislature of the Republic of Liberia, as a College; published and approved on April 22, 2011, with the objective of primarily serving residents and the local community of Grand Gedeh County.
The College began regular academic activities in 2013 and has since held two successful commencement convocations.

Report By: Ben T.C. Brooks In Zwedru, Grand Gedeh County


The claim is rigorous and the content is demonstrably true.
The statement is correct, although it needs clarification additional information or context.
Evidence publicly available neither proves nor disproves the claim. More research is needed.
The statement contains correct data, but ignores very important elements or is mixed with incorrect data giving a different, inaccurate or false impression.
The claim is inaccurate according to the best evidence publicly available at this time.
Upon further investigation of the claim, a different conclusion was determined leading to the removal of the initial determination.
A rude, disrespectful, or unreasonable comment that is somewhat likely to make you leave a discussion or give up on sharing your perspective. Based on algorithmic detection of issues around toxicity, obscenity, threats, insults, and hate speech;