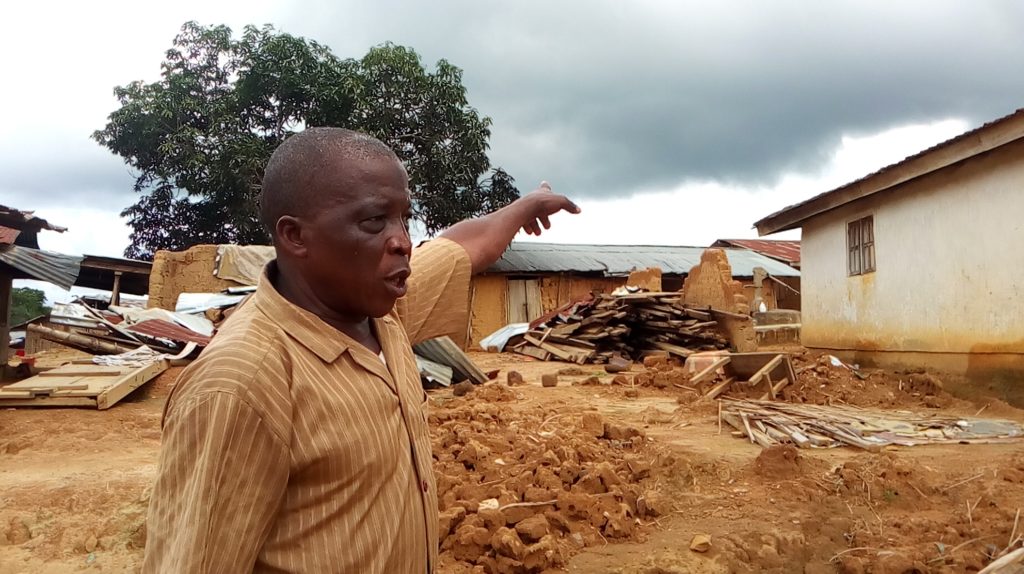 Bopolu District – Hundreds of residents of Henry Town in Gbarpolu County are now living at the will and pleasure of their friends and relatives after heavy rainstorm destroyed their homes.
The rainstorm hit 128 houses on the evening of June 25 and damaged 30 buildings, leaving 124 families, according to the office of the Bopolu District Commissioner, homeless.
Almost all the residents of this densely populated town are engaged in artisanal mining and petty trade for livelihood.
Presently, 889 people – 515 females and 374 males – are displaced. They are either squatting with relatives or friends in the same town, hoping for urgent intervention to put their lives back on track.
Henry Town is Bopolu District's main town, and it's about 33 kilometers away from the county's capital – Bopolu city.
Gayduo Beyan, a mother of three children, recalls the incident when she spoke to a LocalVoicesLiberia reporter explaining how she and her three-month-old baby narrowly survived the disaster.
"On that day, I was under my house and my baby was laying down next to the wall and the wind began blowing in the darkness," she said, adding that she could hardly see and no one was around to help.
"So, I started looking for my baby and God help me I found her and I just parked the clothes along with her and put her under my arm.
"While on my way coming outside with my baby, the storm lifts up the whole roof of the house and sent it on the other side; the zinc came and tear [injured] my right arm, and I later paid L$2,500 for my treatment."
Also, Kporpo Davids, a mother of seven, also lost her home to the storm.
"Now, I am at my uncle place but I am not happy to be living in my uncle house because I get [have] plenty [many] children," she said.
Musu Dukuly, another mother, is "feeling so bad" about the condition of her home ever since the storm hit. Her entire house was not damaged but was parts of its roof was ruined.
"When it's raining, water can be wasting [pouring down] on me. But no other place to go live, so I just patched it, my children and I are living inside," she laments.
Stanley Yommie, who is the leader of the Gio community, says he was constrained to relocate his family to a nearby village after "my entire building broke down."
Aid workers have been taking statistics of the disaster, recording the names of victims as a means of sourcing help but help is not yet on its way.
This situation was highlighted at the monthly county security council meeting in Bopolu City on July 18 by the Bopolu District Commissioner, Alvin S. Kanneh.
But a county official warned that "At the county level, not much we can do" while promising the administration will "elevate it [situation] to the National Security Council for immediate redress if possible".
Varney Kpeh, who is the general town chief of the Town, says his home is now a refuge for many people affected by the storm.
"The situation is embarrassing our people; so, we will keep asking people to help us," Kpeh says.
Reechoing the town chief's plea, Zoeokor Kolubah, who is the women leader of the town, added, "We're just asking the government to help us. The women and their children are sleeping from place to place."
Report by Henry Gboluma / henryv2030@gmail.com


The claim is rigorous and the content is demonstrably true.
The statement is correct, although it needs clarification additional information or context.
Evidence publicly available neither proves nor disproves the claim. More research is needed.
The statement contains correct data, but ignores very important elements or is mixed with incorrect data giving a different, inaccurate or false impression.
The claim is inaccurate according to the best evidence publicly available at this time.
Upon further investigation of the claim, a different conclusion was determined leading to the removal of the initial determination.
A rude, disrespectful, or unreasonable comment that is somewhat likely to make you leave a discussion or give up on sharing your perspective. Based on algorithmic detection of issues around toxicity, obscenity, threats, insults, and hate speech;