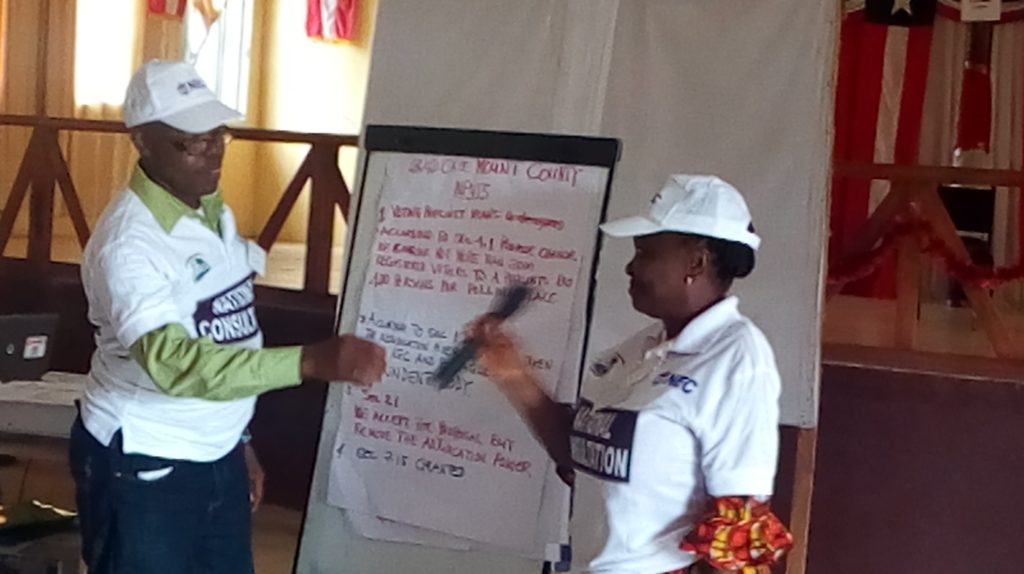 Tubmanburg – Participants, who represented Grand Cape Mount County, at a just-ended two-day electoral reform consultation in Bomi County have recommended increment in the number of registered voters per precinct during elections.
They made the recommendation at a regional electoral law reform workshop organized by the National Elections Commission (NEC) held from July 23- 24 in Tubmanburg.
The 30 participants from Gbarpolu, Montserrado and Bomi counties, speaking through the head of their delegation, Alex Baluagreed, called for an increment from 2,000 voters per precinct to 3,000.
Chapter four of the new elections law states that the number of registered voters per precinct shall be approximately equal, and unless the Commission in any particular case so determines, the number of registered voters in any precinct shall not exceed 2,000.
But the delegation from Grand Cape Mount County said proposed figure should form part of reform issues for the country's election laws.
They claimed that the change would help people in populated communities register in their communities and would also avoid people traveling long distences to vote.
"When the number is three thousand, it will be a win-win exercise for the people and NEC workers. Because populated communities will register right in their areas and NEC workload will be concentrated in a few towns," said Balu.
"This will even help more people to register because you can be registering to a place, and when more people are coming to register and you tell them we have reached 2000, please go to the next center. That alone will make some of them not to register, so let us increased it please."
Even though the law is not clear about the number of voters per polling place, NEC has been assigning 300 voters per polling places in past elections.
But this time around, the delegates from Grand Cape Mount have also suggested a change in figure per polling place.
"Since we already suggested about the prescient, we also want 400 voters per voting place," Balu said.
"We cannot just leave the polling place opened that way, we must attached number so that everyone can know how many voters supposed to be voting at every prescient."
They believed when the number is fixed, it would be easy to detect any addition of voters.
According to the electoral law, polling places shall have separate compartments to protect each voter from observation whilst making his or her ballot papers and each polling place shall be provided with a transparent ballot box or boxes, which can be sealed.  
Report By: Foday Sesay in Bomi County


The claim is rigorous and the content is demonstrably true.
The statement is correct, although it needs clarification additional information or context.
Evidence publicly available neither proves nor disproves the claim. More research is needed.
The statement contains correct data, but ignores very important elements or is mixed with incorrect data giving a different, inaccurate or false impression.
The claim is inaccurate according to the best evidence publicly available at this time.
Upon further investigation of the claim, a different conclusion was determined leading to the removal of the initial determination.
A rude, disrespectful, or unreasonable comment that is somewhat likely to make you leave a discussion or give up on sharing your perspective. Based on algorithmic detection of issues around toxicity, obscenity, threats, insults, and hate speech;