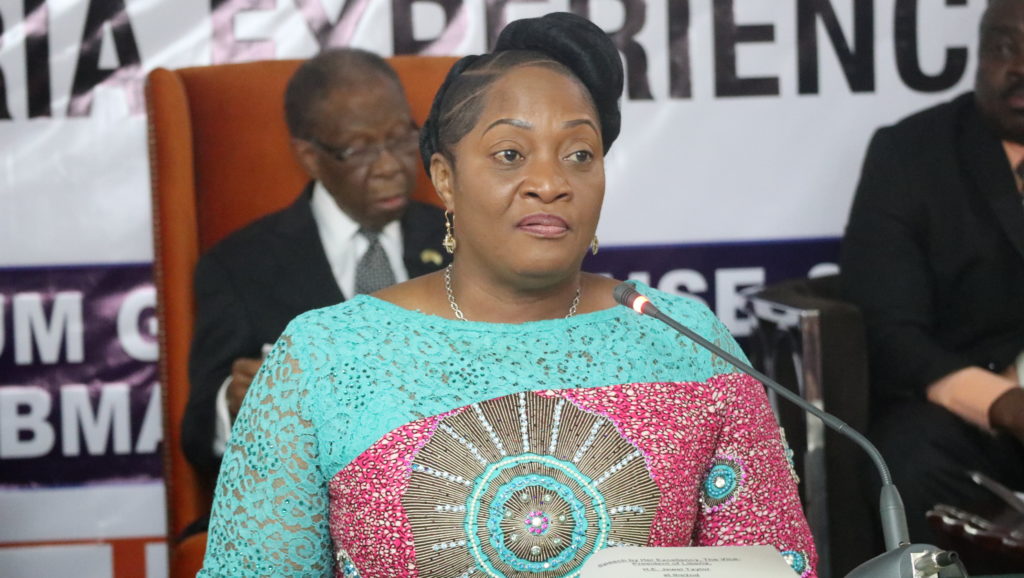 Bong County – Liberia's Vice President Jewel Howard Taylor has called for the establishment of a special bureau to deal with civic and voter education including the conduct of door-to-door outreach to carefully educate voters.
VP Taylor wants the responsibility taken away from the National Elections Commission (NEC) and given to the special bureau.
This will increase public participation in elections and ensure voters exercise their democratic rights, especially women, youth, elderly, and persons with disabilities, she said.
High level of public knowledge on voter rights, the election process, and election administration is also critical to a peaceful and credible election, she added.
VP Taylor made the comments while in conversation with a Local Voices Liberia reporter recently in Senoyea District, lower Bong County, when she referenced section 2.(9), of the elections law which states that the NEC is mandated to create programs to inform the voters through sensitization as to why they should vote.
But she asserted that "NEC is overwhelmed with a lot of issues so there is a need for this bureau to be created in order to help the system".
"Civic and voter education is crucial to maintaining the political stability and long term consolidation of democracy in the country and create public confidence in key institutions," she added.
According to her, effective information dissemination is one of the pillars of democratic elections especially in post-conflict countries like Liberia where citizens' faith in the system needs to be reaffirmed because of the daunting levels of illiteracy and poverty.
"The democratic rights of electorates can only be exercised if they are properly informed about the benefit of deciding the next leader of the country through the ballot boxes," the former Bong County senator said.
VP Taylor said voter's civic education "normally becomes dormant" immediately after elections period.
"The success of any elections depends on the public's understanding of democratic principles and processes," she said, stressing that when the bureau is established it will help to instill "nationalistic and good governance in young Liberians" and pave the way for the society to bring up good leaders.
Meanwhile, Vice President Taylor has turned civil and voter education as significant to achieving democracy and good governance in Liberia.
Reported By: Emmanuel Mafelah in Bong County

The claim is rigorous and the content is demonstrably true.
The statement is correct, although it needs clarification additional information or context.
Evidence publicly available neither proves nor disproves the claim. More research is needed.
The statement contains correct data, but ignores very important elements or is mixed with incorrect data giving a different, inaccurate or false impression.
The claim is inaccurate according to the best evidence publicly available at this time.
Upon further investigation of the claim, a different conclusion was determined leading to the removal of the initial determination.
A rude, disrespectful, or unreasonable comment that is somewhat likely to make you leave a discussion or give up on sharing your perspective. Based on algorithmic detection of issues around toxicity, obscenity, threats, insults, and hate speech;