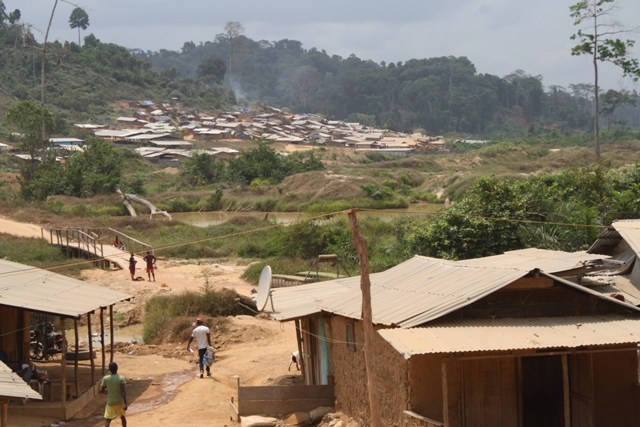 Grand Gedeh County – In 2016, 13-year-old Zee was a 7th grade student when his aunt persuaded him to move with her from Monrovia to a popular gold mine in Grand Gedeh County – located southeast of the country.
Zee [not his real name] was told that he was going to continue his education while helping his aunt to run her provision shop located in the densely populated gold mining community.
But when he arrived at the Clearance Valmont International gold mining camp, popularly known as CVI, life became different from what he expected. He was turned into an artisanal miner.
Now, he works every day in the mines and doesn't go to school any longer. This is a life the lad is bewailing and wants to move away.
"I want to go back to my big sister, who I was staying with and going to school in Monrovia, but since my aunt brought me, I can't hear from her again. I am tired doing hard work," laments Zee as tears roll down his red eyes.
"We worked sometimes from 7:00 in the morning to 12:00 in the night. Every day, I can be in the cold and this is making me sick."
Zee has asked his aunty about moving him back to Monrovia but she claims not to have money for transportation.
"Sometimes, she tells me that the road is bad and if I complain too much to her, she beats me".
"I feel like going back to school, gold mining is not a work for me to do. I am suffering, if I'm sick at time no good treatment and I don't even know my way out to go back to Monrovia," the 13 year old boy told a LocalVoicesLiberia reporter.
"I want to go back to my big sister, who I was staying with and going to school in Monrovia, but since my aunt brought me, I can't hear from her again. I am tired doing hard work." – 13 year-old Zee
In the mining camps of CVI, which is located in Konobo district, Grand Gedeh County represented at the Legislature by George E.S. Boley, thousands of Liberians and foreign nationals are engaged in artisanal mining.
There are three major camps: Head Quarters, Beleh Yallah and New Creek camps.  Several other small camps spread across the vast gold-rich area. Miners mostly use shovels and excavators to dig the precious metal. A gram of gold is now sold there for L$10,000, making many brokers to rush to the area.
The camps now host more than 15,000 people, who live in congested quarters at the foot of the Putu Mountain range, which is about 70 kilometers from the county's capitol, Zwedru.
Meanwhile, there are frequent concerns about child and sex trafficking in these mining communities. County authorities have been accused of doing little or nothing to further investigate these claims as there are visibly hundreds of sex workers in the area, some of whom are believed to be underage girls.
According to the Liberia's Trafficking Law of 2005, conduct that subject a person to practices similar to slavery, practices compelling or causing a person to provide force labor or services, and causing a person in be in a state of servitude including sexual servitude constitute trafficking in persons.
According to the U.S. Department of State 2019 Trafficking in Persons Report on Liberia, traffickers are also often well-respected community benefactors who exploit the "foster care" system.
On February 4, 2012 former Liberian President Ellen Johnson Sirleaf launched the Children's Law of Liberian, which aims at protecting children's rights. But many child rights advocates have called for more actions to protect children especially in communities where children are vulnerable.
Joseph Koryoure, CVI's Belleh Yallah camp master, says more than 40% of the miners in the area are underage boys and girls working in various camps.
He said some are heavily engaged into gold digging and selling. He, however, could not say whether the county authority has traced parents or how they were transported to these camps.
"As of January 2020 we are going to demand  the record of every child that enters the camp, because some of the children are selling around, some are doing mining, while their friends are in towns and cities going to school," said Koryour, who is also the head master of the three major camps within the CVI mining area.
Morris Wondee, Grand Gedeh County Child Welfare Officer of the Ministry of Gender Children and Social Protection (MOGCSP), also confirms to LocalVoicesLiberia that children make up over 40% of the population in these gold mining camps.
He alleged that some of them are being trafficked not only in CVI but other mining sites including Bentley, Bartajan and other satellite camps across the county.
"I have been holding talks with Grand Gedeh County Labor Commissioner about the situation of child labor and possible child trafficking at gold mining sites across the county," he said while assuring that his office will soon begin rigorous tracking of possible trafficking cases.
"As of 2020, we will be very effective in addressing the issues of child labor, sex slavery, and trafficking of our future generation just like the enforcement of SGBV cases in the county because our children are suffering."
Emmanuel Smith is the Lands, Mines and Energy inspector general assigned in CVI. Smith, who claims he recently assumed the post, plans to collaborate with various camp masters and the county authority to curb the influx of child miners.
For the Labor Commissioner, Randall Zulu, he has promised to work with partners in the county to identify suspected TIP cases. But he is worried that the lack of logistics is impeding his intent to investigate suspected human trafficking activities in the county.
"Since we took over… we have no logistics like car or motorbike to move from place to place to sensitize our people on the danger of TIP," Zulu said.
"I'm hoping to have donor partners as of 2020 to support us combat alleged trafficking cases."
Mr. Zulu and other anti-trafficking stakeholders in the county are the only hope 13-year-old Zee has to be rescued from his nightmare. But with the plethora of challenges they already faced, it seems he has to continue grieving.

The claim is rigorous and the content is demonstrably true.
The statement is correct, although it needs clarification additional information or context.
Evidence publicly available neither proves nor disproves the claim. More research is needed.
The statement contains correct data, but ignores very important elements or is mixed with incorrect data giving a different, inaccurate or false impression.
The claim is inaccurate according to the best evidence publicly available at this time.
Upon further investigation of the claim, a different conclusion was determined leading to the removal of the initial determination.
A rude, disrespectful, or unreasonable comment that is somewhat likely to make you leave a discussion or give up on sharing your perspective. Based on algorithmic detection of issues around toxicity, obscenity, threats, insults, and hate speech;