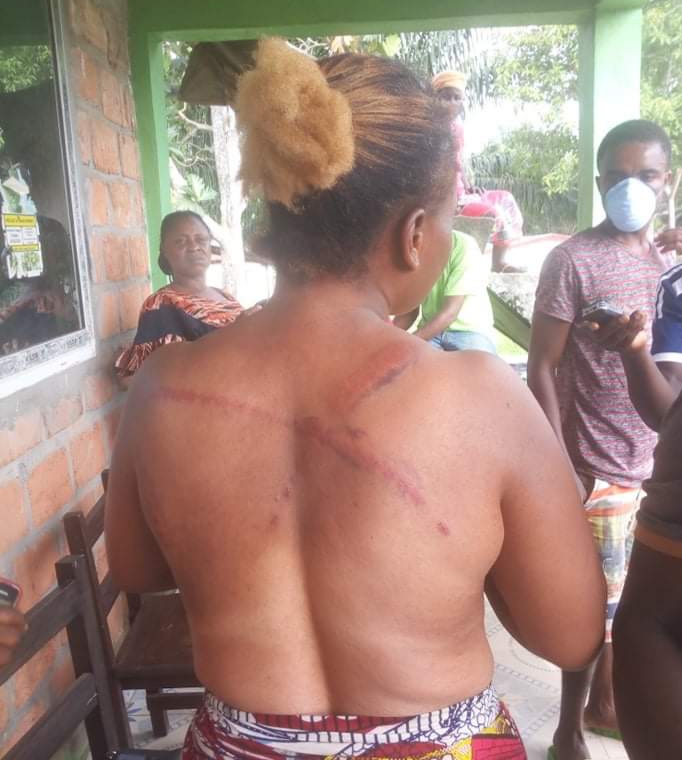 Zwedru – Five officers of the Liberia National Police have been turned over to the professional standard division of the Liberia National Police detachment in Grand Gedeh County for allegedly brutalizing a woman.
Patience Collins, 28, said she was put under gun point at about 11:00 pm on May 1 by the officers, forcing her to turn over everything she had in her house.
According to her, the officers made away with over L$250,000 and other valuables from her Telecom community residence in Zwedru.
"The officers came to my house and asked me to open my door and I said no, so they forcibly entered through the back door," explains Collins.
"When they entered, the first officer put the gun on my chest and said everything you having in this house give it to us and I told them I have nothing. That's how they started searching, while in the process [of searching] I was shouting and crying and two of them started beating me with wire".
Patience said the officers' later made away with cash that belonged to her and her in-law along with other valuables.
"So, while they were carrying my money and other valuable things, that's how I was crying behind them when they fired bullet in the air that hour of the night," she continued, adding that her "Neighbors were afraid to come out" after the shots were fired."
"They beat me and they beat on my son too with blood coming from in him like myself, this is not their first time coming to harass and assault me, and the last time when they came, they took away my motorbike, cooking utensils and burned my children and I clothes".
She denied selling banned substances as alleged by the police, adding that she sells food items like oil, paper, salt and rice.
When contacted, the county police commander, Joshua During, said the professional standard division will  investigate the incident.
The Independent National Commissioner on Human Rights officer and several women groups in the county have condemned the alleged police brutality.
They have called on the county authority for a speedy and transparent investigation into the matter.
However, the two independent groups said they have records of serval other human rights violations that have occured during this period of the Covid-19 lockdown.

The claim is rigorous and the content is demonstrably true.
The statement is correct, although it needs clarification additional information or context.
Evidence publicly available neither proves nor disproves the claim. More research is needed.
The statement contains correct data, but ignores very important elements or is mixed with incorrect data giving a different, inaccurate or false impression.
The claim is inaccurate according to the best evidence publicly available at this time.
Upon further investigation of the claim, a different conclusion was determined leading to the removal of the initial determination.
A rude, disrespectful, or unreasonable comment that is somewhat likely to make you leave a discussion or give up on sharing your perspective. Based on algorithmic detection of issues around toxicity, obscenity, threats, insults, and hate speech;