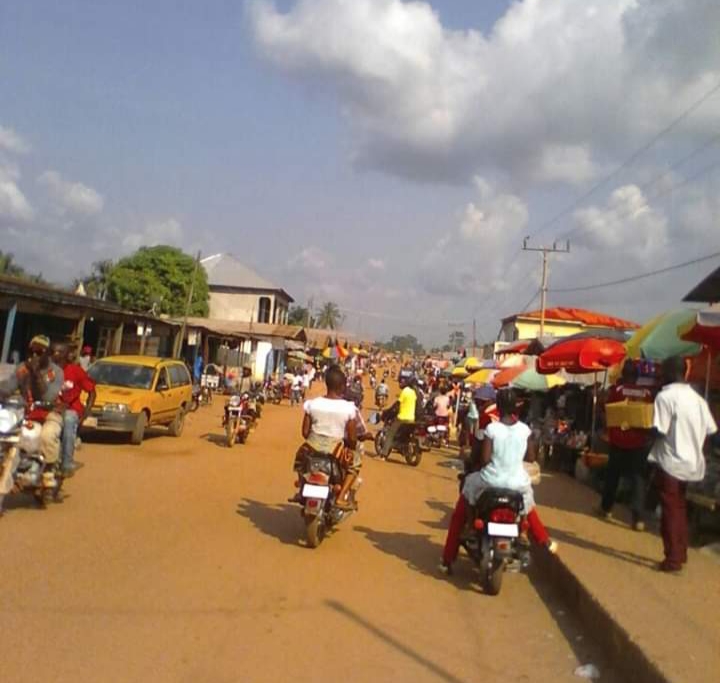 Zwedru – Rebecca Gaye Glahn's husband was a private security guard before the coronavirus outbreak. Now, he barely gets his salary after being declared a non-essential staff and ordered to stay home.
Mr. Glahn was assigned at the Grand Gedeh County Community College while his wife sold food items in a local market. His income complimented her profits to cater to their home, but not anymore.
"At the end of every month my husband used to bring home US$150 as a salary, which was never timely, but was very much supportive in the home," she said.
"We used his salary to pay rent and children's school fees while the little business that I am during now could feed us."
"The little selling that I am doing can't feed the home and at the same time pay rent. As we speak everything's price has doubled again… Things are very hard these days."
David Tweh, 52, said he has been out of food and other basic needs for more than two weeks. Three of his children were employed before the outbreak. Now, they are all out of job – a situation that has cut off remittance of cash from Monrovia to him.
"This virus is increasing my hard time. Let this government do what they think they can do so our children can get back on job to feed us," said the 52 year-old.
Like Mr. Tweh's children, Doris Waylee has lost her income to the outbreak. She recently signed a six month contract with a local non-governmental organization, but the project has come to a standstill.
"I pray that this coronavirus ends so things can come to normality because we are suffering," said Doris, who is also worried about the hike in the prices of basic commodities, such as rice and cooking oil.
---
---
People living with disabilities are also some of most affected in the county. Many projects implemented by development partners to support their community have been put on hold due to the outbreak, says Debra Sohn, president of the disabled association in the county.
The Association Friends of Raoul Follereau (AIFO Liberia) paid teachers of the School of the Blind, but that project has also stopped, she said, adding that they are now finding it difficult to get "daily meal".
"We had soap making and agriculture projects by UNDP. We used to sell the soap and plant corn on the farm which we then sold to get money for food," she explains, adding that the project had completed just before the pandemic  and the UNDP has not said anything about renewing it.
"This coronavirus is suffering us in Grand Gedeh County, because we really feeling the hunger, some of us cannot walk, others cannot see or hear so let national government see about us. We are suffering."
Alice Doe is a physically challenged woman who is also being hit hard due to the absence of development partners' support to her community.
"I was part of the soap making group," she said. "We used to fix the soap and people used to come and buy it the same day or the next day and then they paid us. But since the coronavirus outbreak we are not getting help again."
Like Alice, Emmanuel Sharr, principal of the School of the Blind in the county, is unable to feed his family since he stopped receiving compensation from AIFO.
"Since the outbreak of the Coronavirus, no learning is taking place – and because of that, no pay from partner," Sharr said.
"Look, despite my disability, I am a learned man who has wife and children, but due to this outbreak, we can no longer afford food for our families."
Luther Sangar Mendin, AIFO Liberia communications and program officer, confirmed that his organization's support to the disabled community has temporarily closed, in keeping with the Ministry of Health's protocols and State of Emergency.
"As we speak, we are reviewing some thematic areas of the project for inclusion of emergency response for our project beneficiaries in counties [where] we work," Mendin said.
"So, we are hoping for it to be accepted by donors and rolled out very soon to them".
---
---
---
With a lockdown already in place, many people with disabilities across the country are complaining that their ability to make ends meet is being further impaired.
While most people are worried about their source of livelihood, they are also sweating over the scarcity of major commodities in the county – a situation that is causing a hike in prices.
The State of Emergency has restricted travel between counties, leaving main business people, who often move goods from Monrovia by using commercial vehicles, struggling to get supplies into the county.
A 25kg bag of rice, which was previously sold for L$3000 in Grand Gedeh, is now sold for $3,400; the price of a gallon of vegetable oil has moved from L$850 to L$1,000; while a gallon of gasoline is now sold for L$800.
Madam Betty Breeze Doh, Grand Gedeh County's Assistant Superintendent for Development, said the county administration has requested the inspection and review of prices in order to respond to the hike in prices.
"With the mandate given to the commerce inspectors any business person found hiking prices should be arrested and turned over to the county authorities for proper investigation," Madam Doh said.

The claim is rigorous and the content is demonstrably true.
The statement is correct, although it needs clarification additional information or context.
Evidence publicly available neither proves nor disproves the claim. More research is needed.
The statement contains correct data, but ignores very important elements or is mixed with incorrect data giving a different, inaccurate or false impression.
The claim is inaccurate according to the best evidence publicly available at this time.
Upon further investigation of the claim, a different conclusion was determined leading to the removal of the initial determination.
A rude, disrespectful, or unreasonable comment that is somewhat likely to make you leave a discussion or give up on sharing your perspective. Based on algorithmic detection of issues around toxicity, obscenity, threats, insults, and hate speech;