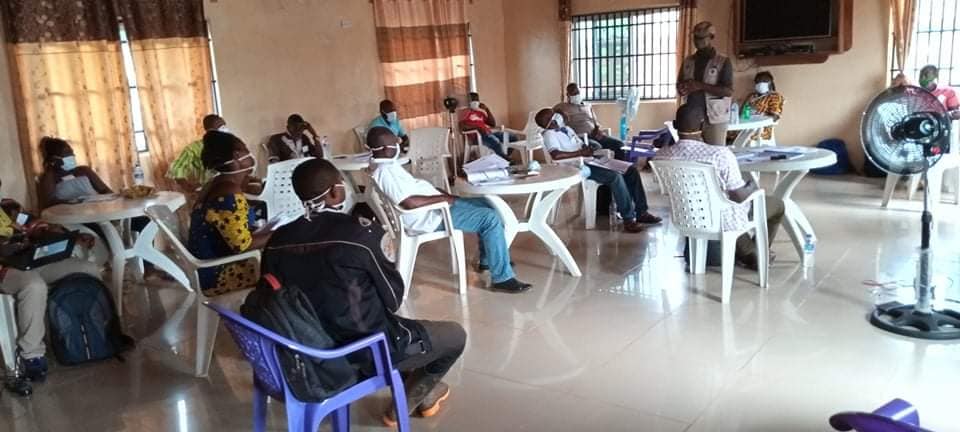 Zwedru – As part of its national community health assistant program aimed at rapidly identifying, supporting, isolating and referring suspected and confirmed cases of COVID-19 at the community level, Last Mile Health in collaboration with the county health team of Grand Gedeh County has ended a training of trainer's workshop for healthcare workers in the county.
The training, which ran from May 20-23 in Zwedru, brought together 60 professional healthcare workers including community health services supervisors, district health officers, district surveillance officers, county level supervisors and the infection prevention and control team. It was simultaneously held at four venues with 15 participants at each.
Participants were thought methods of contact tracing and tracking, dealing with signs and symptoms, preventions and responding to rumors among others.
"We are supporting Liberia's Ministry of Health to train over 500 frontline healthcare workers and community health workers deployed [during] the post-Ebola [period] to respond to COVID-19 in Grand Gedeh County," said Alexander M. Bility, County Technical Coordinator of Last Mile Health.
"The reason while Last Mille Health is doing this is because the organization is partnering with the Ministry of Health which we have procured and will be distributing personal protective equipment to facility staff, nursing supervisors and community health workers so they can safely respond to COVID-19 and continue to perform their day-to-day life-saving activities."
The training materials were digitized and are to be disseminated to community health workers via smartphones in the future, according to Bility.
---
---
There are six health districts in the county with 24 facilities including two private health facilities – Galipo treatment center and Christ the King Clinic in Zwedru.
Dr. Augustine Fannieh, the County Health Officer, said the training now makes his team knowledgeable about responding to cases of COVID-19.
"I consider it as a breakthrough for some of you healthcare workers who have not sat for any pandemic response training especially COVID-19," Dr. Fannieh said. "I believe that the training has shaped your minds to the response. Go and enforce what you have learned".
According to Dr. Fannieh, the over 500 community healthcare workers are expected to be trained include 218 community health assistants and about 300 community health volunteers.
"When trained, they will serve as active case finders and contact tracers for coronavirus in Grand Gedeh County," he said.
Up to date, Grand Gedeh County is yet to record a single case of the COVID-19. However, public health experts have warned that all counties in the country are vulnerable to the pandemic.
Speaking on behalf of the participants at the end of the training, Grand Gedeh County Surveillance officer Sylvester Toe thanked the county health team and Last Mile for the training.
Mr. Toe promised, on behalf of his colleagues, that knowledge acquired will be rollout to the community health assistants and volunteers as require.

The claim is rigorous and the content is demonstrably true.
The statement is correct, although it needs clarification additional information or context.
Evidence publicly available neither proves nor disproves the claim. More research is needed.
The statement contains correct data, but ignores very important elements or is mixed with incorrect data giving a different, inaccurate or false impression.
The claim is inaccurate according to the best evidence publicly available at this time.
Upon further investigation of the claim, a different conclusion was determined leading to the removal of the initial determination.
A rude, disrespectful, or unreasonable comment that is somewhat likely to make you leave a discussion or give up on sharing your perspective. Based on algorithmic detection of issues around toxicity, obscenity, threats, insults, and hate speech;