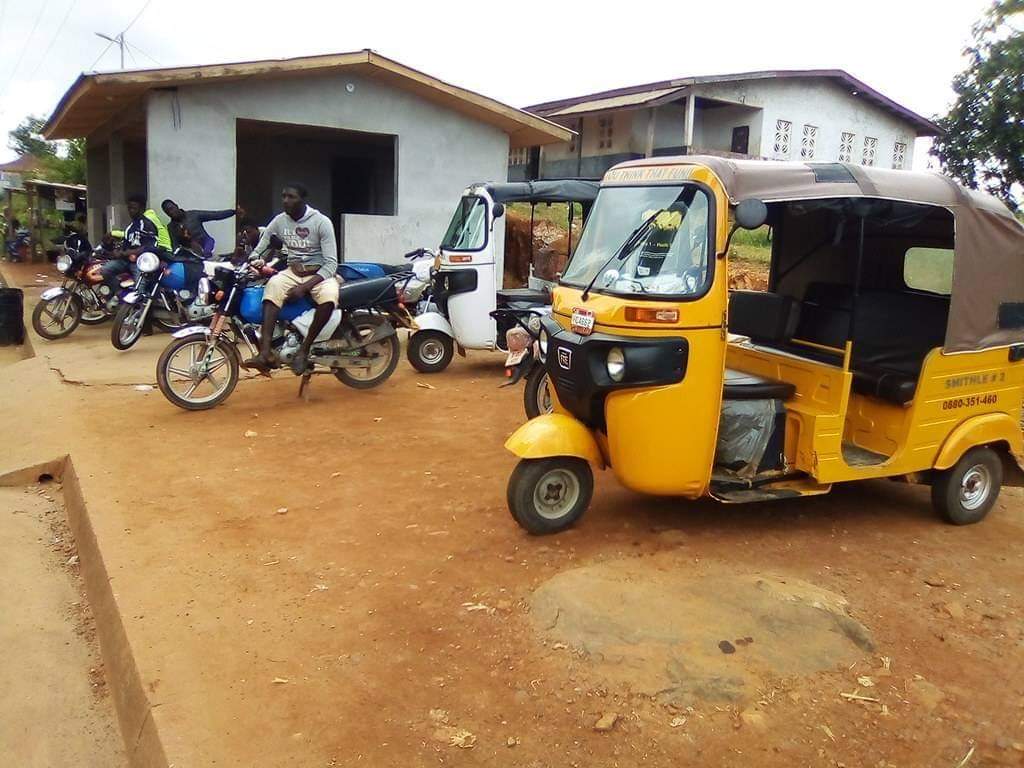 Harper, Maryland County – COVID-19 related health regulations affecting the transport sector of Liberia are having a toll on motorcyclists in Maryland County, as they complain about a new wave of economic hardship compounded by accusations of profiteering.
---
Report By: Bryan Dioh, LMD Responsible Health Reporting Fellow
---
In Maryland County, motorcycle taxi drivers have increased transportation fare as the result of the regulations – which, amongst other things, demands that motorbikes must carry only one passenger at a time. A distance that previously cost passengers L$50 now costs L$100, a situation that increasingly sparks rows between motorcyclists and passengers.
Passenger-Driver Feuds
In one incident, police in Harper received a complaint from Jasper Moore, a passenger who says he was attacked by a motorcyclist for refusing to pay L$60.
In another, passenger Emmanuel Potee clashed with a motorcyclist over the fare from Pleebo to Harper. Potee had refused to pay L$100 more for the ride.
"On several occasions we will have negative exchanges with passengers because many of them will not want to pay us the money charged them, because they will always say it is much," claimed Seah Howe, a tricycle taxi driver.
"And we are increasing the transportation fare because of the low income we are getting during this health crisis, as a result of the reduction in the number of passengers due to the new regulations that we are forced to abide by".
Joseph Marston has been a motorcyclist for over five years. He says his daily income has plummeted since the outbreak.
"I used to take home L$2,000.00 [each day] to my family and also sponsor my kids in school, but for now I cannot even get L$1,000 correctly. But I just have to do this to survive," explains Marston.
"We are taking one person on our motorcycle now, and when we charged the passenger to pay more money covering the fare of the other person we are either insulted or told we are aggressive. I think before this sickness (COVID-19) finishes, we will not get anything better to take care of our family."
Many commercial drivers in the county claim that doubling the fare makes up for the loss created by the health regulations – yet even with the increase in fares, many still struggle to earn a daily income.
Peter Moore, a taxi driver based in Harper City, says the health crisis has ignited a "blame game" between drivers and passengers.
He too recalled a recent confrontation with a passenger who described him as "evil and a thief" because he had doubled the fare.
"But I told him that I do this to sustain my family and we are not thieves as she described us, but we are rather suffering to survive the economic hardship we are currently facing," he said.
Unsafe Transportation?
---
---
These drivers are also hit by the decision of many people to stop using motorcycle taxis, because it exposes them to the risk of catching COVID-19.
"In fact, these days I prefer to sit home and ask others who are not afraid to help me get my goods because of this new sickness Coronavirus," said Gabriel Jayfin, a local trader.
"I don't want to take risk with my life. Even my children, I told them to always sit home because I do not know who is carrying the virus."
Jefferson Tamba, a resident of Harper, said he recently bought a motorbike to avoid riding on motorcycle taxis.
"The motorcyclists who are moving here and there every day have to be very careful because they don't know who they are carrying, but all they are after is money," he said.
Meanwhile, Beatrice Dweh, an employee of Cavalla Rubber Cooperation, says although she's afraid of catching COVID-19, walking to work is impossible and she can't afford a private bike.
"I am even risking myself by using motorcycle to transport myself because who knows whether the rider of the motorcycle is carrying the virus or even those we sit with, but I always wear my nose mask and move with my hand sanitizer," said Beatrice, who commutes from Harper to Pleebo every weekday.
While she's worried about the COVID-19, Beatrice says she is also concerned about the hike in fares and wants government's intervention.
"We are heavily charged every time we travel either by motorcycle or car. This is not good for us at all, as you know because of this whole Coronavirus we are not getting enough money like we use to do," she said.
Like commuters, business people are also feeling the pinch. Alfred Wilson, a petty trader who transports goods from the border with Ivory Coast to Pleebo city in Maryland County, says the outbreak makes moving goods very challenging.
"To even see motorcycles is very hard and in fact, if you see motorbikes they charge you higher amount," he said.
"I have suffered a lot recently and I don't know if I will even get profit from my recent goods. I think these motorcyclist owners are using this health crisis to exploit us, and if there is nothing done there will be a serious problem between passengers and motorists".
'They Could Get Infected'
While motorcyclists are worried about the loss of income, there are also concerns they are at increased risk of being infected because they move around people who they do not know.
Dr. Methodius George, Chief Medical Officer of Maryland County, warns that the use motorcycle taxis during this health crisis is unsafe, adding that users must "critically observe all health protocols when traveling".
He also suggests that "constant hand washing, use of nose mask and the use of sanitizers helps reduce the risk of getting infected".
"Even the money they hold from passengers or passengers get in return could get them infected with the coronavirus disease," he said.
However, some of motorcyclists say they are following the preventive measures.
"I always wear my nose mask and use sanitizer to disinfect my hands before taking any passengers, and I always transport people who wear their nose mask and follow all the Preventive Health Measures to protect myself," said Joseph Martson, when asked about limiting the risk of being infected.
For his own part, motorcyclist Peter Moore adds that: "We understand and we know how to prevent ourselves as well. I always tell my friends to avoid huge public gatherings, stop shaking hands, avoid touching someone who's sick, and sneeze at the bend of their elbow, and always remind them to wash hands and wear their nose mask."

The claim is rigorous and the content is demonstrably true.
The statement is correct, although it needs clarification additional information or context.
Evidence publicly available neither proves nor disproves the claim. More research is needed.
The statement contains correct data, but ignores very important elements or is mixed with incorrect data giving a different, inaccurate or false impression.
The claim is inaccurate according to the best evidence publicly available at this time.
Upon further investigation of the claim, a different conclusion was determined leading to the removal of the initial determination.
A rude, disrespectful, or unreasonable comment that is somewhat likely to make you leave a discussion or give up on sharing your perspective. Based on algorithmic detection of issues around toxicity, obscenity, threats, insults, and hate speech;