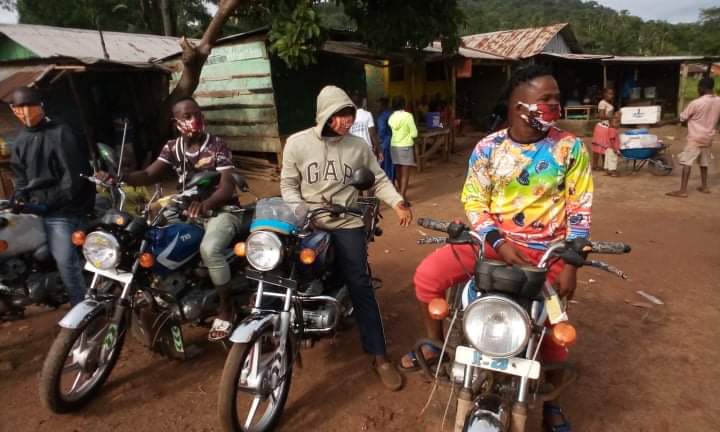 Robertsport – Grand Cape Mount County Superintendent Aaron Vincent has called on people of the county to continue adhering to all health protocols mandated by the government, in order to stop COVID-19 from entering the county.
---
Report By: Saah Hudson, LMD Responsible Health Reporting Fellow
---
As of June 4, 2020, Grand Cape Mount County has not yet recorded any confirmed case of COVID-19 – the illness caused by the novel Coronavirus. However, with a number of cases now confirmed in neighboring Gbarpolu and Lofa Counties, calls have increased for more rigorous adherence to the health regulations.
Mr. Vincent urged people to always wash their hands, wear nose masks and practice physical distancing with people outside of their homes, as well as inform health authorities about people showing signs and symptoms of COVID-19.
"I'm really happy to see washing hand buckets at most of the entrances to public facilities in the county," Vincent said, while calling on the county's religious community to "remember the county in prayer" as they follow the preventive measures.
Musa Kiazolu, Imam of the Robertsport Central Mosque, supports the Superintendent's assertions. In order to avoid mass gathering of worshippers, he says he has asked worshippers to pray at home.
"You can even remain at your various homes and pray to Allah (God) and he will answer you, because we have to live according to the mandate given us by health authorities," the Islamic Cleric told worshippers recently via a radio program.
"We have to make mask-wearing a must to help us prevent ourselves from getting infected with coronavirus."
Like the Imam, the head pastor of the Bethel World Outreach Church in Robertsport, Rev. Konah Kiazolu, has also been sharing with his congregation tips on preventing the spread of COVID-19.
"Let us practice the constant use of nose [and mouth] mask mostly when we are in public places as a means of preventing us from getting infected with the deadly coronavirus disease," Rev. Kiazolu said during a phone interview.
"Let us practice washing hands frequently as a means of helping us to be safe and also the use of hand sanitizer is very important in this fight against the virus."
But it is not only the religious community that is spreading anti-COVID-19 messages in order to prevent a possible outbreak in the county; motorcyclists are also playing their part.
Anthony Kiazolu heads the county's motorcycle union, which has its main office in Robertsport. He says motorcycle taxi drivers are taking government's health preventive measures into "serious consideration".
"They are taking one passenger instead of two passengers and also wearing face masks regularly to avoid the spread of the virus," Kiazolu said.
There are fears that motorcyclists are at high risk of contracting the virus because they commute strangers across counties. But Kiazolu, despite the existing fear, is confident that the risk can be limited when motorcyclists abide by all protocols.
"We instructed all motorcyclists not to carry two or more passengers to avoid physical contact with passengers," he said, stressing that violators of the protocol would pay a fine of L$2,000.
---
---
Meanwhile, marketers in the county are also making washing of hands a new practice at various market places. A bucket filled with water mixed with soap and detergent is placed every day at the entrances of market buildings to ensure buyers and sellers wash their hands frequently.
Buyers also have to wear a face covering when going to the market, said Safua Sonii, head of the marketing association of the county.
"All of us in the market building as you can see, have our nose masks on and this is what the hospital people told us to do," explains Safua.
"And when you come to buy, you have to have nose mask or else you won't be served."
---
---
The community's involvement in the collective fight against COVID-19 in the county has caught the eye of the head doctor of the main public hospital in the county – St. Timothy's Government Hospital in Robertsport.
Dr. James Appel is "very happy that since the outbreak the county has no case and residents should keep doing everything the health authorities are asking".
At the same time, Dr. Appel urged health workers to show exemplary attitude in order to encourage the community members abide by all COVID-19 health measures.
"That is why at the hospital I always tell my various health workers to make wearing nose masks as a priority [because] it will encourage our patients and care takers to do the same," he said.
"Nurses and health workers are washing their hands constantly and also telling all patients and care takers the importance of hands washing in this fight against the pandemic, and I think with this we will prevent the spread of COVID-19."

The claim is rigorous and the content is demonstrably true.
The statement is correct, although it needs clarification additional information or context.
Evidence publicly available neither proves nor disproves the claim. More research is needed.
The statement contains correct data, but ignores very important elements or is mixed with incorrect data giving a different, inaccurate or false impression.
The claim is inaccurate according to the best evidence publicly available at this time.
Upon further investigation of the claim, a different conclusion was determined leading to the removal of the initial determination.
A rude, disrespectful, or unreasonable comment that is somewhat likely to make you leave a discussion or give up on sharing your perspective. Based on algorithmic detection of issues around toxicity, obscenity, threats, insults, and hate speech;