Stay informed with happenings in your county, follow LocalVoicesLiberia every week day for the latest update on COVID-19 and other important developments.
---
River Gee County: Victim of Brutality Flown to Monrovia
---
---
A 43-year-old woman has been transferred to Monrovia on a private flight owned by Samaritan Purse to seek medical attention.
Evelyn Teah, resident of Gbeapo Kanweaken, River Gee County who is also a mother of eight children, reportedly loss her sight on May 3, after she was allegedly brutalized by soldiers of the Armed Forces of Liberia for breaching the then 3pm lockdown curfew.
Her medical report was released from the J.J. Dossen Hospital in Harper, Maryland County, the victim situation drew the attention of a cross section of civil society actors, who staged a peaceful protest demanding justice for her.
On Wednesday, June 17, the victim was flown to Monrovia from the Sarbo Air strip, which is about 30 km from Fish Town, the county's capital.
Madam Veronica Tanyon, County Gender Coordinator, assured Teah that she will be received in Monrovia by the Ministry of Gender and Social Protection.
---
Bong County: Clinic Shutdown Amid COVID-19 Fear
African Fundamental Baptist Mission (AFBM) shutdown its clinic in Gbarnga for two weeks on June 7 after two physician assistants contracted COVID-19 at the facility.
The two staff of the clinic have been isolated at the 14 Military hospital in Margibi County.
According to Aaron Kulah Garyemah, administrator of the clinic, the Ministry of Health advised all staff to stay home for the next 14 days – which means they are self-quarantining.
The Clinic was also closed to save the lives of the ordinary citizens that go for treatment there might contract the virus, he said.
Bong County currently has seven confirmed cases of COVID-19 with four recorded deaths.
---
Gbarpolu County: Celebrating First GMS Network
---
---
Residents of Belle Baloma and Fassama towns in Belle District on Tuesday, celebrated on Wednesday, June 17 as two mini solar power GSM network systems were installed in their respective towns.
Baloma is the headquarters of Belle district while Fassama is the major commercial town with over 3,000 residents. The need for GSM service in these areas has been at the center of many public discussions in recent years.
The project is being implemented by Africa Mobile Network in collaboration with MTN/Lonestar.
Over 50 young people from both towns transported the equipment on foot from Belle Yallah town to their communities, where it were later installed.
"Because our road is bad from Bopolu to Belle Fassama, we asked the company to carry the materials to Belle Yallah, which they did," explains Joseph C. Mulbah, Fassama Youth Secretary.
"Then we walked six hours to get the materials to Baloma and Fassama, where we were welcomed with singing and dancing by residents"
The next day a colorful event was held to mark the dedication of the network material.
Speaking via mobile phone from one of the network-affected towns, the Statutory District Superintendent, Edwin Corpolu said the people in both towns have pledged to protect the installations.
This is the first time for the GSM network to reach these communities since the communication technology was introduced to Liberia more than two decades ago.
---
Grand Bassa County: Girls Taking Lead
A group under the banner 'Girls Education Foundation of Liberia' (GEFL) concluded its COVID-19 awareness campaign in Buchanan with the distribution of food and non-food items.
GEFL took to the communities with their megaphones to educate residents while distributing food and hand washing materials to empower communities prevent the spread of COVID-19.
Linda Lloyd, Chief Executive Officer of GEFL, said the fight against COVID-19 requires the efforts of everyone regardless of class or status.
"Whether with funds or not, reach out to at least a single person in a day and remind them about how desperate this virus is," Lloyd said.
"We want to appreciate our sponsor – The YES-Africa Program – for their continuous support and we look forward to receiving more support from well-meaning institutions and Liberians to enable us help combat the deadly virus through awareness creation".
She also stressed that people need to stop spreading myths about the virus, adding, "You can save lives or only you, by following the safety measures prescribed by the WHO and our health practitioners".
---
River Cess County: Meanwhile, the Fight Against Malaria Continues
---
---
The Ministry of Health has ended a weeklong malaria control and prevention awareness for community members, targeting 150 persons – 25 from each of the six health districts of the county.
Daniel Somah, Social Behavior Change and Communication Coordinator at the National Malaria Control Program, said COVID-19 is an outbreak but malaria has been around so there is a need for awareness to ensure people do not forget that malaria kills more people.
Participants are expected to serve as ambassadors in their respective communities to keep reminding people about the prevention of malaria which includes the proper use of mosquito nets and cleaning of the surroundings.
---
Margibi County: Arming Community Leaders, Chiefs To Fight COVID-19
---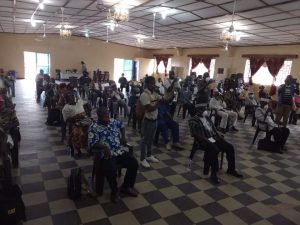 Community leaders, chiefs and elders are being trained to advance and implement good health practices including the COVID-19 preventive measures |Photo By: Emmanuel Degleh 
---
The Carter Center and the Ministry of Internal Affairs have launched a COVID-19 preventive measures response program in Kakata.
The Carter Center through its Rule of Law and Access to justice project on Wednesday, June 17 launched an inclusive community participation in community health and COVID-19 response program.
The program seeks to strengthen the capacity of traditional and community leaders to "advance and implement good health practices including the COVID-19 preventive measures".
Internal Affairs Minister Varney Sirleaf urged community leaders, chiefs, and elders to join forces with the government to combat the pandemic.
County Superintendent Jerry Varnie echoes Minister Sirleaf's assertion by calling on local leaders for their support.
Chief Peter Barnyu, head of Margibi County Traditional Council, assured the Government and Carter Center of their fullest commitment and support to the program.
"We fought and defeated Ebola virus and therefore we can still do the same," he said.
---

The claim is rigorous and the content is demonstrably true.
The statement is correct, although it needs clarification additional information or context.
Evidence publicly available neither proves nor disproves the claim. More research is needed.
The statement contains correct data, but ignores very important elements or is mixed with incorrect data giving a different, inaccurate or false impression.
The claim is inaccurate according to the best evidence publicly available at this time.
Upon further investigation of the claim, a different conclusion was determined leading to the removal of the initial determination.
A rude, disrespectful, or unreasonable comment that is somewhat likely to make you leave a discussion or give up on sharing your perspective. Based on algorithmic detection of issues around toxicity, obscenity, threats, insults, and hate speech;