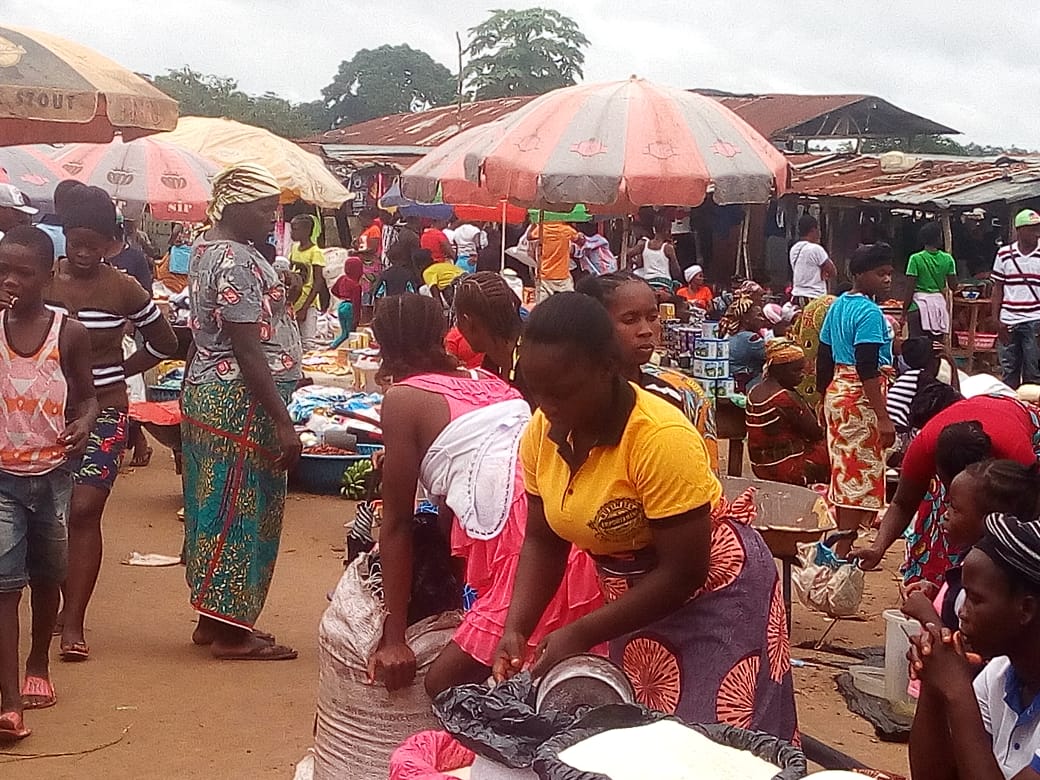 Bopolu City, Gbarpolu – Some farmers of Gbarpolu County have complained that business for their farm produce has drastically reduced since the coronavirus pandemic began.
"The coming of the coronavirus disease continues to hit us hard – especially me," decries Kortu Flomo, a cassava farmer from Gbarpolu County. "People are not buying my gari [farina] like before. Some people are not even coming to the market."
Kortu produces farina from the cassava she grows. She also buys from other famers, which she sells to visiting marketers from Monrovia.
But with COVID-19 disrupting market activities, the 33-year-old mother of three is confused and unhappy. She tells LocalVoicesLiberia that her weekly income has drastically reduced.
"We used to make good money before, but everything has changed because of this virus business. This is not good for me, as one person who is depending on gari-selling to take care of my children," she said.
Before the outbreak, Kortu produced at least three bags of farina from her cassava farm each week, and she would buy an additional five bags from other farmers to supply her customers in Monrovia. She would make at least L$6,000 weekly.
"Now that we get the coronavirus, it is stopping most of our buyers. I can only manage to buy two bags of gari per week, from which I am getting a profit of L$2,400" she explains.
Kortu's farm is in Gbarngay town – about 45 kilometers away from Bopolu. Every week she transports the bags of farina to the market in Bopolu. It is an exhausting venture and has also become very expensive since the outbreak. The situation has also disrupted Kortu's plans for her family.
"My plan this year was to build my house using income from farming, but with poor prices and lack of customers, my profits will be less, and I have to wait for a better time when the health rules hampering us are lifted for me to realize my dreams," she explained.
---
---
The moment Liberia recorded her first confirmed coronavirus case in early March this year, the government began advising people to practice social distancing.
Regulations intended to enforce social distancing saw the reduction in the number of people riding on public or private vehicles. This saw a hike in transportation fare, and as restrictions on the movement of people between counties compounded the problem, businesspeople were unable to move their goods on time or travel more frequently.
As the movements of marketers, who often travel out-of-town to purchase farm produce from local farmers, were hampered by the restrictions, so too were farmers in Gbarpolu County.
Anthony Tokpa is a local farmer who is feeling the impact of the regulations. He says COVID-19 measures have impacted how farmers sell their produce.
"COVID-19 health regulations have reduced and continues to reduce our income from farming," Tokpa said. "I rely on local markets to sell my banana, plantain, and potatoes for me to support my family."
Like Tokpa, Yassah Zinnah, a businesswoman who buys local farm produce and sells to vendors at local markets, says the government restrictions were "killing her business".
The mother of two, who lives in Darwen-town, Bopolu District, says the health regulations prevented many marketers, who bought her banana, pepper, okra, and potatoes, from traveling to the county.
At the same time, Richard Flomo, 29, a hunter of bush meat and a palm wine producer, agrees with Yassah. He says the social distancing measures – which advise citizens against meeting in crowded areas (such as markets), and limits the number of people sharing public transport (which, as a result, increases the price of transportation) – have reduced his profit of L$7,500 weekly to less than L$3,000.
"I understand coronavirus is deadly and I am trying to adhere to social distancing measures. But this has affected my daily life, because my palm wine business is not moving like before," said the native of Manorwellah Town in Bopolu District.
As local farmers continue to worry about the impact of the pandemic on their livelihood and the uncertainties that lie ahead, the county's coordinator for the Ministry of Agriculture, Weeder Cegbe, admits that farmers are "negatively affected" and their income has been gravely reduced.
Cegbe stressed that it is very important for farmers to follow all the COVID-19 preventive measures, despite the difficulties they are enduring. She warned that coronavirus outbreak amongst farmers could also hamper food security.
"All cassava, tomatoes, cabbages, groundnuts, and other perishable local products come from rural areas and are supplied to cities," the Ministry of Agriculture's Coordinator in the county said. "So, it's important for us to share information with farmers to help them not to spread or get infected with COVID-19, because farmers are at the center [of food security] and are the main source of food for people who live in towns and cities."
Although the pandemic is affecting farmers' income, the County Superintendent J. Keyah Saah has also urged farmers and marketers to continue adhering to all the preventive measures.
Supt. Saah, who is also the head of the county's Incident Management System (IMS), added that any infection among farmers will have a long-term impact, not only on their income but on their lives.
Gbarpolu County has recorded 10 confirmed cases of the novel Coronavirus as of July 27 , according to the National Public Health Institute of Liberia. There have been two deaths, five recoveries and and three persons being isolated and treated.

The claim is rigorous and the content is demonstrably true.
The statement is correct, although it needs clarification additional information or context.
Evidence publicly available neither proves nor disproves the claim. More research is needed.
The statement contains correct data, but ignores very important elements or is mixed with incorrect data giving a different, inaccurate or false impression.
The claim is inaccurate according to the best evidence publicly available at this time.
Upon further investigation of the claim, a different conclusion was determined leading to the removal of the initial determination.
A rude, disrespectful, or unreasonable comment that is somewhat likely to make you leave a discussion or give up on sharing your perspective. Based on algorithmic detection of issues around toxicity, obscenity, threats, insults, and hate speech;