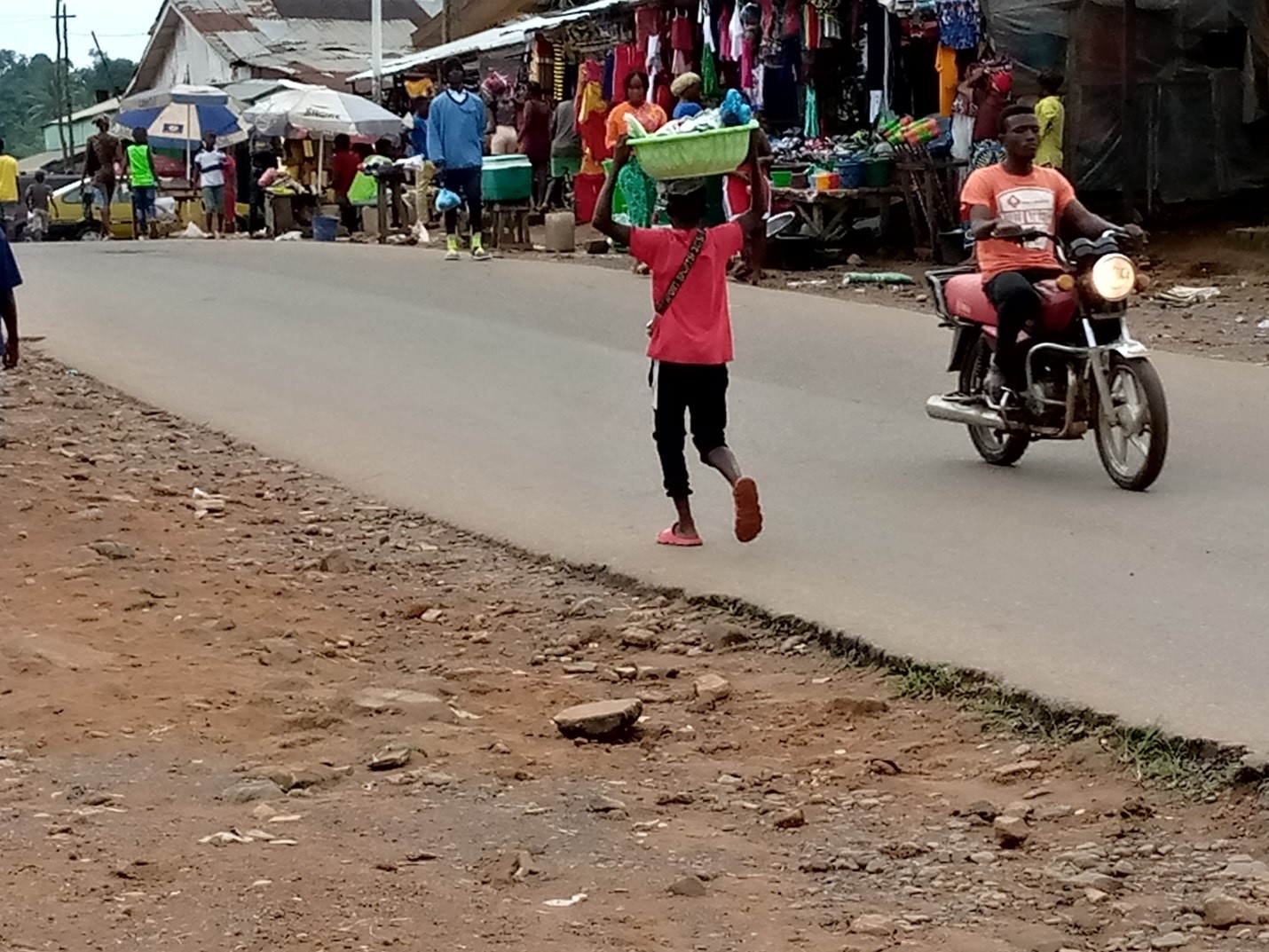 Bomi County – Siatta,13, [not her real name] sells cassava tubers along the road in Klay District, Bomi County. Hellen says while her school remains closed, her mother wants her to help provide for the home.
"Every day I help my ma to sell cassava because she says we are supposed to buy food and when school open again, I can get school things," explains Hellen, who added that her mother sometimes joins her to sell.
Rita,12, [also not her real name] was a student at the Divine Day Care School before it was closed by the government due to the pandemic. Holding a bunch of tied potato chips in her right hand and parcels of peanuts in her left hand, Hannah claims to be aware of the dangers of COVID-19.
"The radio station can play coronavirus song every day and [I can] hear them saying we must wash our hands, no shaking hands and we must stay far from people who [are] sick," she said confidently.
According to Hannah, her mother advises her to keep a distance away from customers when she is selling, to prevent her from contracting the virus.
Like Rita, 14-year-old John [not his real name] , who attended the Barvollah Elementary School in Tubmanburg before the outbreak, says he has heard a lot about how people can get infected with COVID-19.
"I know about coronavirus," he said confidently. "I know that coronavirus can kill, and the doctor say we must do social distancing, like the way we are standing and talking, to save yourself from catching the virus."
Richard, Hellen, and Hannah are just three of many children that are roaming the streets of Tubmanburg, hoping they can help provide for their homes amid the lurking threat of COVID-19.
Despite knowing that COVID-19 exists, and how it infects people, child rights advocates are worried that these children are still being exposed to an increased risk of contracting the virus.
As of August 18, Bomi County had recorded 18 confirmed cases of COVID-19 with 11 persons already recovered.
It is not known if a child has yet been infected with COVID-19 in the county. However, rights advocates say the increased number of children selling in the streets of Tubmanburg since the Ministry of Education closed schools is troubling.
"I am worried and concerned about the way the children are being exposed during this period of COVID-19 in our country. The children are at a very high risk of contracting the virus and infecting the parents at home and even their friends," says Madam Paulita Ederidge, Coordinator of the Ministry of Gender Children and Social Protection (MoGCSP) of Bomi County.
"We are working with other institution like the County Health Team of Bomi, and Defense for Children International to get the kids off the street even before and during the coronavirus but the parents are not concern about their children and their future."
At the same time, Defense for Children International Liberia (DCI), an international child rights organization, is using community radio stations in the county to create awareness about the dangers associated with children selling in the street – especially when physical distancing is considered one of the best ways of preventing oneself against COVID-19.
DCI Liberia's Head of Field Office in Bomi County, Adama Konneh, said it is "sad and unacceptable" for parents to put children at risk.
"Parents who are sending their children in the street during this crucial time when our country is faced with coronavirus pandemic is very sad and unacceptable, and can expose them to the virus," Konneh said.
He added that DCI is ensuring that parents are educated about the danger their kids are exposed to when transacting with people in the street.
Also, the County chairperson of the Child Welfare Committee (CWC), John Q. Harris, said the closure of schools is further exposing children to increased health risks and other social vices.
"Children you don't expect to see selling are now becoming breadwinners for the family and it has become too much popular," Harris said. "Sometimes, as CWC, we intervene to bring the situation under control and even my network in the city limit — Gbalasuah, Joseph Town — is involved in keeping children off the street," he said.
The Ministry of Health (MoH) and the National Public Health Institute of Liberia (NPHIL) have continuously encouraged people to observe social distancing – which involves staying away from crowded places such as market areas, and keeping at least six feet of space between yourself and anyone else, outside your immediate household.
Street hawking by children is an age-old problem in Liberia – long before the coronavirus pandemic. Many single mothers, who send their children into the street to sell, have often justified that these children buttress their financial efforts.
Felecia Gray, a mother of two children, claims she has no choice but to make her children sell to contribute to the upkeep of the family.
"Myself, I understand, but it is not easy. What to do? I just need to make my children to help me so we can take care of ourselves because their father business is a long story," she said.
But Mettie G. Roberts – a mental health clinician who has been closely following the situation in the county – says children who contract a highly infectious disease like COVID-19 can suffer long term emotional as well as physical problems.
Madam Roberts then called on parents to protect their children during theCOVID-19 pandemic, adding that "due to the lack of protection, rape, and other forms of violence against children especially our female children will generate emotions that will manifest and influence their decisions [in the future].," .
Editor's Note: The identities of the children in the story were protected to avert the violation of their privacy rights since it was improbable to get permission from their parents to use of their real identities.

The claim is rigorous and the content is demonstrably true.
The statement is correct, although it needs clarification additional information or context.
Evidence publicly available neither proves nor disproves the claim. More research is needed.
The statement contains correct data, but ignores very important elements or is mixed with incorrect data giving a different, inaccurate or false impression.
The claim is inaccurate according to the best evidence publicly available at this time.
Upon further investigation of the claim, a different conclusion was determined leading to the removal of the initial determination.
A rude, disrespectful, or unreasonable comment that is somewhat likely to make you leave a discussion or give up on sharing your perspective. Based on algorithmic detection of issues around toxicity, obscenity, threats, insults, and hate speech;