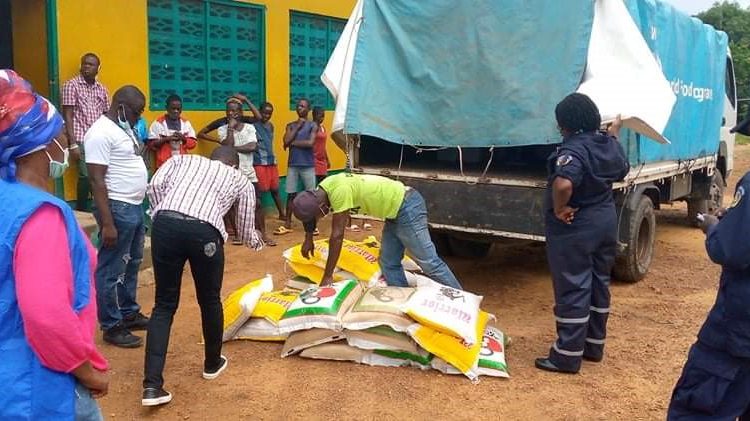 Monrovia – Oretha Kolleh, 41, sits in front of an unfinished three-bedroom building, thinking about where her next meal will come from. A mother of five, Oretha is a petty trader at the Duala market in the suburb of Monrovia. However, the long period of homestay because of the state of emergency imposed to help halt the spread of COVID-19 has caused Oretha's business to collapse.
---
Report By: Michael W. Gharib, LMD Responsible Health Reporting Fellow
---
Already, Oretha was struggling with her five kids before the pandemic. Her kids' father died almost 10 years ago, leaving Oretha to fend for the children alone. The lockdown made things worse. The unfinished house she lives in does not belong to her. She has two children in the ninth and twelfth grades, respectively, who are sitting this year's West African Secondary School Certificate Examination (WASSCE). She has multiple frontlines to contend with.
So, Oretha has taken one decision: she will spend her last penny to offset her kids' school fees and costs relating to their exams. This has left nothing in the house to feed on. So, she is waiting for her government to come forth with the stimulus food packages promised at the start of the outbreak in the country.
In March, the Liberian government announced the provision of food to residents in a bid to offset some of the hardships associated with the partial lockdown to curb the spread of COVID-19.
The value of the food distribution project is US$30 million — US$25 million is provided by the Liberian government and the balance US$5 million by the UN World Food Program (WFP).
Daniel Nuxe Thomas, Assistant Information Minister for Information Services, says the food distribution targets 2.5 million households. This target excludes dependents – but when added, the government plans to feed at least three million people.
Yet it has been three months since the food distribution started and only around 14,000 households – mostly in Monrovia – have received the promised food.
"People who are currently getting food are receiving one 25kg bag of rice, 28 cups of beans and one gallon of oil. West Point was a big win for us. Ten thousand forty households' heads received food in three days," Assistant Minister Thomas said.
This means the number of beneficiaries represents just 0.004% of the 2.5 million targets.
---
---
Unfortunately, Oretha and her family live in Louisiana, just outside Monrovia. They are yet to see the promised food. Between March and now, at least four groups of enumerators have visited her house at different times and with different messages. From the Crusaders for Peace, Monrovia City Cooperation, to the Liberia Institute for Statics and Geo Information Services (LISGIS), they have all presented a mixture of information to Oretha.
"I am confused. Even though I am waiting for the food, I am not sure if I will even get it. Four different groups of people came here to take our names. The first group told us that we will get the food. The second group said we would not get the food," she said.
"For the third group, they didn't say anything definite. The 4th group, I think from LISGIS, told us we will get the food. So, we're here waiting for them."
Oretha is not alone in this confusion. Two of her next-door neighbours, Annie Kollie and Fata Koffa are also single mothers, who are affected by the pandemic similarly. They too seem to be confused concerning who gets or does not benefit from the food distribution.
But Assistant Minister Thomas says there should be no confusion because there are clear criteria to determine who can be a beneficiary.
"We have several parameters set to identify household heads who meet the required benchmark. The identification of structures (homes) was key during the survey. So, they placed the structures into different categories such as concrete, zinc shafts, dilapidated buildings and buildings that are fenced," explains Thomas.
"Enumerators visited homes to see people's livelihood. Some household heads are women and single mothers. Enumerators looked at the challenges single mothers go through in raising their families, especially those that make them more vulnerable in times like these."
The plan was to distribute the food to four counties, the government had earlier said. Now, the exercise is expected to be a nationwide project. However, there is no clear calendar or timeframe for the distribution. Even Minister Thomas is uncertain when the food will finally arrive at the last destination.
"The project started almost three months ago. It started with institutional distribution. But that was just a test. The actual process started last month or the month before last in the Bassa community," he said.
"We have just concluded the central Monrovia process. We will be commencing the Bushrod Island process soon. But we are also trying to do a simultaneous distribution process. This is the first of its kind in our country; and looking at the geography of our country, road inaccessibility has always been a problem regarding to transportation of goods and services. The rainy season makes it more difficult."
With these challenges outlined by the Assistant Minister and lack of a clear timeline, Oretha and her children as well as their neighbors may have to wait for quite a while.