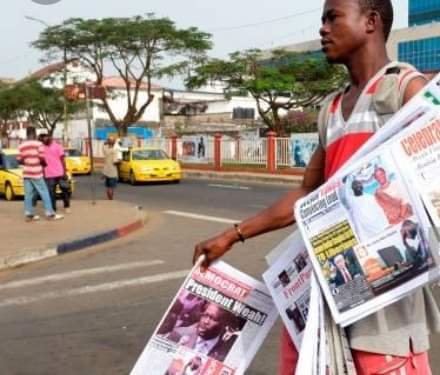 Monrovia – Liberia – with its economy still reeling the economic impact of the recent Ebola virus disease outbreak – is again bearing the brunt of the new coronavirus pandemic. As the outbreak impacts economic activities, one noticeable sector to feel the pinch is the Liberian media.
---
Report By: Lisa Diasey, LMD Responsible Health Reporting Fellow
---
Even though the local media is now crawling back to normal life – following the first two months of the outbreak in the country, many media houses were forced to shut down operations and cut down staff because they could not raise enough revenue.
Newspapers struggled to cover daily production costs, while radio and TV stations could not afford to keep their generators running for 24 hours.
Newspapers Shut Productions  
FrontPageAfrica, Liberia's leading print newspaper, experienced a "huge drop" in revenue intake because of "zero advertisement". The paper was forced to shut down its print production for nearly two months and focused only on its online edition. FPA's News Desk Chief, Lennart Dodoo, disclosed that the paper also had to cut down staff by five persons due to the "inability to sustain the payroll".
"We couldn't maintain the entire staff," Dodoo said. "we had to scale down massively from 11 reporters to five because we didn't know how long the measure would be, so we had to start paying reporters per story."
"Imagine, we are using generator to produce from morning till morning, processing the work and up to production, and we are buying fuel oil for the generator. To print the paper, we are paying skeleton staff and yet no income is coming in. That was very straining for us."
"When the SOE [curfew] moved to 6 p.m, we decided to commence the print edition on June 1, 2020, but even with that, we could not still maintain the entire staff because we didn't know what it was going to be like. We had to take five reporters off the regular payroll and pay them per story, which we felt was more sustainable for us since we were not raising revenue."
Like FrontPageAfrica, The Inquirer newspaper also endured serious economic challenges at the onset of the pandemic in Liberia. Atty. Philip N. Wesseh, the Managing Editor of The Inquirer, said the challenges were caused by the "huge drop in sales" – a situation that impacted its daily production.
"Before the virus [COVID-19], we were coming out daily, but at the moment we are coming out three times a week. This has affected our income generation negatively," Atty. Wesseh said.
The paper has also cut down its number of staff from 30 to 18 persons as a means of adhering to the social distancing protocol, but constraints in raising revenue is also a major factor.
Commenting on the source of income, Atty Wesseh said subscribers have been significantly reduced because "Many entities we sometimes do business with have laid down their workforce, thereby affecting the sale of our paper and influx of advertisements".
He continued: "Flow of business is difficult. See for example, we had a very good contract with one company in town to advertise their products daily, but sadly this is being undermined due to our weekly three times publications."
"Sales have dropped, advertisement is not coming like before, and activities across the country are limited; so, at the moment, we are challenged. The vendors are not having more to sell."
'Drop in Revenue' For Radio Stations
Radio stations are also having their fair share of the challenges. OK FM, a privately owned radio station in Monrovia, has suffered the economic impact of COVID-19 as firms cut down the number of advertisements aired on the station.
"The impact of COVID-19 has been grave," says Mr. Isaac Teteh, OK FM Acting Managing Director. "We have suffered in terms of revenue generation; meeting our staff needs is a problem during this time. Despite the challenge we have remained on top of our game in terms of content; and we're still keeping our team in tight."
According to Teteh, the station depends solely on its outside broadcast production for revenue generation, which he said, has been suspended due to the lack of contracts.
"The shutting down of some companies over fear of [employees] contracting the virus is making matters worse for us in terms of business," he said.
He further explained that the station consumes 16 gallons of fuel daily and has a staff of 30 people, but with the pandemic disrupting market activities, paying staff and procuring fuel became a massive challenge.
As government relaxes restrictions prompting businesses to resume activities, Teteh noted that the station is striving to get back to normality and regain its capacity to pay its staff.
Before the pandemic, Radio Bushrod, located in District 15, Montserrado County, was regarded as one of the fastest growing media entities in the county. The Station Manager, Beatrice Sieh, is now worried about the challenges posed by the outbreak.
"We are challenged and there is no way I can fine-tune this," she said. "Before the outbreak, we had 26 active workers at the institution, but now we reduced that number to 10 because of the virus."
Meanwhile, community radio stations – mainly those outside Monrovia – are also facing economic challenges that appear to be worse than the situation inside the capital city. Many of these community radio stations rely on support from donors through airing of programs, but with several projects stalled because of the pandemic, these community radio stations are finding themselves short on income.
Some community radio stations are off the airwaves due to the lack of funding or support from partners or companies.
Currently, the Voice of Pleebo in Maryland County is off the air, due to a heavy rainfall and thunder strike – and recently, it has also seen a massive dip in its monthly income.
"In the last few months of the outbreak of coronavirus, our revenue generation envelope dropped massively from US$300 and L$20,000 monthly to US$100 and L$5,000 from announcements and programs," says Station Manager Patrick Mensah, who added that empowering the station would help promote COVID-19 awareness messages for residents of Pleebo City.
"I will recommend that the government of Liberia during these periods in our country allocate money in the county's budget to help community radios educate and inform the citizenry."
While Mensah lobbies for support to resume broadcast, he wants his staff to exercise some patience as they seem to be becoming wary due to the delay in the payment of salaries.
"We have been encouraging our staffs to hold on a bit till the virus is finished, then we can foster efforts to ensure they get paid – but for now most of them are reluctant because there is no take-home for their family. Most times we are constrained to play music all day and some information from the Ministry of Health on COVID due to the unavailability of staff, and we cannot blame them," Mensahn said.
Across the boundary in Grand Kru County, the Voice of Grand Kru has lost three of its important staff due to delay in salary payments.
James Myking Suah, the station's News Director, attributes the situation to COVID-19. He says the station relied on income raised from public service announcements, jingles from local and international NGOs, and advertisements by companies. But all have all been halted.
Unlike several community radio stations in the country, the Voice of Grand Kru is supposed to be receiving "some support from the county through its Legislative Caucus", says Suah. However, for the last one year, the funds have not been disbursed to the station, and with the economic challenges imposed by COVID-19 still lurking, Suah says the community radio stations – which should enhance the response effort against the pandemic – are incapable.
"The media plays a pivotal role in times like these. My only advice would be for government to create specific allotment to the media, especially community radios, in buttressing their efforts to help fight COVID-19," he said.

The claim is rigorous and the content is demonstrably true.
The statement is correct, although it needs clarification additional information or context.
Evidence publicly available neither proves nor disproves the claim. More research is needed.
The statement contains correct data, but ignores very important elements or is mixed with incorrect data giving a different, inaccurate or false impression.
The claim is inaccurate according to the best evidence publicly available at this time.
Upon further investigation of the claim, a different conclusion was determined leading to the removal of the initial determination.
A rude, disrespectful, or unreasonable comment that is somewhat likely to make you leave a discussion or give up on sharing your perspective. Based on algorithmic detection of issues around toxicity, obscenity, threats, insults, and hate speech;