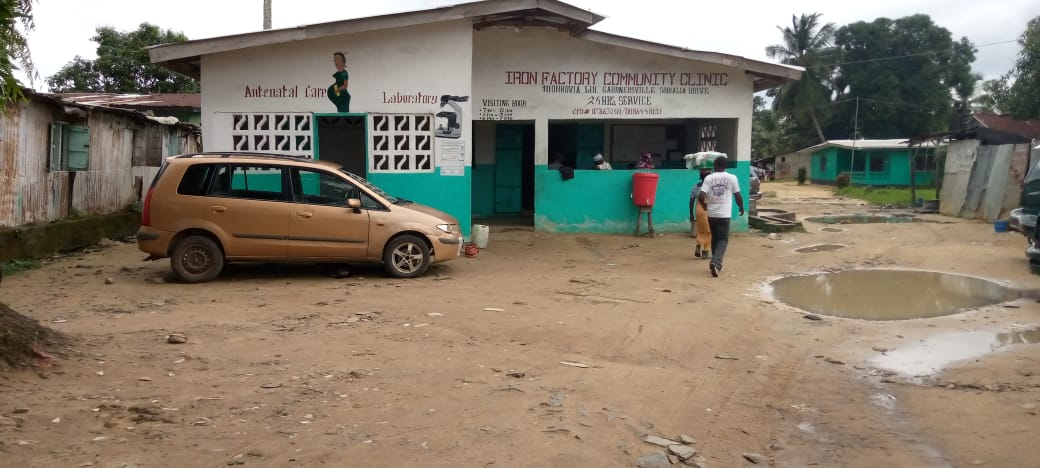 On a cold and windy evening, Joseph Tarnue, a father of four, bends over the balcony of his house in the Iron Factory Community in Monrovia's Gardnersville Township, recalling his near-death experience. He is surrounded by family members and neighbors, who are all happy he survived.
---
Report By: Michael W. Gharib, LMD Responsible Health Reporting Fellow
---
Joseph has high blood pressure – and, on the evening of August 8, the 40-year-old man became seriously ill, yet he refused to go to the hospital. For several hours, people asked him to go to a health facility for treatment, but he was adamant.
In 2014, during the Ebola epidemic, Joe lost his pregnant wife after she contracted the virus. Joe blames health workers for not doing enough to treat her.
"No hospital could take her in, and when they finally did, it took them hours to come around. All of these memories in my head made me even more afraid," he said.  Since then, he had little trust in the health system, claiming that health workers do not care for patients during health crises.
"I will not go to clinic during this time. It is better I die home than dying at clinic where they will not pay attention to me. I still remember the pain and agony my wife went through before she gave out the ghost," Joe said, recalling what he told neighbors who asked him to seek medical care.
Joe did not only lack confidence in health facilities, he was also worried that he would be tested for COVID-19 without his consent.
"I was also afraid that doctors would have enlisted me as a COVID-19 patient. There are rumors that there is no coronavirus in Liberia; and that government is listing more and more people so that the number of confirmed cases will increase – and then they can use it to justify their hustle for money from the international community," he added.
So, Joe stayed home and sought home remedies. His situation worsened. The pains, he said, were excruciating. He blacked out, and when he regained consciousness, he was lying on a hospital bed in the Iron Factory Community Clinic.
"In three days, I became very ill. My head was pounding, and my skin was burning up. I could barely move my body. I lie in bed helplessly waiting to give up the ghost," he explains. But he would later recover.
Now, he has loads of appreciations for his children, neighbors, and health workers. He has also reshaped his thoughts about the health system.
"And, to the professional nurses and doctors out there, I say a very big thank you," he added, stressing that his perception about the health system since his wife died has been unrealistic.
"I almost got myself killed because of the experience about my wife. I know I was not wrong to mourn my late wife, but I should have known that life is far better than death. From now, I have learned my lessons. No matter what, health facilities are the best to go to when you feel sick. Call the nurses and doctors, they're the experts to help you," Joe said as tears roll down his cheek.
Joe was not the only person suffering from a lack of confidence in the health system since the COVID-19 pandemic began in the country. Many people have been explaining their Ebola time experiences, and how it influenced their attitude toward the COVID-19 pandemic.
The officer-in-charge at the Iron Factory Community Clinic says more emphasis must be placed on behavior change communications. Jama Johnson says her clinic has experienced a significant drop in the number of patients because many people fear that they will be tested for COVID-19 without their consent.
"Although we have not had a [confirmed] case, COVID-19 has affected the patients' attendance. Before the outbreak and its accompanying rumors, we used to have up a daily patient enrolment of close to two hundred. But that has changed. Now, we get around one hundred patients. This is about 50% drop in enrollment, which also means a 50% drop in our revenue," she explains.
"People are afraid to come to the clinic because they feel they might contract the virus here through contact with other patients.  They allege that doctors and nurses may not give them the required attention. But unlike what they think, we are under oath to save lives; and that is just what we have been doing and will continue to do."
According to her, while it is a valid fear for patients to decide against seeking health care at health facilities because of their experience during the Ebola crisis, they need to regain confidence in the health workers.
"COVID-19 is just as bad as Ebola. However, the realities of the situations are different. The Ebola epidemic took us by surprise. We had never experienced such a thing before, and we never knew how to go about it. But after that experience, we are more cautious and vigilant in dealing with these viruses," she said.
Jama's last message is clear: "If you're sick, your best choice is to a health facility. Staying home will not change the situation; it will only make it worse. Only laboratory results can tell you what is exactly wrong with you. Taking random drugs without getting know your sickness is a risk."
"Even if you contracted COVID-19, will staying home get you treated [for your symptoms]? Come and get treated by people who are trained. Staying home only increases the risk of passing the virus to your family and neighbors; and this will lead to an increase in infection. This will make it difficult for all of us."

The claim is rigorous and the content is demonstrably true.
The statement is correct, although it needs clarification additional information or context.
Evidence publicly available neither proves nor disproves the claim. More research is needed.
The statement contains correct data, but ignores very important elements or is mixed with incorrect data giving a different, inaccurate or false impression.
The claim is inaccurate according to the best evidence publicly available at this time.
Upon further investigation of the claim, a different conclusion was determined leading to the removal of the initial determination.
A rude, disrespectful, or unreasonable comment that is somewhat likely to make you leave a discussion or give up on sharing your perspective. Based on algorithmic detection of issues around toxicity, obscenity, threats, insults, and hate speech;