Stay informed with happenings in your county, follow LocalVoicesLiberia every week day for the latest update on COVID-19 and other important developments.
---
Lofa County: Local Farming Project Gains Traction
---
---
A local non-governmental organization working to provide support for orphans has initiated a lowland farming project to provide food and other support for orphans.
The Caring Family Concerned for Orphans Initiative (CFCFOI-LIBERIA) has been working for the last two years, providing support to orphans in the county through the provision of financial aid as well as food and non-food items.
According to the executive director of the organization, Aaron P.F. Ballah, the four-acre low land farm is a pilot phase of the expansion they intent to make in the future.
"This year we only started with four acres. This is just a pilot, but we will expand it next year", said Ballah.
Mr. Ballah said the proceeds from the farm will go toward providing food support to needy orphans who have no support.
He added that they have been purchasing and providing rice and other food items to orphans over the time but ensuring sustainability is a challenge.
"As a local organization, we depend on support from individuals and humanitarians. But it is not always easy to just get cash to do these things. That is one of the main reasons we have diversified our sustainability strategy by engaging in agriculture which is sponsored by one of our humanitarians from the county, Mr. Johnny Ndebeh," he said.
---
Sinoe County: Government Camp Wants support to Address Waste
---
---
The improper handling of waste is gradually becoming a massive challenge and creating unhealthy condition for residents of Government Camp City in Jaedea Satutory District.
Madam Mary Wallace, Mayor of Government Camp City, disclosed that municipal waste collection and disposal are critical as the situation poses threat to the environment and the health of residents.
According to Madam Wallace, the city lacks logistical support and manpower to conduct routine cleaning up exercises.
"Since I was appointed two years ago, the government has not placed my name on payroll; I used my personal money to pay people to clean this city," she said.
Due to huge mining and business activities, Government Camp city has become one of the cities in the county that is generating revenues in southeast Liberia but it gets less support from central government, the Mayor said.
Madam Wallace is calling on donor and other development partners and the central government to support the city with wheelbarrows, shovels, gloves, and other utensils to manage waste in the city.
Meanwhile, Emmanuel Nagbe, a resident of the populous mining city, has attributed the unhealthy condition of the city to the lack of cooperation from residents, "most especially the business community".
Nagbe alleged that "the business community has not shown any interest in getting the city clean and green but generate about 75 percent of the city daily waste".
---
Grand Bassa County: Patients in Limbo as Health Workers Go-slow Continues
---
---
Several patients at the Liberian Government Hospital in Buchanan are being unattended to due to health workers' "stay home action".
On Wednesday, patients were seen catering to themselves as major sections of the health facility were locked.
The OPD, laboratory, and several offices we're not functional due to the protest by health workers, who are demanding their salaries and benefits from the government.
Leerod Gorwor, President Health Workers Union of Grand Bassa County, told LocalVoicesLiberia that he and his colleagues will not return to work until the government adhere to their concerns.
The go-slow action by health workers have left patients at referral hospital unattended in Buchanan, but the Medical Director Abraham Jawara said that "manageable staffs" were working.
"Many of our health workers are not here to work due to their 'Stay Home Action', but we have some staffs that are managing to do some work," Dr. Jawara said.
---
Grand Gedeh County: Police Investigate Death of 7-year-old Girl
---
---
Police in Zwedru are investigating the death of a seven-year-old girl who was found dead in an uncover pit filled with water.
The incident occurred on September 14, at the Premium Timber Plantation (PTP), a refugee camp outside Zwedru.
According to the central chairman of the Refugees camp, Gbehe Henri, Madalyn Gayee met her untimely death while she and her friends were playing around the uncovered pit.
"The children were all playing, jumping over the pit when she slipped and fell in the hole, before her friends could called then she was already dead," Mr. Henri said.
"We dug this hole for hand pump propose, so while we were waiting for funding from partners to construct the hand pump, this incident happened".
A registered midwife assigned at the PTP clinic, Winifred Gebroe confirmed that Madalyn died on arrival at the hospital. Meanwhile, the girl has since been buried in the camp.
---
Grand Kru County: 12 Persons on Trial After Mob Violence
---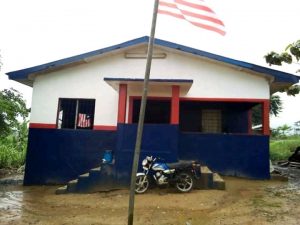 ---
Police in Grand Kru County have sent to court 12 persons for allegedly beating of a 49-year-old lady and others in Wedabo. They are also accused of the disappearance of a man, among other charges which include terroristic treat, aggregated assault, robbery, kidnapping, and criminal conspiracy.
On September 2 and 8 officers of the Police Support Unit had to rescue two persons from angry mob after being accused by locals of being a witchcraft and fined with a hefty sum of money.
When they reneged on paying the fine, they were beaten by the mob and one of the victims is still missing.
With the increasing mob violence in the county, some residents are worried that there might be more violence during the December senatorial election in the county.
Meanwhile, the County Development Superintendent, Joe Sekpeh has strongly condemned the increasing wave of violence, adding that these incidents have the proclivity of scaring investors form the county.
He also disclosed that the county administration has started holding meetings with traditional leaders of community to mitigate these problems.
---

The claim is rigorous and the content is demonstrably true.
The statement is correct, although it needs clarification additional information or context.
Evidence publicly available neither proves nor disproves the claim. More research is needed.
The statement contains correct data, but ignores very important elements or is mixed with incorrect data giving a different, inaccurate or false impression.
The claim is inaccurate according to the best evidence publicly available at this time.
Upon further investigation of the claim, a different conclusion was determined leading to the removal of the initial determination.
A rude, disrespectful, or unreasonable comment that is somewhat likely to make you leave a discussion or give up on sharing your perspective. Based on algorithmic detection of issues around toxicity, obscenity, threats, insults, and hate speech;