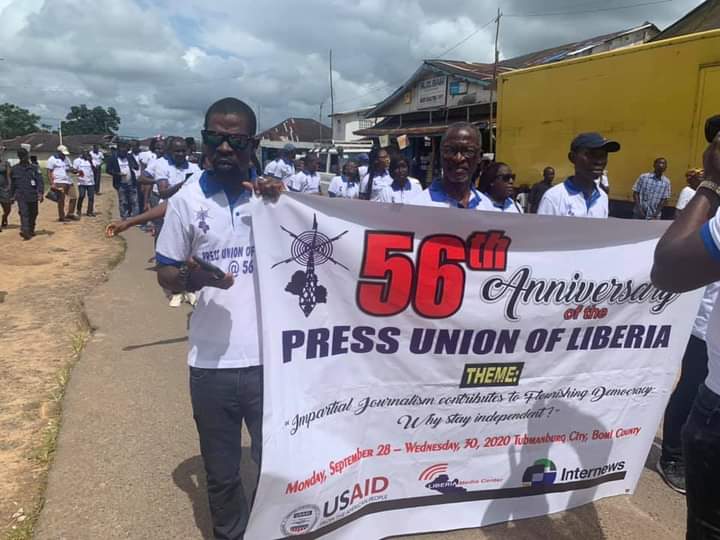 Bomi County – Internews has pledged its commitment to continue supporting to the development of the Liberian media as the country prepares for the upcoming special senatorial election slated for December 8.
Internews is an international non-profit media development organization that is empowering journalism and the media worldwide, giving people news and information they need to make their voices heard.
In Liberia, Internews is leading the implementation of the Liberia Media Development (LMD) program through a grant awarded by the United States Agency for International Development (USAID).
At this year's Press Union of Liberia (PUL) 56th anniversary, Samuka V. Konneh, Journalism Quality & Reporting Adviser for Internews Liberia, said the organization "will continue to be by your side, providing those support needed through the LMD to enhancing flourishing democracy."
---
---
With the support of Internews, this year's PUL anniversary celebration was successfully held from September 28-30 in Tubmanburg, Bomi County. It was held under the theme, "Impartial Journalism Contributes to Flourishing Democracy: Why Stay Independent?"
At the event, the President of Kwenyan Professional Health Services, Dr. Daniel E. Cassell, served as keynote speaker. While delivering his keynote address to over 100 hundred journalists, Dr. Cassell challenged media practitioners in the country to keep creating "good grounds to help drive Liberia's democracy".
"You can be the change by calling out public officials and administrations and political actors or actresses who spin lies and deceptions after failing to deliver any single substantial development project," he said.
According to him, journalists in the country can only effect change through "objective, diverse and investigative reporting of events" in our communities.
Dr. Cassell urged Liberian Journalists to put the country first, adding, "using your voices and platforms to educate the citizens on the characteristics and competencies needed in a person to lead our nation and shouldn't be based on popularity and public sentiments."
Meanwhile, he donated US$10,000 through a manager's cheque to the leadership of PUL as his support to the media amid the numerous challenges.
While commending the partners, journalists and the keynote speaker, the PUL President Charles Coffey stressed the urgency for drafting a policy that will also help strengthen the media landscape across the country.
The Press Union of Liberia was founded on September 30, 1964 by a group of independent journalists. It serves as an umbrella organization for media professionals and institutions to advocate for free press and the legal protection of journalists.

The claim is rigorous and the content is demonstrably true.
The statement is correct, although it needs clarification additional information or context.
Evidence publicly available neither proves nor disproves the claim. More research is needed.
The statement contains correct data, but ignores very important elements or is mixed with incorrect data giving a different, inaccurate or false impression.
The claim is inaccurate according to the best evidence publicly available at this time.
Upon further investigation of the claim, a different conclusion was determined leading to the removal of the initial determination.
A rude, disrespectful, or unreasonable comment that is somewhat likely to make you leave a discussion or give up on sharing your perspective. Based on algorithmic detection of issues around toxicity, obscenity, threats, insults, and hate speech;