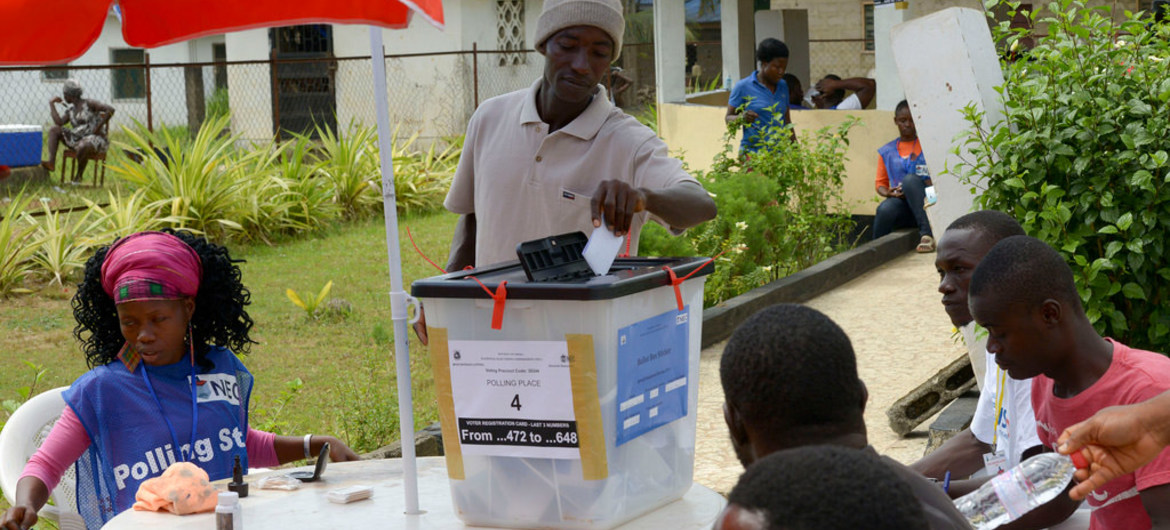 The National Elections Commission (NEC), Liberia's elections governing body has released the final lists of candidates for the upcoming Special Senatorial Elections (SSE) and Representative By-Elections and it does not look encouraging for women.
---
Report By: Elbie Sebleh, LMD Elections Reporting Fellow
---
There are a total of 134 candidates who compete for a seat in the Legislative on December 8. Of these, 118 are in the Senate and 16 in the House of Representative. However, only 20 women were approved and compete for a seat in the Senate, and just 2 women compete for a seat in the House of Representatives. The rest are all men.
The twenty females who have been certified by the NEC have rolled up their sleeves to battle their 98 male counterparts for the 15 seats at the Liberian Senate.
However, looking at the past elections, 20 women ran for a seat in the senate against 119 men, and only one won the election. The other 19 women lost. At this time, of the 30 Senate seats, only one is occupied by a woman, representing just 3.33% of the total Senate seats.
According to the Liberian New Election Law, Article 4.5 1 (b), Political Parties are mandated to make a genuine and good faith effort to endeavor to ensure that their candidates lists contain not less than 30% of female candidates.
Siah J. Tandanpolie is one of the female Senatorial Candidates representing Montserrado county. In an exclusive interview, Tandanpolie said that the women are more competent for elected positions than their male counterparts adding that "women have been able to demonstrate more quality leadership skills than men in Liberia."
---
---
Tandanpolie said "since 1847 to 2005 men have governed Liberia for over 158 years but the country has not made any meaningful achievements during their leadership due to lack of integrity and accountability."
She believes that men in national decision-making positions lack accountability, integrity, and transparency. But this can be reversed by women who can also restore hope and trust and provide better leadership than their male counterparts who see them as inferior and incompetent human beings.
"Most men are corrupt minded because they lack integrity to stand by what they say or believe in. The Liberian people need a robust legislative female representation with integrity, transparency and accountability leadership style that will put emphasis on the plight of the Liberian people rather than enriching themselves at the expense of the people who voted them," Tandanpolie said.
Tandanpolie runs on behalf of the Liberia Transformation Party (LTP). She told this paper that it is a serious challenge to contest for elected positions against men because "more men see women as people who should not be given elected positions in government." She expressed concern that men seek to marginalize women politically and socially, which may cause fear among most women to partake in national decision-making processes or contest for public positions due to stigmatization and verbal insults from male counterparts.
Evangeline Israel King, another female senatorial candidate for Montserrado county said that women and men can provide faster development agenda and national policy if they work together.
---
---
King said that when women and men work in the home collectively there always exist a positive fast growth result and children are brought up with good manners and morals even though women take lot of the responsibilities, emphasizing that men and women can work together harmoniously in an ideal world.
"Women have understood that the only way they can break free from the marginalization of men is by standing up for themselves for leadership positions," King said. She believes that adequate women representation in the decision-making body, the Legislative, will help women to advocate for better laws and strategic policies that protect women and provide opportunities for them in the society.
However, she said, women need an adequate financial support to contest for elected positions in order to ensure that they will win adequate elected offices in the country to help protect women's rights and provide a quality leadership style.
Speaking at the African Women Leaders Network, Liberia chapter, head on the steering committee Ambassador Marjon Kamara, said that the limited participation of women at the national legislature is gradually killing the advocacy of women at national decision-making level, and women should give urgent attention in this election. She believes that have just one female senator in the entire Liberian Senate is a serious challenge for the country.
"Most women are not winning elected public offices in the country due to the limited support from their fellow women, the extreme violence they are confronted with during election period and inadequate financial funding to compete with their male counterparts in the society who are aspiring for elected positions," she told the audience.
---
---
Ambassador Kamara believes that if women can collectively work and rally around female candidates who are contesting for elected positions, it will help make the voices of women louder in the society. According to the NEC, 49% of all registered voters are women.
Speaking of concrete financial support, Ambassador Kamara said that African Women Leaders Network, Liberia chapter provided Five Thousand Eight hundred and Fifty United States Dollars ($5,850 USD) through lobbies and fundraising. The money will be shared amongst the 18 senatorial female candidates who attended the Network program on October 2. The money is intended to help the female candidates during the election process because lack of funds is one of the key reasons why women are segregated from politics.
The African Women Leaders Network (AWLN) was established 2017 at the United Nations (UN) Headquarters in New York. It is a joint initiative with the UN Women and African Women, with sponsorship from the Government of Germany. According to the UN Women website, AWLN is an action-oriented initiative that seeks to enhance the leadership of African women in bringing transformative changes focusing on peace, security and development in the continent. The Network further aims to harness the wealth of African women's experiences of leadership, build on other existing and emerging networks of women leaders, as well as develop new partnerships to strengthen the capacity of women. Additionally, the priority of the Liberia chapter in 2020 is increasing women representation and participation in political activities.
Lawrence Suah, a male voter who agreed to talk on the issue of women in politics, said that the problem is not about gender, but rather the person who takes the initiative of what the Liberians want. He doesn't see a gender problem in Liberia at all. He also noted that the problem with Liberia is the wrong leaders who have been elected throughout. He gave the example of former Liberian president, Ellen Johnson Sirleaf, who ruled the country for twelve years but yet, still some Liberian did not support her solely because she is a woman. Making a good decision, Suah said, has nothing to do with being a male or a female.
"Women can provide better leadership like men would do. So, let's leave this gender thing and focus on the problem facing Liberia".
According to the Inter-Parliamentary Union, Liberia ranks on the bottom 151 place out of a total of 190 countries ranked based on the percentage of women in the Legislative.
Female voter Cornelia Togba said that most men believe that women are weak-minded, yet in reality women provide better leadership when they are given the opportunity to compete fairly, because they make decisions that are beneficial for the nation.
"A woman makes decision taking into consideration that she is someone else's wife, mother or sister while men feed their prides, so the falsehood of women [has] to stop," she said.

The claim is rigorous and the content is demonstrably true.
The statement is correct, although it needs clarification additional information or context.
Evidence publicly available neither proves nor disproves the claim. More research is needed.
The statement contains correct data, but ignores very important elements or is mixed with incorrect data giving a different, inaccurate or false impression.
The claim is inaccurate according to the best evidence publicly available at this time.
Upon further investigation of the claim, a different conclusion was determined leading to the removal of the initial determination.
A rude, disrespectful, or unreasonable comment that is somewhat likely to make you leave a discussion or give up on sharing your perspective. Based on algorithmic detection of issues around toxicity, obscenity, threats, insults, and hate speech;