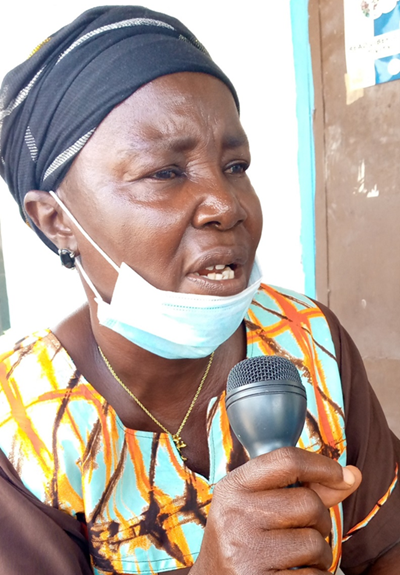 Bong County – Liberia committed to have 30% women presence in governance, a goal that looks almost impossible. Only 20 female candidates are running against 98 male colleagues for 15 Senate positions, which means a percentage of just 20.4%. Of these, very few have real chances to be elected in the Senate.
---
Report By: Olando Kolliemelling, LMD Election Reporting Fellow
---
Section 4.5 of Liberia's New Election Law calls for no less than 30% representation of each gender on the lists of candidates submitted by political parties, aiming to achieve gender balance in governance. In reality, Liberia has never achieved 30% women in any of the two legislative chambers. At best, Liberia's women in Legislative percentage was 12.5 between 2005 and 2010.
The president of the National Peace Hut Women of Liberia, Annie Nushann, said that Liberia is once again extremely far away from achieving the "Women Thirty Percent Representation" in the governance structure.
Nushann's statement is also a show of disappointment in women of prominence who were expected to support fellow women candidates, but instead chose to support males.
It is sickening to see women of national and international admiration, that should be pushing  women's agenda in elections, to have reduced themselves to mere campaign chairladies for  males candidates,  specific reference to Bong county, where the lone female senatorial candidate is being left alone to fight for own her survival."
Seeking and supporting women's participation in governance is cardinal to changing the mindset that women are more domestic, and in charge of the household and children, rather than having equal rights to participation in their nation's decision-making organizational bodies.
Nushann said that this is why achieving Thirty Percent Representation for Women should be beyond just talking, and then having to depend on, and wait on the Executive to appoint more women to achieve gender balance. "It has to be a consolidated effort from all fronts to realize women's equal voice in the democratic space of the country," she said.
Madam Nushann is noted in the Bong county for her critical advocacy on issues affecting women and children's initiatives. In the 2014 senatorial special election, she supported the current vice president against male candidates.
She continued to pledge her support to the current women candidates, and especially to female independent candidate, Dorothy Tommie for the Bong County senatorial seat. Nushann highlighted that she holds the strong conviction that the presence of women in the Legislative as legislators themselves will help steer the laws of the country to address specific needs of the most vulnerable populations and for the best development projects.
Dorothy Tommie committed in a recent senatorial debate organized by Internews LMDI and partners to prioritize women's issue at both county and national levels if the people trust her and giver her their vote.
In a last-minute plea, Madam Nushann urged women to rise up and support women on December 8.
Women constitute 49% of all registered voters, almost half of the votes, according to the NEC's 2017 voter registration numbers.

The claim is rigorous and the content is demonstrably true.
The statement is correct, although it needs clarification additional information or context.
Evidence publicly available neither proves nor disproves the claim. More research is needed.
The statement contains correct data, but ignores very important elements or is mixed with incorrect data giving a different, inaccurate or false impression.
The claim is inaccurate according to the best evidence publicly available at this time.
Upon further investigation of the claim, a different conclusion was determined leading to the removal of the initial determination.
A rude, disrespectful, or unreasonable comment that is somewhat likely to make you leave a discussion or give up on sharing your perspective. Based on algorithmic detection of issues around toxicity, obscenity, threats, insults, and hate speech;