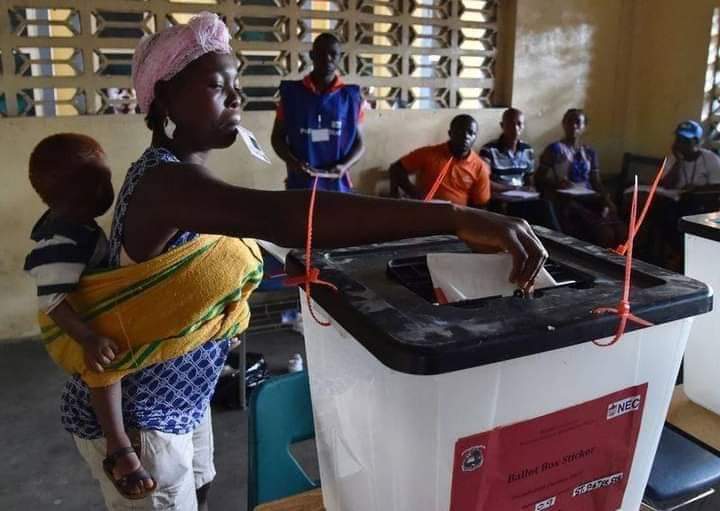 Voinjama, Lofa county –Liberians are called to the polling stations on December 8 to elect a set of 15 senators. Of the total 118 candidates for the Special Senatorial Elections (SSE), only 20 are women, representing 16.95% of the total.
---
Report By: Arthur Kowah, LMD Election Reporting Fellow
---
However, Lofa county can be shown as example, as 3 out of its 11 candidates for the SSE are women, representing 27.3% of the total.
They are the current lawmaker of District 4, Hon. Mariamu B. Fofana, who is contesting on behalf of the All Liberia Coalition; the current lawmaker of District 2, Hon. Julie Fatorma Wiah who is running as Independent and Hon. Deddeh Nohr Jones, also an Independent.
But while Lofa leads in women candidates on the SSE lists, voters randomly interviewed showed deep feelings of distrust and disappointment with their elected officials.
Women want stronger punishment for rapists 
Weedor Sallay is a mother of two, with a third one on the way. She sells roasted cassava on the streets of Voinjama to supplement her husband's salary, who works as a night guard. Both incomes are severely insufficient to care for the family.
Weedor said she voted three times before, and this will be her fourth. Her efforts to go to the voting booth, she said, can hardly be matched by all the politicians she put her trust in for a better life. So, she now faces a strange situation, she says: she has no idea whom to trust anymore and she is tired of the loud noise the candidates are making as if voters are stupid.
"These people … they only know you during the campaign when they ask for your vote. Once the election is over, they [are] finished with you. Right now, I [am] not even running behind any candidate. I [am] not hurting my head again like before. Only on the [voting] day, I will just go quietly and do my voting" she said.
---
---
Despite her frustrations, Weedor remains optimistic. She hopes that whoever gets elected in the next Senate, that they will make good laws that promote development, employment, and a better life for everyone.
"I am not talking about myself now, but at least my children. Let the candidates talk to the government to fix our road.  All of us can't benefit individually, but if the road is paved, it will make businesses to grow in the county," she said.
Weedor also wants the would-be winner of the senatorial race in Lofa County to strengthen laws against rape.
"The other thing I want them to look at seriously is this rape business. Let them take this thing very seriously. Anybody who rapes must be put in jail for life," she said.
Davidetta Selma turned 18 in March and registered as a first-time voter. She will vote in hopes that her chosen candidate will promote education for girls and create laws to punish sexual offenders, especially rapists.
"Anybody that will win, I want them to do good by bringing some good programs and scholarship for us. That will help us. And if God helps one of them win, I want them to enforce the laws against rape," she said.
---
---
Lofa is one of the counties that has reported alarming number of rape cases in the country. Between January and October of this year, the Europe Union-Spot Light Lofa Secretariat Network reported 50 cases of rape and 37 of the victims were minors below the age of 18.
Candidates forget about voters after election day … for nine years
 Johnson D. Flomo is a person living with disabilities, and a voter. He does not mind waiting in line on voting day to fulfill his constitutional obligation, but says that politicians do not desrive his effort.
"The candidates have made lots of promises in the past few elections, and they can't live up to any of that. To tell you the truth, I am only voting because I want to exercise my constitutional right," Johnson said. He is troubled that the community of people living with disabilities has been completely abandoned and ignored by elected officials, and he wants to know what whomever wins the election will consider them as partners for development.
---
---
"Most politicians, and most candidates don't pay much attention to people like us. The group that they normally go after are the motor bike riders, and the church people. But they should know that we have a community. Imagine that since we built our office in 2010, it's only the Catholic Sisters who have been coming to our aid. So, this really tells me that people … politicians don't really value people with disability. Or maybe because we are not living up to their standard or are not able to run around with them," Johnson wondered.
Johnson said that he wants candidates to bring capacity-building opportunities to persons with disabilities to support and enable them to become meaningful participants of the society.
"You know people with disabilities need capacity-building in order to realize that they are part of the society and that they can be able to make contributions to the society too. So, politicians will need to come up with programs, it is not just about giving cash to voters. It's about bringing programs that will make us self-sufficient" he said.
"We need you to create a platform that includes persons with disability. We want to have access to public places, we want to talk to you, the politicians," he pleaded.
Young voters wants jobs
---
---
Young voter and motorbike rider, Mohammed S. Keita, has had enough of the baseless and unfulfilled political promises.
"Some of these people we see running around with fliers have never been around here before. And after the voting, they will never come back to bring development to the county, only to come fight for power. They are very fake," Keita said.
Keita says he wants candidates to make better laws that will create job opportunities for young people.
"I will say that any candidate who will be successful, I will like for them to bring youth empowerment to empower us the young people. You see me riding motorbike like this, it's not that I enjoy it but it's because of condition. I have no other choice," he said.
Thirteen of the of 15 incumbent senators are up for reelection as they completed a full term of nine years. One other seat was vacated as a result of the death of an incumbent and another seat became available when Senator Joseph Nagbe was appointed to the Supreme Court.
The referendum calling for amendments to the Constitution scheduled for December 8 seeks, among others, to reduce the term in office for elected Senators from nine to seven years.
---
---
Recent Liberian senatorial election data has shown a rough ride for incumbent senators seeking to retain their seats, perhaps a testament of their poor performance.
Both in 2011 and 2014 senatorial elections there was low incumbent retention. In 2011, only two of the 14 incumbent senators preserved their seats. The same happened in 2014 when only two of the 15 incumbent senators were given the vote of confidence.

The claim is rigorous and the content is demonstrably true.
The statement is correct, although it needs clarification additional information or context.
Evidence publicly available neither proves nor disproves the claim. More research is needed.
The statement contains correct data, but ignores very important elements or is mixed with incorrect data giving a different, inaccurate or false impression.
The claim is inaccurate according to the best evidence publicly available at this time.
Upon further investigation of the claim, a different conclusion was determined leading to the removal of the initial determination.
A rude, disrespectful, or unreasonable comment that is somewhat likely to make you leave a discussion or give up on sharing your perspective. Based on algorithmic detection of issues around toxicity, obscenity, threats, insults, and hate speech;