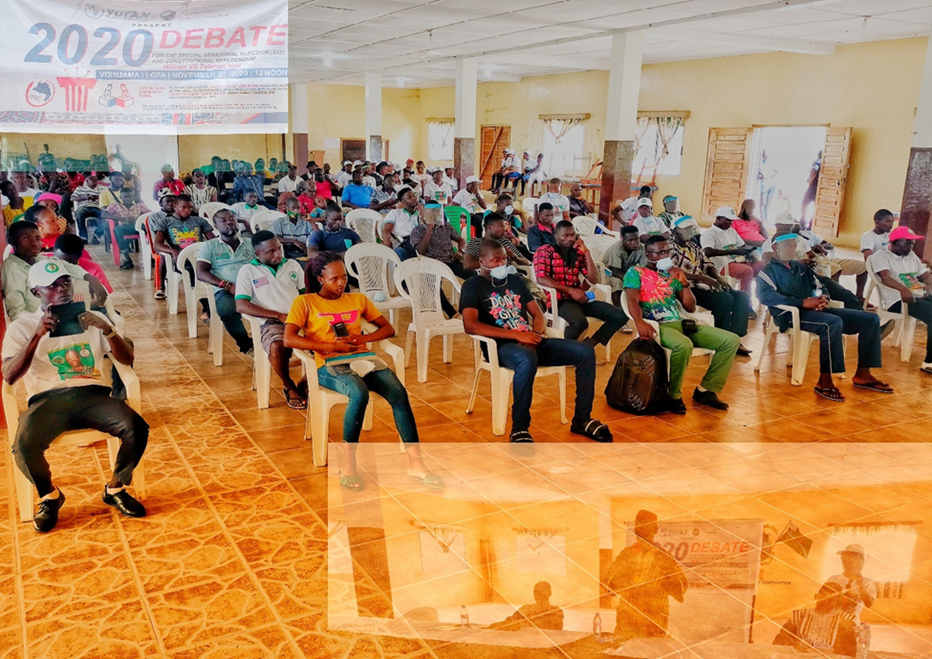 On the 27th of November, three of the 11 candidates running on behalf of the Lofa county participated in a fiery debate, the first in this election season. The event was hosted at the William V. S. Tubman County Hall in Voinjama, and organized by the "Youth in Technology and Art Network (YOTAN)" in collaboration with eight community radio stations, with funding from the National Endowment for Democracy (NED).
---
Report By: Arthur Kowah, LMD Election Reporting Fellow
---
The debate brought together voters from all segments of the society, including women, people living with disabilities, youth, men, civil society organizations, political supporters, and others.
All 11 candidates were invited for the debate, but only three showed up to answer the people's questions. These candidates were Abrahim M. Dukuly of the Rainbow Alliance, Johnny K. M. Ndebe of the Liberia National Union (LINU) and Tamba Dabah Aghailas who runs independently without the support of a political party.
---
---
During her opening remarks, Deddeh Kollie Kanmoh, the chairperson of the Lofa County branch of the National Civil Society of Liberia lauded the organizer, YOTAN and partners for undertaking such and effort and creating a platform for voters to directly hear from the candidates why they should vote for them.
Kanmoh could not overlook the fact that the vast majority of the candidates who seek elections did not have the decency to answer directly to the voters, which is perhaps a sign of how they will treat the people if elected. She urged the voters to consider this disrespect by those seeking votes, and commented that the event was highly publicized and well known.
"It is so sad that we have 11 candidates in Lofa, and the information about this debate has been on the various radios for days. And we do believe that this is the time that our candidates should come and speak to us, as citizens. But it is so disheartening seeing only three candidates here today," she said.
---
---
What candidates talked about
Most voters wanted to know how the candidates would address issues related to transportation infrastructure such as road, but also about health, security, agriculture, sexual and gender-based violence. Voters were also interested to know how the candidates will address the issues faced by some of the most vulnerable members of the society, the people living with disabilities.
Madam Kanmoh, a registered voter, wanted to know what the candidates would do, if elected, to address the issue of lack of appropriate storage for agricultural products.
"Because of our bad road, especially during the rainy season, many of the agriculture produce get damaged on the road to Monrovia because there's no storage facility in the county. So, I want to know how you will address this if elected," she said.
Kanmoh described the unfair competition and practice against women in agriculture and entrepreneurship.
"You know many of our women depend on agriculture, and I would like to know if you have a plan to link our vegetable produce to the right market."
Senate candidate Abraham Dukuly of the Rainbow Alliance said that if the women had buyers in their county, they would have no need to store the produce.
"In fact, what is the need for storage facility? It's because there are no buyers. If you have buyers, as soon as you harvest your produce, people will rush to buy it. But if the need arises, I will work with my colleagues, we will bring the storage facility," Dukuly promised.
However, Senate Candidate Johnny Ndebe, of the Liberia National Union had this to say:
"If I am elected, I will work with my colleagues to provide support for mechanized farming and will promote value addition. That's how economies all over the world are built."
Independent candidate Tamba Aghailas said that "One of the key things we will push for is to have energy. Electricity. If you have stable electricity, you can have a storage facility. We understand that there is a hydro project being done in Lofa by the government and partners. We will make sure to follow up on that and make it work."
People living with disabilities want equal representation in politics
The head of the Lofa Branch of Christian Association of the Blind, Issac Soriba, wants the elected candidates to promote the Equal Representation and Participation Bill to guarantee a minimum percentage of the seats in the Legislative to women, the youth, and the people living with disabilities.
The bill was passed by the House of Representatives in 2016 but has since been stuck in the Senate.
---
---
No guaranteed Senate seats for women, says LINU candidate
Senate candidate, Johnny Ndebe, LINU, said that if there were good governance, there would be no need to have special seats in the Legislative for women, youth, and people with disabilities.
"The first thing is that this is due to bad governance. That's when you see people trying to get involved from every sector. So, who knows, maybe our disadvantaged youths called zogos in the streets will soon start calling for their own seat in parliament," Ndebe said.
"The first thing we're going to do if elected is to govern well, so that these people will not have interest in seeking for their personal representation. Lofa county needs to discuss this. If we agree, as senator, I will push for its passage", he added.
Liberia still ranks among the lowest in the world with only 12.4% of women in the Legislature. Women make up 49% of all registered voters, according to the NEC 2017 data. Currently, there is only one woman senator in the upper house, representing 3.3% of the total seats. Logically, 49% of the electorate is represented by only 3.3% of the Senate. The rest, 96.7 of the Senate, all male, make the laws that affect the women, women issues, including rape, sexual assault and violence, education, healthcare, employment, and the economy.
Rainbow Alliance supports guaranteed Senate representation for women and people with disabilities
Rainbow Alliance's Senate candidate, Abrahim Dukuly, said that a bill that allows for guaranteed seats for vulnerable groups such as women, youth, and the people with disabilities is particularly important to the democratic governance of Liberia. Being a physically challenged person himself, he said he will do everything in his power to make sure the bill is passed if he's elected.
"The bill for the exclusive representation of disabled people, women and the youth is very important for our country. I am one of the most youthful candidates among my colleagues and I am also a disabled. We are going to do everything in our power to make sure that this bill is passed [by the senate]," he said.
Independent candidate Tamba D. Aghailas said that if he gets elected, he is going to review the bill, see where the gaps are, investigate why it has been dead on arrival in the Senate, and not make improvements where possible.
"When we're elected on December 8, we are going to make sure to take ownership of that bill. We will review it and see where the gaps are, and we will investigate why such crucial bill has stayed long lagging on the docket of the senate. Once we do that, we will lobby with our colleagues and make sure that bill is passed," Aghailas said.
Sexual and Gender Based Violence
On SGBV elimination, raised by the co-moderator of the debate, Tokpa Tarnue, the three candidates committed to fighting the menace of rape and other forms of SGBV in the country. Lofa county has been [particularly affected by an increasing number of rapes since earlier this year. There were 50 cases of rape alone, excluding other forms of sexual assault, in Lofa alone between January and November, according to the EU Spotlight Initiative Secretariat in Lofa.
Independent Candidate Tamba D. Aghailas promised tough action.
"No one will get away with that kind of crime. I mean, as a man, unless you are a coward to go and rape a woman. We have to change that war-time mentality where we think that we [men] can get everything we want with our strength. That has to change," he said.
LINU candidate, Johnny Ndebe, said that he will introduce social programs to educate men to respect the value and dignity of women.
"Let me let you know that SGBV is a serious issue globally. Who is mostly the first suspect in cases of SGBV? It is us, the men. So, we will develop a social program with young and older men to educate them to respect the value and dignity of women. The second thing is, we need to include SGBV in our classroom lessons so that our kids can grow up knowing what SGBV is and how to protect women," Ndebe said.
Rainbow Alliance, Abrahim Dukuly said that he is going to fight SGBV through massive awareness.
"We are going to set up a team of volunteers, and we'll also talk to the media, to do a door to door community awareness on the danger of SGBV and its dangerous impact on our mothers and sisters," Dukuly said.

The claim is rigorous and the content is demonstrably true.
The statement is correct, although it needs clarification additional information or context.
Evidence publicly available neither proves nor disproves the claim. More research is needed.
The statement contains correct data, but ignores very important elements or is mixed with incorrect data giving a different, inaccurate or false impression.
The claim is inaccurate according to the best evidence publicly available at this time.
Upon further investigation of the claim, a different conclusion was determined leading to the removal of the initial determination.
A rude, disrespectful, or unreasonable comment that is somewhat likely to make you leave a discussion or give up on sharing your perspective. Based on algorithmic detection of issues around toxicity, obscenity, threats, insults, and hate speech;