Stay informed with happenings in your county, follow LocalVoicesLiberia every week day for the latest update on the Special Senatorial elections, COVID-19 and other important developments.
---
Gbarpolu County: Deployment of Poll Workers Ongoin
---
---
The new Senior Election Magistrate of Gbarpolu County says the deployment of poll workers and election materials at144 polling places is ongoing.
This is happening ahead of Tuesday's special Senatorial Election and constitutional referendum.
"We have deployed in hard to reach areas, that continued today and today," says Atty. Fomba A.M. Swaray.
Commenting on the distribution of election materials, Atty. Swaray said the joint security of the county is helping to secure the deployment across the county.
He said, "We are on course with the security; we are doing the deployment together which is good for this exercise."
Atty. Swaray recently took over from Mr. Enerst McCay, who was assigned as Election Magistrate in Margibi County, just three days to polling day. There have been several others shuffling of election magistrates across the country by the National Elections Commission.
---
Bong County: Advocates, Candidates Highlight Importance of Peace ahead of Tuesday Poll
---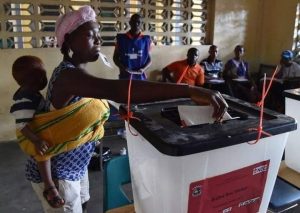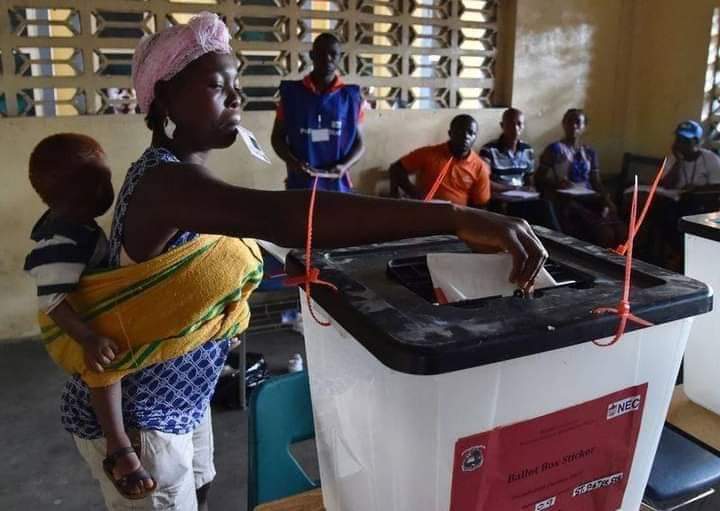 ---
George Philip Mulbah, the Justice and Peace Commission regional coordinator for Bong, Nimba and Lofa Counties, says maintaining Liberia's peace should be paramount to everyone despite the glaring political divide.
Said Mr. Mulbah: "I am appealing to my brothers and sisters especially for those of them that are eligible to vote to come out in their numbers tomorrow and vote in a very peaceful manner".
At the same time, Jesse B. Cole, the Founder and Executive Director of the DELTA Human Right Foundation, called on young people to "take seriously the election" but urged them to remain peaceful after casting their ballots.
"My call to all our people is that they should come out and vote tomorrow and after casting their ballot, return home and listen to the results. When you are voting, vote wisely and put Bong County first," Cole said.
For his part, Foundation for International Dignity (FIND) Executive Director, Aaron G. V. Juakollie, is optimistic that the county will be peaceful after the election.
---
Maryland County: Hope of Peaceful Election
---
---
Christian Ministers Association president has applauded candidates and their supporters for campaigning void of violence ahead of Tuesday election.
Rev. Cyrus Tugbeh commendation comes despite of several threatening statements from some supporters of several senatorial candidates. However, there has not been any major incidence of violence reported so far in the county.
Rev. Tugbeh said if "Liberians will continue on this path the country will have a stable peace to enhance development".
The final day of campaign activities in the county, which was December 6, was peaceful as many hope that the special Senatorial Election peacefully.
---
Grand Gedeh County: Three Candidates Forge Plans for Support
---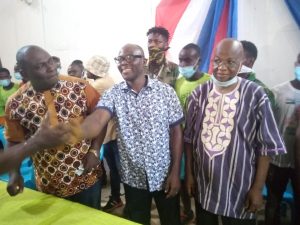 ---
Three out of nine senatorial candidates of the county, who attended the Press Union of Liberia senatorial debate, have committed to supporting anyone of them who wins the Tuesday's election.
Former Foreign Affairs Minister, Mr. Thomas Yaya Nimely, Mr. Williams Grear Nyanue and Mr. Cyrus Cooper were the only three to show at the well-attended townhall debate held in the Zwedru City hall.
They promised to lobby with colleagues including ministries and agencies to improve the living condition of underprivileged Liberians in the county.
Mr. Nimely promised to work with the senate committee responsible to increase budget for Zwedru Multilateral high school to provide  technical and vocational learning for young people, which he said will empower underprivileged youth.
"If we sent them there for achievement and later come out with a career, he/she will become marketable within the society instead of referring to them as zogoes," he said.
"We will also lobby on behalf of single mothers to get loan with a very least interest and at the same time create centers for old folks in catering to their needs if not all, but at a level of 50%."
For his part, Mr. Nyanue promised to work with colleagues to boost agricultural activities through local farming that will enable people to afford locally produced food.
And Mr. Cooper assured that with his "international connection" within the United States, he will improve the lives of ordinary Grand Gedeans including people living with disabilities.
---
Grand Bassa County: Karnga-Lawrence Draws Crowd on Final Campaign Day
---
---
Thousands of people flooded the streets of Buchanan chanting political slogans in the name of the Liberty Party Political Leader, incumbent senator Nyonblee Kangar Lawrence.
Several top heads of the Collaborating Political Parties (CPP) including Mr. Alexander Benedict Cummings were also present at the official launch of Kangar-Lawrence campaign on Sunday, December 6.
Mr. Cummings, who is the Political Leader of the Alternative National Congress,  told the public: "Liberia is driving in the wrong path and we need people like Nyonblee and Darius Dillion to keep up the light at the senate ".
He continued: "I have come to tell you that it is time that we vote our female giant, the only woman at the senate to push women and National issues".
Responding to cheers, Kangar-Lawrence, said to her supporters joyfully: "Your action today proved to me that I have won the election, but you are going for the confirmation on December 8.
"I want to ask you to forgive me if I have done you wrong but remember I am your heritage and so prove to the world that the late Charles Walker Brumskine left a giant behind."
She encouraged her supporters to ensure that the turnout in their numbers to confirm her re-election on December 8.
---
Grand Cape Mount County: Calls to Deploy More Security Officers Heighten
---
---
Mr. Alex Balo, the head of civil society organizations in Grand Cape Mount County, has called on the government to deploy more security officers in Porkpa District, where a recent violent incident on Saturday saw the burning of two pickups belonging to the District representative.
The violence was reported to have occurred between some supporters of the CDC and the opposition CPP. And Mr. Balo said considering that the district is one of the most populated in the county, three police officers assigned in the area means that they are unable to deal with any situation.
For her part, Madam Jamiatu Watson, Paramount chief of District, claimed the security officers in the area are not in the interests of the communities.
"When the violence occurred, some men ran into my house and took some valuable things from my house and there was no intervention made by the police and with what I saw I have to run in the bush there where I and my family slept," she said.
"So am calling on this government to please deploy more securities in Cape Mount especially Porkpa District or else some citizens will not go to the poll".
---
This content sharing initiative is supported by Internews under the Liberia Media Development program, with funding from USAID-Liberia. However, these contents are gathered and published independently by Local Voices Liberia, and do not necessarily reflect the views of the funder.
---

The claim is rigorous and the content is demonstrably true.
The statement is correct, although it needs clarification additional information or context.
Evidence publicly available neither proves nor disproves the claim. More research is needed.
The statement contains correct data, but ignores very important elements or is mixed with incorrect data giving a different, inaccurate or false impression.
The claim is inaccurate according to the best evidence publicly available at this time.
Upon further investigation of the claim, a different conclusion was determined leading to the removal of the initial determination.
A rude, disrespectful, or unreasonable comment that is somewhat likely to make you leave a discussion or give up on sharing your perspective. Based on algorithmic detection of issues around toxicity, obscenity, threats, insults, and hate speech;