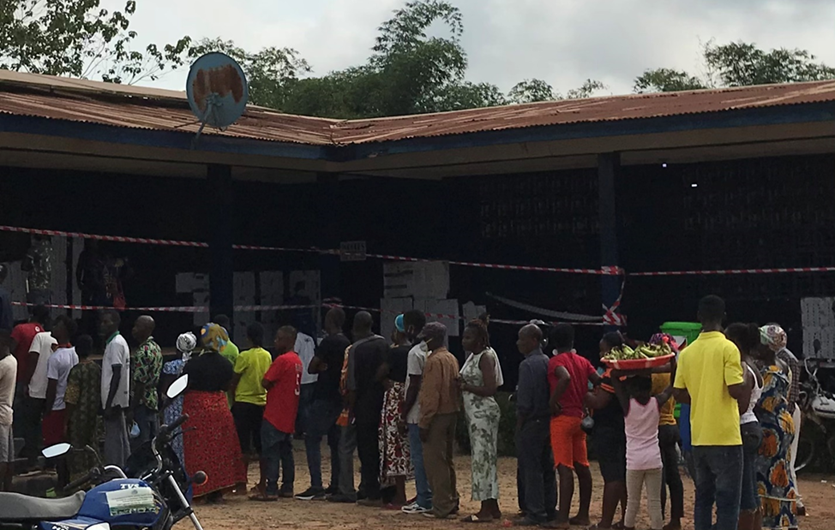 Zwedru, Grand Gedeh County – People living with disabilities have described that they received priority to vote on December 8, in general. However, those experiences were not shared by the people living with disabilities in Grand Gedeh county, who condemned the National Elections Commission (NEC) staff for failing to adhere to the guidelines and make provisions for those who needed special accommodation to be able to vote.
---
Report By: Kai Gee, LMD Election Reporting Fellow
---
The Grand Gedeh Disabled Association (GGDA), chairperson, Anthony Sahr, has described the behavior by NEC staff as "exclusion of the voiceless."
Anthony Sahr alleged that the NEC staff refused to give priority in line to people living with disabilities, leaving them waiting in lines for hours, which was difficult especially for those with mobility issues. Sahr described this as "unbearable" for some of his community members.
"We didn't vote as many as expected because we were not treated fairly," Sahr said, claiming that many of the people living with disabilities returned home without voting because they simply could not wait for hours in line.
Rebecca Doe, a high school student living with disabilities from B'hai district said that "my friends and I didn't vote on election day. We were the last ones in the queue and asked NEC workers to place us at front, but they said we should manage it. So, we left the voting center because I cannot walk, and my friends are visually impaired."
Grand Gedeh Rural Women President, Jesadeh Barzon, welcomed the association for speaking out about the discrimination and condemned the NEC staff and leaders for poor coordination.
When contacted, the NEC supervisors and precinct officers in a joint interview could not confirm nor deny the allegation.

The claim is rigorous and the content is demonstrably true.
The statement is correct, although it needs clarification additional information or context.
Evidence publicly available neither proves nor disproves the claim. More research is needed.
The statement contains correct data, but ignores very important elements or is mixed with incorrect data giving a different, inaccurate or false impression.
The claim is inaccurate according to the best evidence publicly available at this time.
Upon further investigation of the claim, a different conclusion was determined leading to the removal of the initial determination.
A rude, disrespectful, or unreasonable comment that is somewhat likely to make you leave a discussion or give up on sharing your perspective. Based on algorithmic detection of issues around toxicity, obscenity, threats, insults, and hate speech;