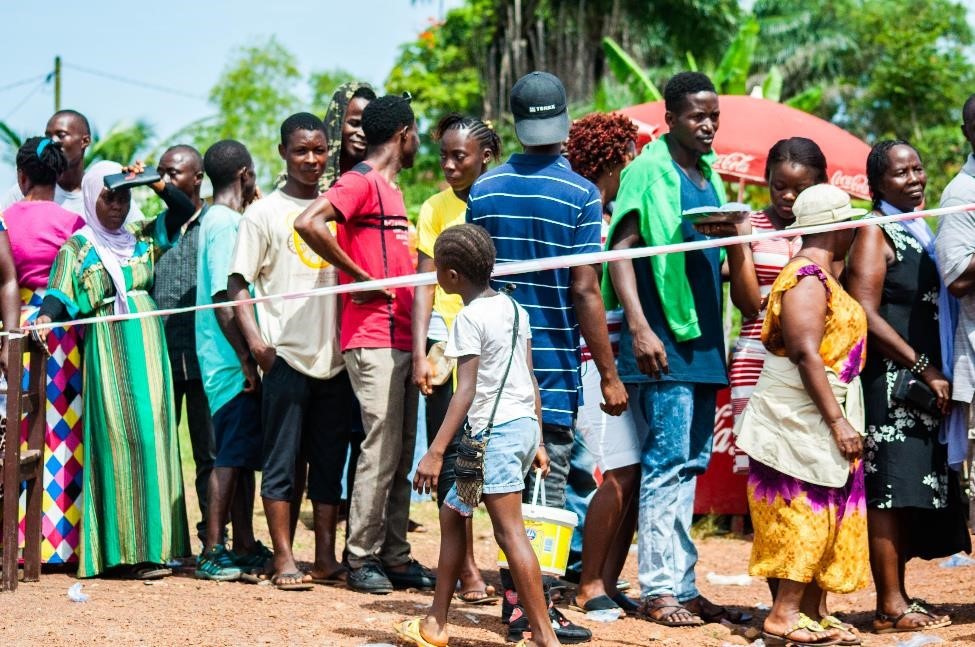 Monrovia – Josephine Miller, a registered voter at the Duja High School, in Gardnersville, Monrovia said that the people at her voting place were kind, and she appreciated this more than anything else.
---
Report By: Leila Gbati, LMD Election Reporting Fellow
---
"Each and every Liberian had their candidates they were supporting, but we were voting for Liberia because peace and stability is our priority before individual interest. I am very happy that every Liberian accepted the election results as announced by the National Election Commission," Josephine said.
She said that wants every election in Liberia to be peaceful as the one December 8, 2020.
"Our children are about to start school in January, and we do not want violence in this country that will carry us back to the time when Liberians were living in fear just because of power. Our eyes are open, and politicians can no longer incite us to cause violence just because they want power."
The December 8, 2020, Special Senatorial Elections (SSE) and National Referendum were largely dominated by peace, in what many characterized as a free and fair election.
---
---
This is what Amos B. S. Kanneh, president of the National Civil Society Union of Liberia (NACSUL), also believes, but stated that President Weah must immediately address sporadic incidents of violence and intimidation, such as in the case of Gbarpolu county.
"Our democracy is growing, and I commend the Liberian people for making their decision and exercising their constitutional rights. There were some lapses in this election that we observed, and the National Election Commission needs to work on them to avoid future embarrassment," Kanneh said.
In an exclusive interview on December 31, Kanneh said that President Weah must now work on reuniting the country, especially as a means to resolve the ongoing conflict in the county of Gbarpolu, where a Paramount Chief seized four ballot boxes on December 8, election day.
"As a civil society organization, we stand for transparency and accountability. We strongly condemn the situation in Gbarpolu and other counties and call on the NEC to quickly handle the matter to avoid conflict," Kanneh said.
According to the NEC, 926,380 registered Liberians, representing 37.41% of the 2,476,356 registered voters cast a ballot in the Special Senatorial Elections that saw 15 incumbent senators up for re-election.
Only three of the 15 won re-election, according to Kanneh, who said that "this tells you that the Liberian people are watching those that are working in their interest, and those that are not working in the interest of the country."
In a post-election interview in Monrovia, voters said that they chose the candidates in the interest of the country as a whole, and not for individual purposes.
According to the NEC official results, incumbent Senator, Darius Abraham Dillon of the Collaborating Political Parties (CPP), obtained 61.3% of the votes, defeating sitting Representative, Thomas Fallah, of the ruling Coalition for Democratic Change (CDC).
Raihim V. Brosius, a shoe seller was impressed by the peaceful manner in which voters conducted themselves on December 8.
"Even though the ballot paper had people on it, but each of them represented the country, so I voted for the candidate that I believed will represent the country and all the people. I voted for the love of my country and not personal interest," he said.
On December 12, during his post-election speech, President Weah said that the elections represent a major victory for democracy in Liberia, that significantly enhanced the democratic credentials and affirmed the support for the rule of law.
"I would like to […] congratulate the Liberian people for the calm, mature, and peaceful manner in which they exercised their democratic franchise at the various polls throughout the voting process," the President said. He thanked the security forces, "ensured that there was a peaceful and conducive atmosphere for these elections to take place, and that the freedom and rights of all our citizens were guaranteed and protected, both during campaign rallies and polling days."
Weah also thanked political parties for taking initiatives to admonish their respective partisans to remain disciplined and orderly throughout the process.
Candidates who contested in the election generally came out quickly and publicly to accept the elections results as published by the NEC.