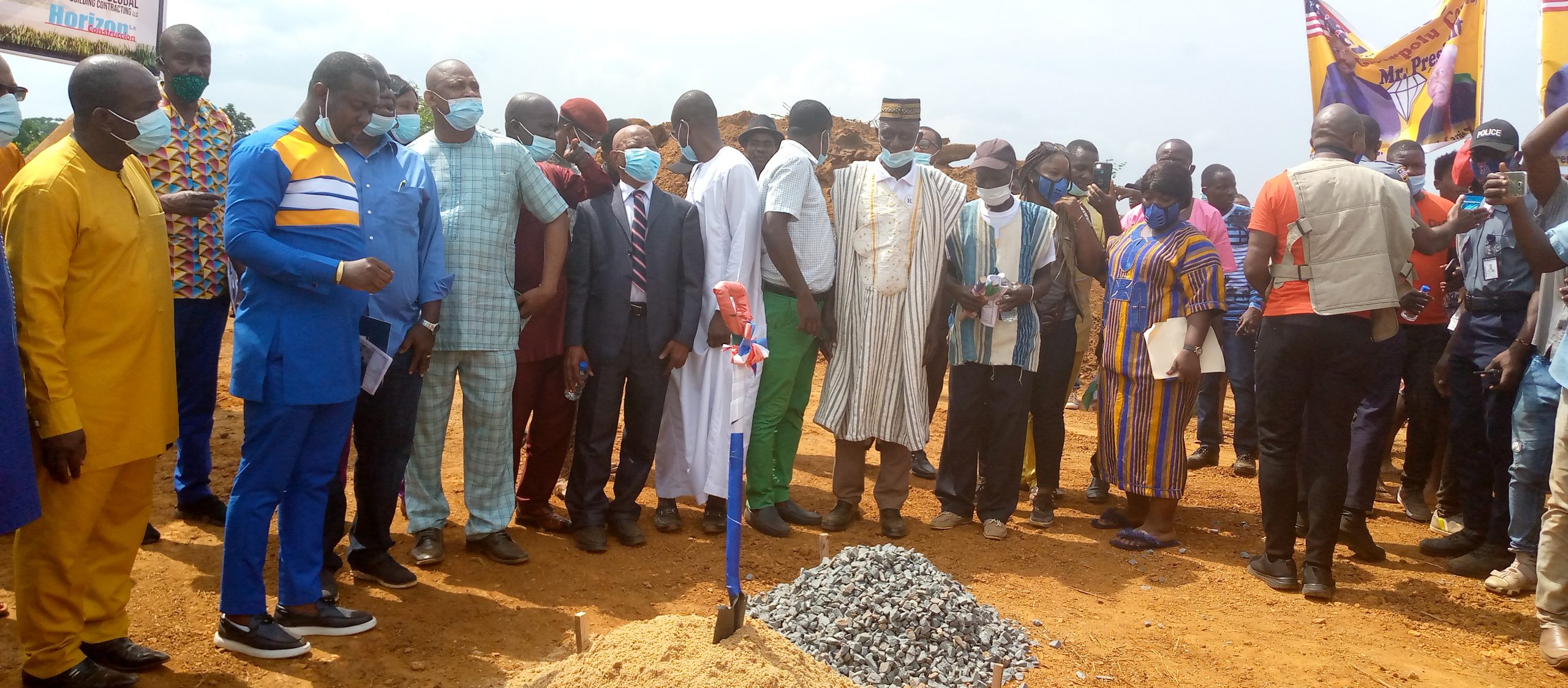 Bopolu City, Gbarpolu County – Liberia's Health Minister Dr. Wilhelmina Jallah has called on residents of Gbarpolu County to embrace and support the construction of a US$20 million hospital in Bopolu City.
"The people of Gbarpolu have to put their hands around the people that are coming from UAE to build this hospital," she said.
"If you do well, I'm sure the people of UAE will give us more hospitals. So, I'm appealing to you all to step out and do your part so they can do their part."
Dr. Jallah made the statement at the official groundbreaking event of the proposed100 beds hospital in Bopolu City on January 21, 2021.
The event was graced by members of the House of Representatives, local and national government officials, and officials of the Government of the United Arab Emirates.
Dr. Rajeer Mangottil, the project consultant from UAE, assured people of the county that the hospital will be built to meet international standard.
The hospital will be built on a land space of 52,000 square feet in Bopolu City. When completed, it will Urgent Care Department, Diagnostic Department, NICU, and Intensive Care Department, Internal Medicine and Pulmonology Department, amongst others.
---
---
But there are concerns that the hospital will need more qualified health workers and Minister Jallah, who disclosed that the total of 263 healthcare workers are assigned in the county, said the number will have to double.
One of the ways in which the proposed Bopolu Hospital will be sustained, or supported, will be through national budgetary allocations, according to the Chairperson on the House Committee on Health, Hon. Joseph Nyon Somwarbi of Nimba County.
"To the people of this county, we want to appreciate you and tell you that the needed – the legislative support – budgetary support will be made available for the upkeep and the constant functioning of this great facility that will be constructed," he said while calling on the residents to rallying their support for the project.
"If you work diligently with the project team, we stand ready to support you, because that is going to serve as gateway or an eye opener for UAE to select other parts of Liberia to benefit similar project."
Meanwhile, several residents who attended the groundbreaking event welcomed the project.
"I'm praying and optimistic that when this project is completed, it will be a limelight that will add more values to the healthcare delivery system in western Liberia," said former County Superintendent Armah M. Sarnor.
Added Pastor Kollie Martor: "This is why we always praying for the government of the day to succeed, because when they are successful, we all can feel the impact.
"This is just an example. So, we will not seize praying. We pray day and night for the government and UAE in others for this project to be completed because this is going to be a blessing to us."