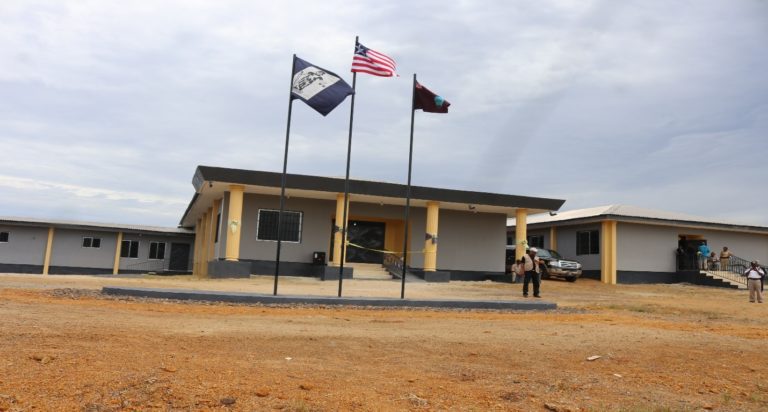 Tubmanburg, Bomi County: The Magisterial Court in Tubmanburg has fined and sent several persons to jailed after the court found them guilty of stealing the Government of Liberia (GoL) COVID-19 stimulus food package for vulnerable.

---
Report By : Kemah Z. Zinna, LMD Reposnsible Health Reporting Fellow
---
The distribution process started on December 31, 2020, and lasted for a one month due to criminality that marred the process.  
In January of this year, officers of the Liberia National Police (LNP) assigned in Bomi County arrested several persons in connection to the illegal sale of the hundreds of bags of rice including beans and vegetable oil meant to be distributed to vulnerable people affected by the outbreak of the coronavirus in Liberia.
They were charged by the LNP for criminal facilitation and theft of property and sent to court. 
Those involved are Varney Mckeever, Tubmanburg City Corporation (TCC) Manager, and his co-defendant Kadiatu Keita, Senjeh District Commissioner Maima B Free and co-defendants Prince Kamara and Robert Ezike who directly work with the Word Food Program (WFP), Titus NabeiU and co-defendant Joseph Swaray, and James Tarpeh, including six (6) others.
According to police charged sheet, defendants Varney Mckeever, Kadiatu Keita, Titus NabieU and Joseph Swaray admitted to police for stealing some of the food. 
"In violation of chapter 15 subchapter' B' section 15.20 and chapter 10.2 of the revised Penal code of Liberia, defendants Varney Mckeever, Kadiatu Keita, Titus NabieU and Joseph Swarary were arrested,  acquainted with their Miranda rights, investigated and subsequently charged with the crimes THEFT OF PROPERTY and CRIMINAL FACIKLITATION respectively for their involvement in stealing and taking away 31 bags of 25kg rice, 5 bags of beans and 13 gallons of vegetable oil in total from the COVID-19 stimulus package." 
Commissioner Maima Free of Senjeh District denied during police investigation of taking away a consignment of 800 bags with the involvement of two other staff of WFP.
Defendants Titus Nabieu and Joseph Swaray on January 13, 2021, pleaded guilty before court as the writ of arrest was being read; and each of the first two defendants was sentenced to one (1) month imprisonment and fined US$ 50.00 for criminally and intentionally stealing eleven (11) bags of 25kg rice, one bag of beans and three gallons of vegetable oil. 
"Based upon chapter 16 subsection 5 of the criminal procedure law of Liberia which says, when the defendant who is arraigned before court and pleaded guilty, the court should render decision immediately and do mitigate the punishment thereof" the court noted.
Defendants Titus Nabieu and Joseph Swarary were mandated by the magisterial court to pay their fines through government's revenue and bring forth flag receipt to have the matter recorded; while, defendants Varney Mckeeve (City Manager TCC) and Kadiadu Keita after pleading guilty and pray for mercy, were only fined US$ 200.00 but received no sentence.
"Based upon chapter 16 subsection 5 of the criminal procedure law, since the defendants without any duress or molestation of any force impose on them voluntarily confessed judgment, the court has no other alternative but to accept the plead; moreover, since the both parties in the misdominum case are not in any way lying in their action or to manipulate evidence in their own favor to secure freedom, this court leaves with no other alternative but to impose the fine  $ 200 USD in keeping with chapter 50 of the Panel Law of Liberia which covers sentencing,  and  it also has some level of provision to those people or defendants who for the first time appearing before court" the court ordered. 
Meanwhile, Bomi County District #1commissioner Maima Free and her co-defendants (two WFP staffers) case are yet to be tried, as the lawyer representing the legal interest of Commissioner has requested the court not to allow state prosecutor Cllr. Jumah Karnley to represent the state on grounds that he (Jumah Karnley) is an unlicensed lawyer.
Cllr. Alahagii Sesay who is a private lawyer from the LAAC and Johnson Law Chambers Said, for three years, Cllr. Jumah Karnley has not pay any due to the LNBA or tax to through government revenue as such, the county Atty. is not in good standing with the bar.
"The state prosecutor Juma Karnley cannot not proceed in this case on grounds that he has not paid any tax or due to the LNBA and your honor if council does not bring forth his licensed document from the Bar, I pray that this case be dismissed" Cllr. Alahagii S. A. Sessay requested court.
In a counter argument, the county Atty. Jumah karnley stated they as state prosecutors are exempted from paying taxes but only pay due to the bar and not tax; noting that the request made by defends council is false and misleading something he said. 
The county Atty. further argued that the submission of the defense council is a mere bluff intended to distract the court from the merit of the case. 
" your honor, the submission made by the council of defense is false and misleading and intended to district this court from going through the merit of this case; because we as state prosecutors are exempted from paying taxes to government we only pay due to the National Bar "
The Magisterial court has turned over 825 kg bags of rice, 147 gallons of vegetable oil and 50 bags of beans back to the World Food Program (WFP) for on onward distribution to the citizens.
---

The claim is rigorous and the content is demonstrably true.
The statement is correct, although it needs clarification additional information or context.
Evidence publicly available neither proves nor disproves the claim. More research is needed.
The statement contains correct data, but ignores very important elements or is mixed with incorrect data giving a different, inaccurate or false impression.
The claim is inaccurate according to the best evidence publicly available at this time.
Upon further investigation of the claim, a different conclusion was determined leading to the removal of the initial determination.
A rude, disrespectful, or unreasonable comment that is somewhat likely to make you leave a discussion or give up on sharing your perspective. Based on algorithmic detection of issues around toxicity, obscenity, threats, insults, and hate speech;