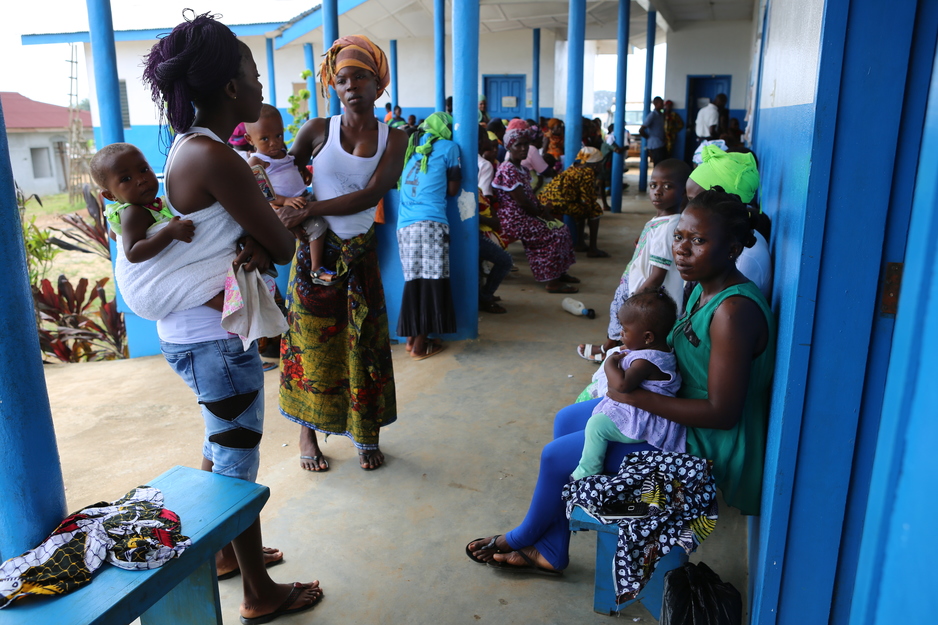 Paynesville —  Two new cases of Polio recently discovered in Liberia have sparked concerns about the gap in immunization during the peak of Covid-19 in the country. The disruption of the routine vaccination campaign was also caused by misinformation that the polio vaccine was instead Covid-19 vaccine although at the time there was not yet a discovery of the jab for the novel coronavirus.
---
Report By: Alpha Daffae Senkpeni, Local Voices Liberia
---
Every child is to take the vaccine five times before the child is one year old but as misinformation about vaccines during the peak of Covid-19 spread, many parents were hesitant thereby preventing children from taking the routine polio vaccine.
Some parents speculated that their children would be infected with Covid-19 if they took the Polio vaccine. This significantly disrupted the immunization of thousands of children with the polio vaccines. 
Mekapo Flomo, 22, says since the coronavirus she has been afraid to take her daughter to the clinic for the polio vaccine. 
"I didn't bring my daughter for vaccine because of the cases we heard about during the virus. If anything happen to her it will be hard for her to stand it because she's still small. So I kept her home," Flomo said. 
For Grace Dabah, 30, she was convinced by nurses to take her child for the routine polio vaccination. 
"I took my child for vaccines during the crises because the nurses told me at birth to not take the vaccine lightly if I didnt want my child be abnormal," she said. 
She, however, wants to be sure about the kind the vaccine that will be available . "I'll ask them to make it clear, 'why my child should take it and I'll be satisfy before my child takes the vaccine". 
Added Wynetta Suakollie, 27, a mother of a two-year-old girl: " When coronavirus was serious I didn't come with my child to the hospital for vaccine because coronavirus was serious and I didn't know the nurses status, so I had to keep her safe."
29-years-old Abigail F Johnson, said taking her child for any vaccination would have been risky. "The radio said stay home, stay safe, bringing my child outside among people was going to be like exposing him. For me I can wear mask to prevent myself but this child can't.
Despite the information crisis during the start of the coronavirus pandemic about vaccination, some parents were still willing for their children to be immunized with the polio vaccines. But there were even difficulties in having the vaccines at some health facilities.   
According to a vaccinators at the James N. Davies Memorial Hospital located Nezoe community, during the peak of pandemic in Liberia, the hospital was most time out of dosages of polio vaccines. 
"Patients came and we turned them down because there was no vaccine at the facility. There were also no gloves, masks and medical items go meet the patients because the government was no longer supplying us as it was before. To prevent ourselves, we would buy our own gloves and ask the patients to buy it L$30 or ask them to go to the pharmacy to buy it and come for treatment. If its not available we at times take the risk by using our bare hands just because we understand that the vaccine is essential to the child health."
At the Duke Medical and Surgical Clinic in Zota, Paynesville City, vaccinator Kula Kamara also recounted how there was a shortage of Polio vaccine during the peak of the pandemic although several mothers brought their children to be vaccinated. 
"For three to four months, during the pandemic, we didn't  have Polio and other vaccines to administer to babies from zero to nine months because it wasn't available," she said. 
And when 25-year-old Ammie Konneh took her baby there for vaccination during the peak of pandemic, she was turned away because there were none in stock. 
"I took my baby to the clinic for vaccines but they told us to come back and when we used to come, they will still say the same thing so I got tired of coming," she said.
Newon Sonkaleh, 26, also of Zota Community, echoes Konneh's concern. She too was willing for her child to get vaccinated but it was unavailable. 
"I used to take my baby for vaccine but no vaccine was there," she said, adding that she is still waiting for her daughter to be immunized once the vaccines are available.  
Now that there is an outbreak of polio in the country following the discovery of two cases, the Ministry of Health and partners are pushing for the immunization of many more children to further prevent the crippling disease. 
In early February, Minister of Health, Dr. Wilhelmina Jallah issued a statement declaring polio outbreak within the country as a 'National Public Health Emergency.'
"In line with WHO and the communities for Polio and the International Health Regulation of 2005, recommendations as that in such a case, action supposed to be taken to curtail its further spread; therefore, I am officially declaring this event as a National Public Health Emergency. This means that number one, we have to continue to monitor the situation within the Country; and the second, most important thing we have to do is to interrupt the spread of this polio virus and go back to try and eradicate it," she declared.
This is the first polio outbreak since 2008 in Liberia. Polio Myelitis is a virus that is transmitted through contaminated water and food or contact with an infected person and it causes paralysis if not prevented by the child taking the Polio vaccine.
Meanwhile, some mothers, who spoke to LocalVoicesLiberia, said they will allow their children take the polio vaccines. 
"If the Government brings in any vaccine, once its for my child health he will take it," said Ammie Konneh of Zota Community.