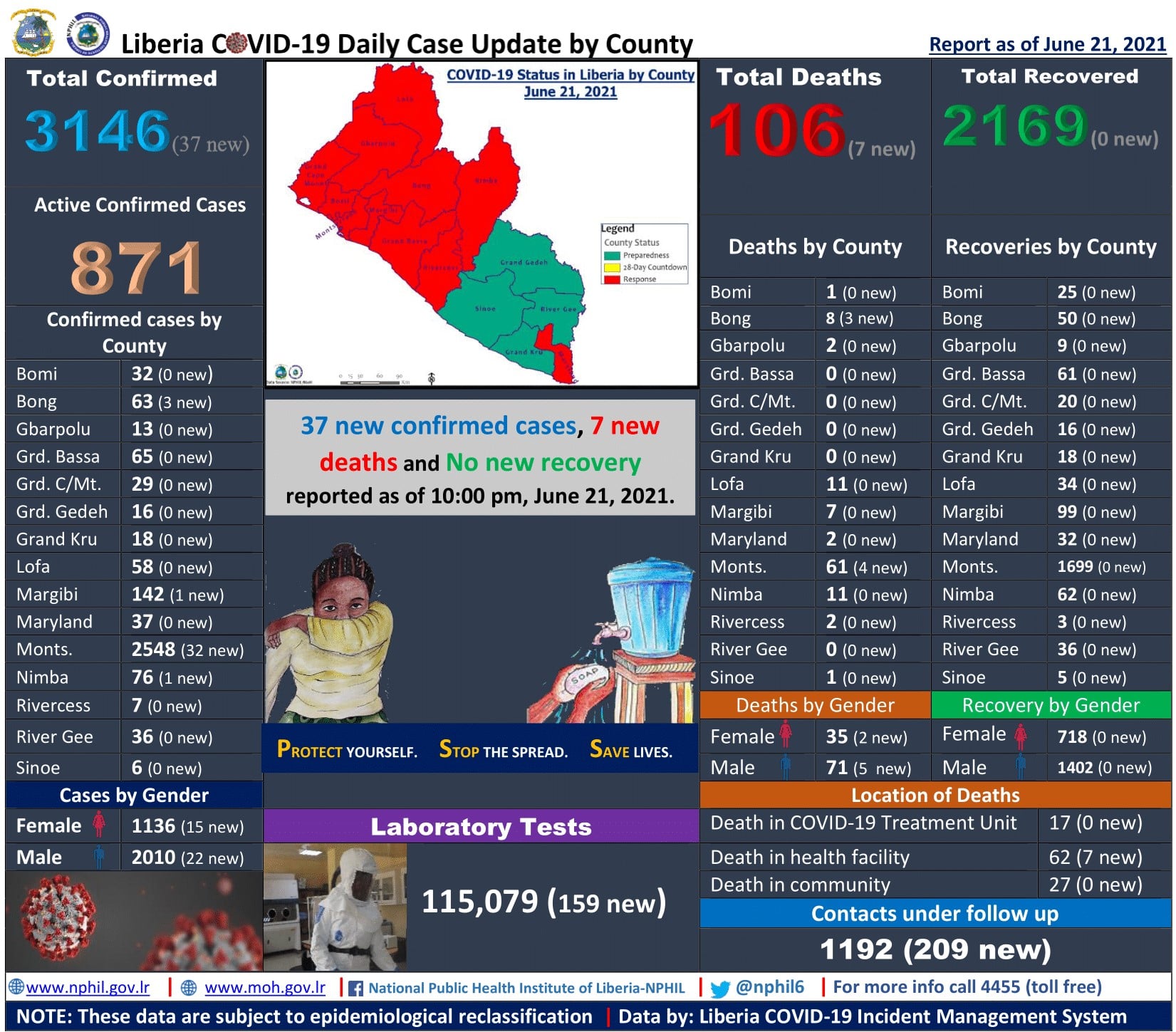 Paynesville – While making a case for increased support for the health sector to fight against the resurgence of the coronavirus pandemic, Bomi County Senator Edwin Melvin Snowe claimed that Liberia was recording the highest daily case of COVID-19 infections in West Africa.
---
Report By: Edward Blamo, Local Voices Liberia Fact Checker
---
The claim was made on Monday, June 21, during an interview on Okay FM. That interview was also livestreamed on Facebook, attracting over a thousand viewers both in and out of the country.
The Bomi County senator referenced the West Africa Health Organization (WAHO) as his source but did he get it right?
What Did We Find?  
Latest COVID-19 cases tracking for West Africa show that Sierra Leone and Liberia are the two countries reporting the highest number of confirmed new cases in the region – a rather grim record.
Reuters, an international news organization owned by the Thomson Reuters Foundation in its COVID-19 Tracker, which relies on John Hopkins University for data, states that infections are increasing in Liberia with an average of 54 new infections reported each day. The tracker, which is updated daily, shows that the new average represents 74% of the peak – the highest daily average reported was on June 20, 2021.
The report also listed Sierra Leone as the country at the peak of new daily infection rate in the region with 73 cases being the highest daily average.
When Local Voices Liberia checked, we could not see evidence of the claim on the official website of WAHO. However, data from the John Hopkins University & Medicine's Coronavirus Resource Center show that Liberia recorded 161 cases on June 20 – the day before Mr. Snowe made the claim. The data further show that Liberia recorded a total of 460 new cases from June 13-19.
Also, the National Public Health Institute of Liberia reported on its Facebook page that 161 new confirmed cases were recorded on June 18, 52 on June 19, and 62 cases on June 20. The NPHIL report also shows that 37 new confirmed cases were recorded on June 2I, totaling 268 new cases in the space of four days – from June 19 – 21.
Meanwhile, Ministry of Information and communication of Sierra Leone reported that the country recorded 78 new confirmed cases on June18; 71 new cases on the June 19; 114 new cases on June 20, and 63 new cases on June 21, aggregating to 326 new cases in four days.
Conclusion
The figures reported by both authorities in Monrovia and Freetown show that between June 19 and 21, Sierra Leone (326) had recorded more cases than Liberia (268). However, new cases recorded after June 21 are not included. Senator Snowe's claim was made on June 21 and this means the numbers he relied upon to state that Liberia was recording the highest number were inaccurate because between June 19 and 21, Sierra Leone recorded the highest number of new cases.
This means when Senator Snowe made the claim on June 21, Sierra Leone had recorded the highest number of new confirmed cases in the region while Liberia was at second.
---
| | |
| --- | --- |
| Claim | Verdict |
| Liberia was recording the highest number of COVID-19 cases before June 21, 2021 | Not totally incorrect. Sierra Leone (326) was recording the more cases than Liberia (268) before June 21. |
---
You may contact us to fact check any claim or information relative to Liberia. Contact us on:
Factcheck.localvoicesliberia@gmail.com or  WhatsApp: +231880986778
---
LVL Fact Checking Desk is part of the Liberia Media Initiative co-financed by the European Union. The funder had no say in the production of this report.