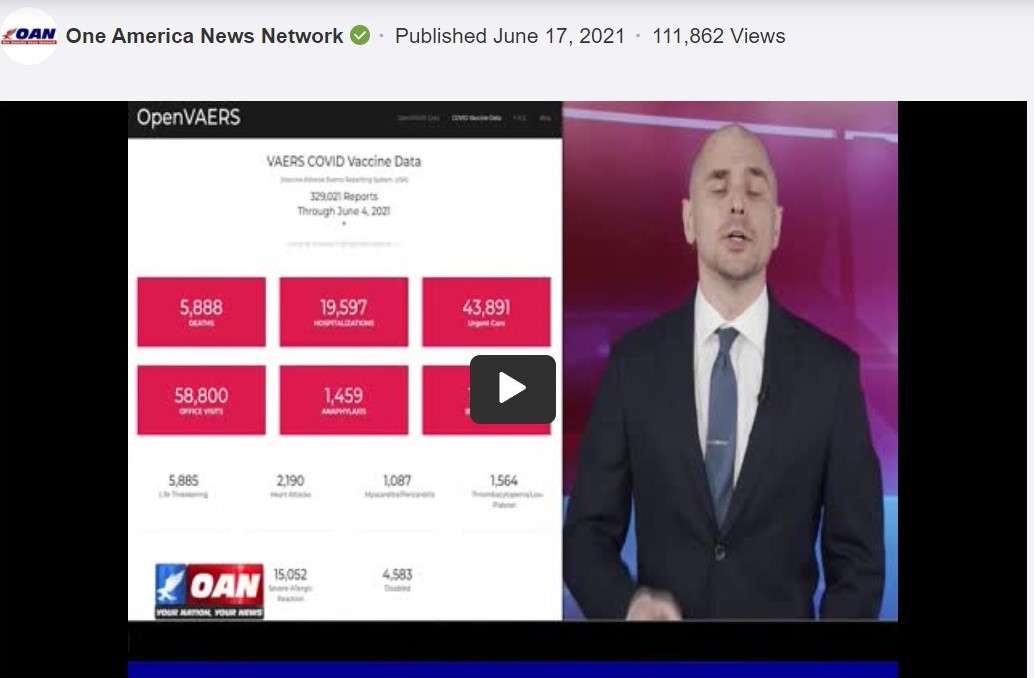 Monrovia – In June, a video report by Pearson Sharp of One America News (OANN) was shared online and made rounds across the world. In the video, Sharp claims that were complaints from around the world that cast doubt about the efficacy of COVID-19 vaccines.
---
Report By: Varney Kelvin Sirleaf, Local Voices Liberia Fact Checker
---
This video has also gone viral in Liberia, raising concerns that it may ignite vaccine hesitancy amongst the population.
But are the claims made about the COVID-19 vaccines in the video correct? Local Voices Liberia checked and found that the claims are misleading.
Sharp relied on the US government's Virus Adverse Event Reporting System to make the claims. VAERS, which is an America vaccine safety monitoring system, accepts report of adverse events from the public and health workers after vaccination, but gives a strict disclaimer about the data relating to the complaints. Because the reports sent into VAERS often come from members of the public, their validity has not been verified and they only serve as anecdotal data.
---
---
Also, a fact checked report  by Reuters on the video states that VAERS data were used out of context. The report clarifies that "VAERS collects reports of adverse effects in patients following vaccination but anyone can input to the system, and the entries do not prove causality".
What to Know About America News Network?
Media Bias/Fact Check, an organization that keeps track of news organizations and rates them based on factual accuracy and political bias, describes OANN as a "right-wing pay television news channel" and that OANN has been criticized for biased content that favors former US president Donald Trump.
"Overall, we rate One America News 'questionable' based on far-right bias, lack of sourcing, promotion of conspiracy theories, and propaganda, as well as numerous failed fact checks. OANN is not a credible news source," MBFC said.
UK based media, The Guardian slammed OANN for reporting "baseless conspiracy theories" and for "ceaselessly spreading disinformation about the Covid-19 pandemic". Specific reference was made to a March 2019 report in which an OANN White House correspondent claimed that coronavirus "had been deliberately synthesized as a bioweapon in a North Carolina laboratory". The report relied on sources known for "promulgating wild conspiracy theories on social media".
Additionally, we found that in November 2021, YouTube suspended OANN for one week after they posted a video that contained misinformation about COVID-19 cure.
Do COVID-19 Vaccines Cause Heart Inflammation in You?
Reports of death after COVID-19 vaccination are extremely rare – this is contrary to the video report. More than 310 million doses of COVID-19 vaccines have been administered in the United States, according to the Centers for Disease Control and Prevention. The CDC adds that acute allergic reaction, known as anaphylaxis, after COVID-19 vaccination is also rare and has occurred in approximately 2 to 5 people per a million people vaccinated in the United States. Severe allergic reactions can occur after any vaccination, not just the COVID-19 one, if a person has a history of being allergic to any of the ingredients.
There have been a few cases of myocarditis and pericarditis – heart inflammation — after vaccination for COVID-19. For example, in the United States, so far more than 326 million people have received the COVID-19 vaccine, CDC stated on its website. As of June 28, 2021, VEARS had received 780 complaints of heart inflammation incidents, most of them in people age 30 and younger. Health authorities in the US (CDC and the Food and Drug Authority) later confirmed 518 cases out of the total 780 incidents that were reported to VAERS. That would make the risk of heart inflammation as rare as 1 in 629,343.
Conclusion
Based on the evidence gathered from the CDC, VAERS, and other reputable sources, we found that all the data used in the video by OANN were either exaggeration of the facts or were intended to mislead. The evidence also show that very few people have had incidents of heart inflammation as compared to the number of people who took the vaccines.
Also, the disclaimer by VAERS that reported cases of vaccine side effects must not be misconstrued as the fact or real situation until they are confirmed, shows that OANN reference of the data in its viral report was incorrect and exaggerated.
Additionally, the reputation of OANN – known for creating and promoting conspiracy theories about the COVID-19 — also raises red flag about the accuracy and correctness of its reports about COVID-19.
We rate this claim as misleading.
---
Important: If you are experiencing these signs and symptoms go for testing. Wearing mask and vaccines offer good protection against the Delta variant and it is a good way to stay safe and protected. 
You may contact us to fact check any claim or information relative to Liberia. Contact us on:
Factcheck.localvoicesliberia@gmail.com or  WhatsApp: +231880986778
---
LVL Fact Checking Desk is part of the Liberia Media Initiative co-financed by the European Union. The funder had no say in the production of this report. 

The claim is rigorous and the content is demonstrably true.
The statement is correct, although it needs clarification additional information or context.
Evidence publicly available neither proves nor disproves the claim. More research is needed.
The statement contains correct data, but ignores very important elements or is mixed with incorrect data giving a different, inaccurate or false impression.
The claim is inaccurate according to the best evidence publicly available at this time.
Upon further investigation of the claim, a different conclusion was determined leading to the removal of the initial determination.
A rude, disrespectful, or unreasonable comment that is somewhat likely to make you leave a discussion or give up on sharing your perspective. Based on algorithmic detection of issues around toxicity, obscenity, threats, insults, and hate speech;