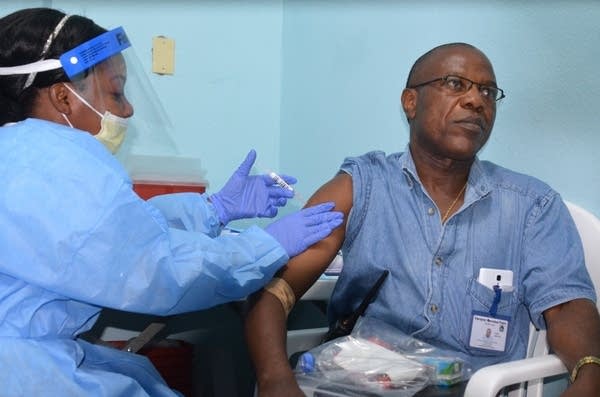 Monrovia, Liberia — Less than two percent of Liberians have taken at least one dose of the COVID-19 vaccine, according to statistics from the National Public Health Institute of Liberia (NPHIL).
---
Report By: Arthur Kowah, Local Voices Liberia Health Reporter
---
The statistics, which come as the country grapples with a new wave of COVID-19 infections, show that 94,800 people have received their first doses of the Oxford-AstraZeneca vaccine – this accounts for just 1.895% of the country's population which the World Bank put at an estimated at 5 million.
However, at least 6,120 people have received their two doses, accounting for 0.12% of the population.
Vaccines have been recommended by global public health experts including the World Health Organization (WHO) and the United States' Center for Disease Control (CDC) as very effective against COVID-19 — especially preventing severe illness and death.
Meanwhile, there have been growing concerns about the shortage of vaccines with those ready for their second dose expressing even more anxiety.
Chester Smith, Risk Communication Specialist at NPHIL, said an additional 96,000 doses of AstraZeneca Vaccines are expected in country by July 27, adding that the new arrival is purposely for people who have only taken one jab and anticipate completing their required two doses.
According to Smith, vaccines hesitancy or refusal to take the vaccine was first high among the population at the beginning of the vaccine rollout in the country but people's interest heightened because of the spike in new cases.
"There have been hesitancy since the vaccines rollout, only until the third wave — that there were deaths occurring in communities and then the vaccines uptake increased," Smith said.  "We just hope that it [vaccines intake] will increase for the second time when the doses arrive".
Meanwhile, Adolphus Clarke, the head of immunization at Liberia's Health Ministry, said that due to  increased vaccines uptake in the country, they've decided to open up to receiving other vaccines.
Only the Oxford-AstraZeneca vaccine has been used in the country since the emergence of the pandemic.
"We've realized that the level of vaccines uptake in Liberia has increased considerably. So as a country we've decided to open up to receive other vaccines", he said.
The Country's immunization chief said the overall goal of bringing in other vaccines is to attain herd immunity — a condition that occurs when a large portion of the community (the herd) becomes immune to a disease, making the spread of the disease from person to person unlikely, thus, eventually making the whole community protected, not just those who are immune.
"The overall goal is to be like any other country in Europe, America — where you have a level of relaxation on the use of face mask," he said of the benefits of achieving heard immunity.
Dr. Clarke said to be able to achieve this, Liberia is expected to vaccinate over 2 million people (approximately 2,368,611 people), adding that the country is working with multilateral partners to include the COVAX facility and the World Bank to achieve this.
"So vaccines coming through the COVAX for now may not be able to do that. So as a government, we've reached out to multilateral partners and banking institutions, for example the World Bank. The World bank has decided to create another funding mechanism called the Additional Funding Mechanism for which Liberia is going to receive 386,452 doses of Johnson and Johnson vaccines", he explained.
"What that means is that we will only be vaccinating people [with the Johnson & Johnson] who are due for vaccine for the first time. These are the people that will be receiving Johnson & Johnson because dosing schedule is only one, meaning that you can only take in one time".
The country is reporting lower vaccines administration amid comparatively high infections rate in the Mano River Basin. As of July 14, 2021, Liberia recorded 5,306 confirmed cases of COVID-19 and 148 COVID-19 deaths and 2,652 recoveries, according to data from NPHIL.
According to Reuters Covid-19 Tracker, Liberia is reporting an average 42 new cases each day, compared to 37 and 33 for Sierra Leone and Cote D'Ivoire respectively. Guinea is reporting 34 new infections on average each day. This means Liberia is recording the most number of confirmed cases in the West African sub region.
In the face of surging global COVID-19 infections, vaccines rollout remains highly uneven and this is mostly axing low income countries.
In the Manor River Basin, Sierra Leone has administered COVID-19 vaccine doses for 305,711 people, accounting for only 3.82% of total population, Guinea 734,918 (5.65%) and Cote D'Ivoire 861,278 (3.35%), according to REUTERS COVID-19 TRACKER.
Meanwhile, according to data collated by Our World In Data, higher income countries like the United States has attained full COVID-19 vaccination for 48% of its population, compared to the United Kingdom, 52%, France 38%, Germany 44% and Israel, 60%.
Liberia was recently placed at level 4 on the Center for Disease Control's Travel Advisory, indicating that the country is highly unsafe to travel amid the pandemic.

The claim is rigorous and the content is demonstrably true.
The statement is correct, although it needs clarification additional information or context.
Evidence publicly available neither proves nor disproves the claim. More research is needed.
The statement contains correct data, but ignores very important elements or is mixed with incorrect data giving a different, inaccurate or false impression.
The claim is inaccurate according to the best evidence publicly available at this time.
Upon further investigation of the claim, a different conclusion was determined leading to the removal of the initial determination.
A rude, disrespectful, or unreasonable comment that is somewhat likely to make you leave a discussion or give up on sharing your perspective. Based on algorithmic detection of issues around toxicity, obscenity, threats, insults, and hate speech;