Latest From Around the County: Three Recover from Covid-19 in Sinoe, Rapid Testing Begins in Buchanan, Aggrieved Health Workers Ordered to Stay Home &  Father Guilty of Attempted Murder in Gbarpolu County
Sinoe County: Three Persons Recover from COVID-19
---
---
Greenville — The county health team headed by Dr. Alexander Pewee Tokpah has discharged three of the six persons who tested positive for COVID-19 in Greenville. According to the County Health Officer, since the resurgence of the virus in the country, Sinoe County has so far recorded six new confirmed cases and has reported one death.
Speaking in an interview with journalists after the patients were released after being treated at the treatment unit in the county, Dr. Tokpah said there were four persons at the treatment facility and three of have completed the 14 days in isolation period.
He said after intensive treatment by the county case management pillar, several tests were conducted and the results came back negative.
Dr. Tokpah then praised the patients for their cooperation while at the treatment unit, while also encouraging citizens and residents of the county to continue following all preventive measure.
Meanwhile, he called on people seeking health care to make use of the health facilities in the county. His call comes as concerns about people shying away from health facilities because of fear that they will be tested positive for COVID-19 continues.
There have been increasing misinformation in the county that health workers are infecting people with the virus.
---
Grand Bassa County: Gov't Hospital Begins Free Rapid Covid-9 Testing in Buchanan
---
---
Buchanan — The Liberian Government Hospital in Buchanan has begun free COVID-19 testing across Grand Bassa County.
The medical Director of the hospital, Dr. Moses Whedigar made the disclosure on Thursday in Buchanan.
"We want to ensure that COVID 19 is curtailed and so we as health people have started free testing in Grand Bassa," Dr. Whedigar said while encouraging people to take advantage of the rapid testing, adding that it will enable them know their Covid-19 status.
"If you are experiencing any symptoms such as fever, cough or running nose, please do not perform any self-act of testing," he warned. "Visit the Liberian Government Hospital because he have professional people to do the tested for you".
Meanwhile, several persons have taken advantage of the free COVID-19 test while several others have refused to go for testing citing fear that they do not understand the process.
---
Margibi County: Protesting Health Workers Ordered to Stay Home amid Demand for Their Salary
---
---
Kakata – Aggrieved health workers of the C.H Rennie Hospital in Kakata, Margibi County, who recently staged a protest in demand of salaries, have been ordered to stay home as the administration arranged two months of their delayed salary.
The mandate comes after the health workers held talks with the director of the hospital and the county health officer about the way forward on Thursday in Kakata, according to Mr. Mayango Jallah, spokesperson for the workers.
"The director and the current county health officer have talked to us and said that we are volunteers. So they've made a decision that we should stay home, they will pay us two months and we should waive the rest and when the government gets ready for us, they will call us back," Jallah told LocalVoicesLiberia via phone on Thursday.
Jallah said although the authority have classified them [aggrieved health workers] as volunteers, not every one of the aggrieved workers are volunteers.
"I have my letter of application. I applied to my office and was assigned. My assignment letter is in my hand and my personnel form," Jallah said of his employment status with the hospital.
These 38 aggrieved health workers, who are nurses, dispensers, lab technicians, cleaners and other clinical staff, claimed they have been working in major departments of the hospital, but have not received salary for 29 months.
They staged a protest on July 19, claiming that the hospital administration owes them a total sum of US$57,000 for the period they have worked.
---
Bong County: Residents to Get Covid-19 Food Relief
---
Gbarnga — Residents of Electoral District #3 are expected to get bag of rice, cash and anti-COVID-19 materials from Representative Josiah Marvin Cole.
The donation is an initial contribution to the people as they prepare the July 26 celebration, he said.
"I announced in the county recently that I have secured 1000 bag of rice, $1.7 million Liberian dollars and 1000 pieces of nose masks. Every town and village, if not all in my district, will receive rice, money and masks so that they cannot be hungry during this Independence Day celebration," he told journalists. "I believe strongly that when our people have food on their table, they will not go in the streets looking for food for their children in this serious health crisis".
Rep. Cole called on his constituents to continue adhering to all public health preventive measures, which he said will reduce the spread of COVID-19.
Also in Bong County, Passaway Yarkpawolo, a son of the county, has embarked on the distribution of anti-COVID-19 materials across the county. Some of the materials presented to community dwellers included; nose masks, hand washing buckets, and hand sanitizers, among others.
The donation started in lower Bong County where more than 15 communities benefited and continued District #2 where several towns and villages also received. Mr. Yarkpawolo urged residents to continue washing their hands, using face mask, avoiding crowded places.
Beneficiaries thanked Yarkpawolo for reaching out as many communities embrace "the war against the coronavirus pandemics".
---
Grand Kru County: Health Ministry Complete Two Days Training on Neglected Tropical Diseases
---
---
Barclayville — The Neglected Tropical Diseases Department of the Ministry of Health has conduct training for health care providers in the five health Districts of county.
Community health services supervisor, District Surveillance Officers, and Districts Health Officers (DHO) were trained in mass drug administration and the prevention of Onchocerciasis as referred to as River Blindness and Lymphatic Filariasis which is also called Elephantiasis or "big foot".
According to Robertson Obarbeh, the focal person on Neglected Tropical Disease, the training is purposely intended to help health care providers "develop new skills and attitudes in managing and giving care to clients who will be affected with these diseases within their control areas cross the county"..
---
In other news …
Gbarpolu County: Court Sentence Father for Criminal Attempt to Commit Murder
---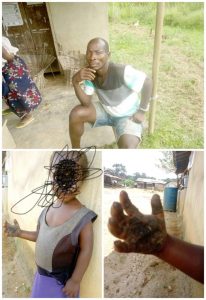 ---
Kongba District – The Magisterial court in Kongba District has charged a 40-year-old man with a criminal attempt to murder after burning his seven-year-old child's right hand for allegedly stealing meat from his food. The incident occurred in Borborbee Town, Kongba District.
During the ruling, Judge Philip Lawson said Nelson Melba forcibly inflicted bodily injury on Fatu Melba on July 20, 2021. Nelson was found guilty on Wednesday, July 21.
The culprit is currently behind bars awaiting transfer to the Bopolu Correction Center in Bopolu City.
Meanwhile, the seven-year-old victim, who is currently seeking medical care at a clinic in the town, needs urgent medical care, according to family members and health workers.
---

The claim is rigorous and the content is demonstrably true.
The statement is correct, although it needs clarification additional information or context.
Evidence publicly available neither proves nor disproves the claim. More research is needed.
The statement contains correct data, but ignores very important elements or is mixed with incorrect data giving a different, inaccurate or false impression.
The claim is inaccurate according to the best evidence publicly available at this time.
Upon further investigation of the claim, a different conclusion was determined leading to the removal of the initial determination.
A rude, disrespectful, or unreasonable comment that is somewhat likely to make you leave a discussion or give up on sharing your perspective. Based on algorithmic detection of issues around toxicity, obscenity, threats, insults, and hate speech;