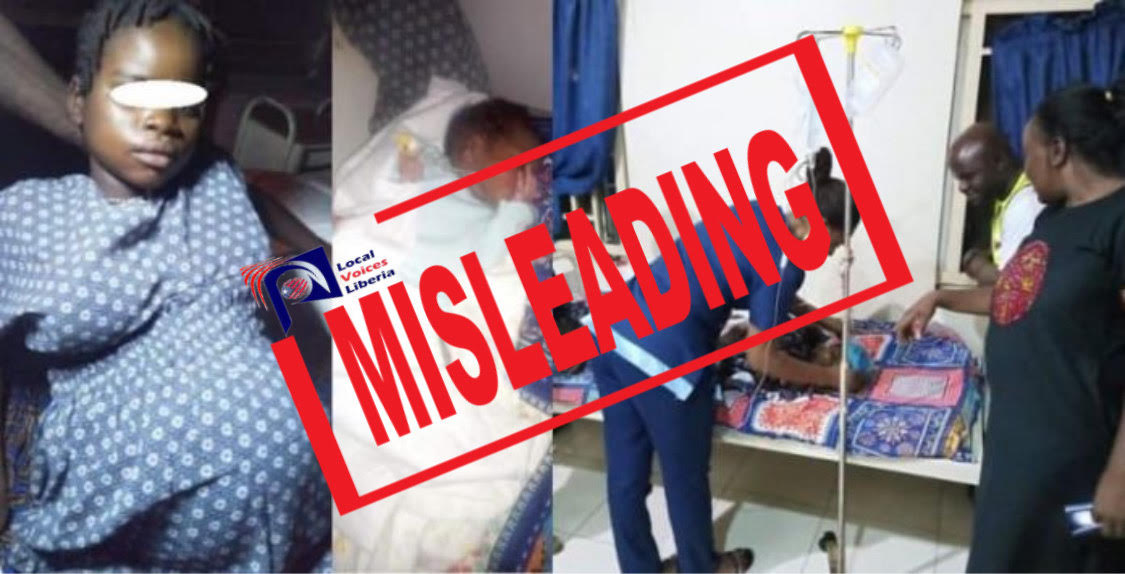 Paynesville — Photos of a girl has been circulating various social media platforms with many Facebook users claiming that the girl in the photo is 10 years old and has given birth to a child in Lofa County.
---
Report By: Arthur Kowah & Varney Kelvin Sirleaf, Local Voices Libera Fact Checker
---
These photos were posted on Facebook platforms such as Spotlight Africa and Vibes Blog, among others. But did a 10-year-old girl actually give birth to a baby in Lofa County? LocalVoicesLiberia has fact checked.
A reverse image search using online image verification tools shows that the photo was first shared in August 2019. Later, several online articles were published by Nigerian newspapers using these very photos.
Premium Times, a Nigerian media organization based in Abuja in an  article published on August 7, 2019, reported that the 10-year-old girl was allegedly raped and impregnated by an 18-year-old man identified as Terna Taga in that country's northern state of Benue.
The article quoting the Nigerian news agency states that the incident occurred on August 4, 2019 and the girl would later give birth to a girl child at the Foundation Memorial Hospital in Makurdi, Benue State on August 5, 2019.
Daily Trust, a media company engaged in consultancy, printing and publishing with its corporate office in Abuja, also published an article on August 6, 2019 quoting an activist identified as Ukan Kurugh who sought the transfer of the minor from the hospital in Benue to the Foundation Hospital in the state's capital Makurdi.
The story quoted Kurugh as saying that the "girl was given a Caesarean section to deliver a baby girl weighing 2.5kg".
Our research also revealed numerous stories written by many blogs and online platforms in Nigeria which reported that police in Benue state arrested the alleged perpetrator. It also stated that the girl was 10-year-old.
Further fact check shows that no incident of sort occurred in Lofa County. The administrator of the Tellewoyan Memorial Hospital in Voinjama, Lofa County and the Reproductive Health Focus Person of the Lofa County Health Team have both dismissed the claim, describing it as "totally untrue".
"I myself saw that thing on Facebook," Beatrice Kamara, the Reproductive Health Focus Person of the County Health Team told Local Voices Liberia fact checking desk on Tuesday. "We did our background check across the county, but that thing did not happen here [Lofa County]".
Also Mr. Albert Colee, administrator of the Tellewoyan Memorial Hospital, said "even though only the medical people can adequately speak to the information", he is not aware of any such incident occurring at the hospital.
"My little daughter showed me that photo from Facebook and I told her that information is not true about Lofa County," he said.
Conclusion
Based on all the facts gathered and reviewed through our research process, the story of a 10-year-old girl giving birth to a baby girl did not occur in Lofa County, Liberia as claimed by the many Facebook posts. The incident occurred in 2019 in Nigeria and not Liberia as claimed by Facebook posts.
---
Claim

Verdict

10-year-Old girl gave birth to a girl child in Lofa County.

 

Incorrect. Incident Did not occur in Liberia. 
---
You may contact us to fact check any claim or information relative to Liberia. Contact us on:
Factcheck.localvoicesliberia@gmail.com or  WhatsApp: +231880986778
---

---

The claim is rigorous and the content is demonstrably true.
The statement is correct, although it needs clarification additional information or context.
Evidence publicly available neither proves nor disproves the claim. More research is needed.
The statement contains correct data, but ignores very important elements or is mixed with incorrect data giving a different, inaccurate or false impression.
The claim is inaccurate according to the best evidence publicly available at this time.
Upon further investigation of the claim, a different conclusion was determined leading to the removal of the initial determination.
A rude, disrespectful, or unreasonable comment that is somewhat likely to make you leave a discussion or give up on sharing your perspective. Based on algorithmic detection of issues around toxicity, obscenity, threats, insults, and hate speech;