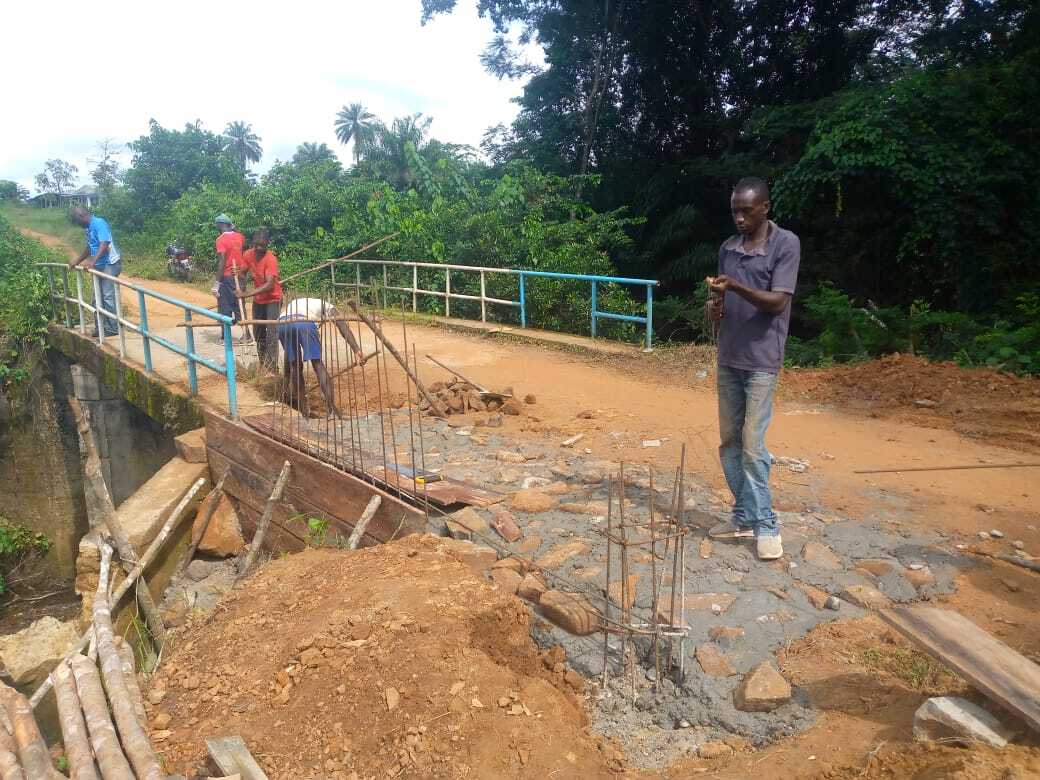 Gbarpolu County  – The Coveiyallah Investment Enterprise (CIV), has completed rehabilitation works on a major bridge linking Belle and Bopolu Districts of Gbarpolu County.
---
Report By: Henry Gboluma, Jr. in Gbarpolu County
---
Part of the company's third-party 14 years' agreement signed with the Korninga 'A' Community Forest Management Body on April 25, 2019 mandates the company to do road rehabilitation works in its project-affected communities, according to the Operation Manager Varney Foboi. He said the company spent about US$8,000 to repair the bridge.
"This road is helping us too and so we are pleased to have gotten involved," he said, "We will continue to respond positively to request from the county authority that we think will have a greater impact on the ordinary people."
Assistant Development Superintendent of Gbarpolu County, Hon. Joseph B. Akoi recalled that the bridge was almost at the point of collapse when the logging company was asked to urgently intervene.
He said that it was the assigned Ministry of Public Works' resident engineer who notified his office about the looming danger that the damaged bridge would have posed to commuters if not renovated.
"And so knowing the importance of this bridge that is connecting major mining communities and even the logging company and towns, other districts in the county, when I was told by the public works engineer that it was gradually falling, I immediately started engaging stakeholders," he said.
As a result, he added, "Fortunately for us, the Coveiyallah Investment Enterprise, a logging company that is doing business with all of the community forests in Korninga chiefdom in Bopolu District agreed to support the rehabilitation works.
"We just are just grateful to them for restoring the hope of our people who are always on this road every day," he added.

The claim is rigorous and the content is demonstrably true.
The statement is correct, although it needs clarification additional information or context.
Evidence publicly available neither proves nor disproves the claim. More research is needed.
The statement contains correct data, but ignores very important elements or is mixed with incorrect data giving a different, inaccurate or false impression.
The claim is inaccurate according to the best evidence publicly available at this time.
Upon further investigation of the claim, a different conclusion was determined leading to the removal of the initial determination.
A rude, disrespectful, or unreasonable comment that is somewhat likely to make you leave a discussion or give up on sharing your perspective. Based on algorithmic detection of issues around toxicity, obscenity, threats, insults, and hate speech;