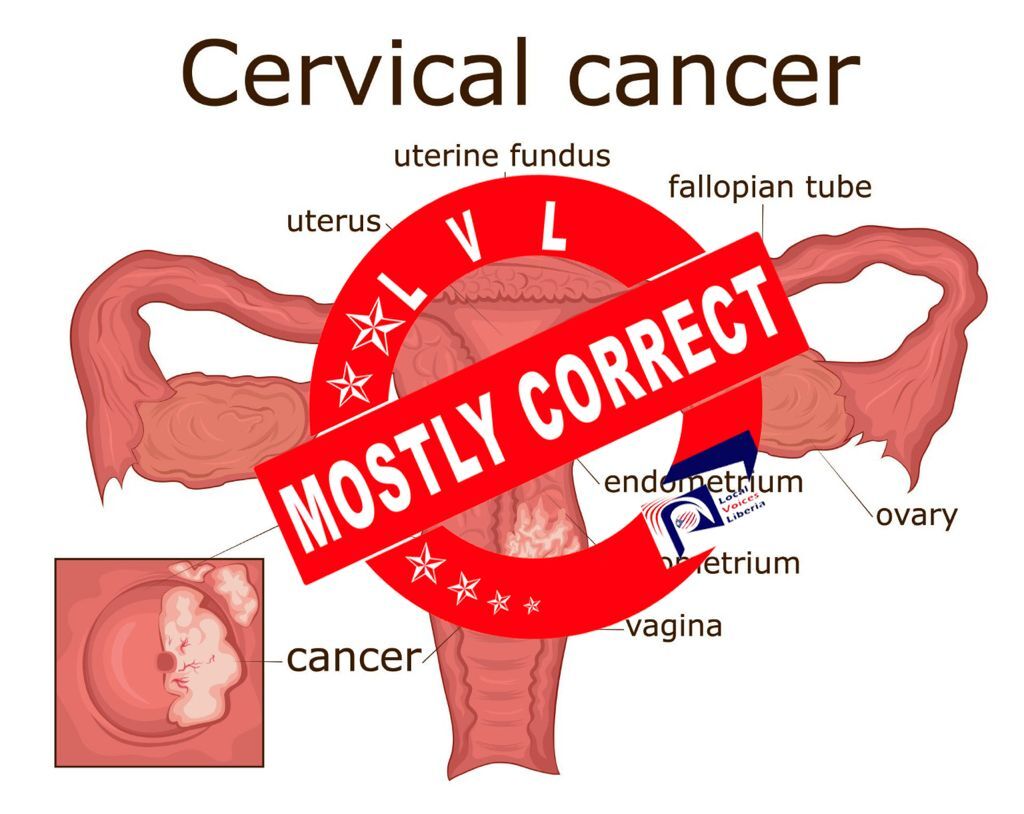 Paynesville — A viral social media post claims that the chances are high for woman living with HIV to get cervical cancer. The post did not explain how this would happen, but it raises a concern that must be fact checked.
Before we tell you the outcome of our fact check process, let's first find out a little more about Cervical cancer.
According to the US Center for Disease Control and Prevention, almost all cervical cancers are caused by Human Papillomavirus (HPV) — a common virus that can be passed from one person to another during sex.
Like the CDC, the World Health Organization has found that almost all cervical cancer cases (99%) are linked to infection with high-risk HPV.
There are many types of HPV. Some HPV types can cause changes on a woman's cervix that can lead to cervical cancer over time, while other types can cause genital or skin warts.
HPV is so common that most people get it at some time in their lives. It usually causes no symptoms so you can't tell that you have it. For most women, HPV will go away on its own; however, if it does not, there is a chance that over time it may cause cervical cancer.
This means, women with HIV are most likely to get Cervical cancer than woman who do that have HIV.
The World Health Organization's new estimates of the global burden of cervical cancer associated with HIV sates that women living with HIV are six times more at risk of getting cervical cancer as compared to women without HIV.
The WHO also states that an estimated 5% of all cervical cancer cases globally are attributable to HIV but the UN agency adds that this statistic is vary enormously by world regions.
The fraction of cervical cancer attributable to HIV is high and is 40% in eight countries, compared to 5% in 127 countries with lower HIV prevalence, according to the WHO.
The research found that 85% of women with cervical cancer and HIV live in sub-Saharan Africa, underscoring the major contribution of HIV to the cervical cancer burden in the region.
Cervical cancer is the fourth most common cancer in women, the WHO says.
---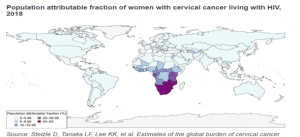 ---
In 2018, an estimated 570, 000 women were diagnosed with cervical cancer worldwide and about 311,000 women died from the disease the same year.
The WHO recommends HPV vaccination and secondary prevention approaches (screening for and treating precancerous lesions) as means of preventing most cervical cancer cases.
Madam Joyce L. Kilikpo, a Liberian public health expert and Executive Director of the Public Health Initiative Liberia (PHIL), agrees that the "chances of cervical cancer are high in HIV positive women".
"It is high because they are immunocompromised and as such, the possibility of them developing cervical cancer from Human Papilloma Virus (HPV) which is responsible for 70-80% of cervical cancer," she added.
However, the WHO states that when cervical cancer is diagnosed it can be "most successfully treatable" – this happens when it is detected early and managed effectively.
Conclusion:
Based on our research, the claim that women living with HIV are at a higher risk of getting cervical cancer is mostly correct.
| | |
| --- | --- |
| Claim | Verdict:  |
| The chances for women living with HIV to get Cervical cancer is very high. | Mostly Correct |
---
You may contact us to fact check any claim or information relative to Liberia. Contact us on:
Factcheck.localvoicesliberia@gmail.com or  WhatsApp: +231880986778
---

---

The claim is rigorous and the content is demonstrably true.
The statement is correct, although it needs clarification additional information or context.
Evidence publicly available neither proves nor disproves the claim. More research is needed.
The statement contains correct data, but ignores very important elements or is mixed with incorrect data giving a different, inaccurate or false impression.
The claim is inaccurate according to the best evidence publicly available at this time.
Upon further investigation of the claim, a different conclusion was determined leading to the removal of the initial determination.
A rude, disrespectful, or unreasonable comment that is somewhat likely to make you leave a discussion or give up on sharing your perspective. Based on algorithmic detection of issues around toxicity, obscenity, threats, insults, and hate speech;