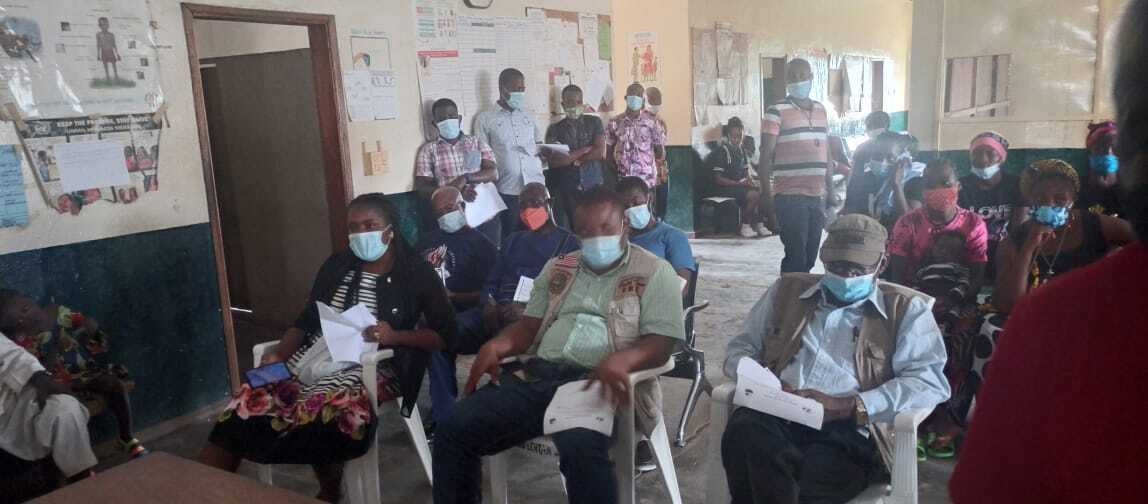 Voinjama City, Lofa County — Lofa County Health Team has announced that the county has officially entered preparedness stage in its fight against COVID-19 following a successful a 28-day countdown of no reported confirmed cases until September 24. That made it 28 days since the last COVID-19 patient was discharged from the treatment unit.
---
Report By: Arthur Kowah | Inspires Health Reporting Fellow
---
Preparedness stage, according to the County Health Officer Dr. John Doedeh, is a phase in COVID-19 management that follows a considerable period of observation — usual a 28-day countdown without recording any new case of COVID-19 infection since the last case was discharged.
"Technically it means that Lofa County is free [from Covid-19]. It means that after we discharged the last case 29 days ago, the 28 days period is meant to search whether we will have any new case of COVID-19", he said.
"Through the 28 days period we are still testing sick people who are coming to the hospital, we are testing for COVID-19, and at the end of the 28 days, if we don't have any case, technically we are in green; it's almost like we are free from COVID-19. But we in the health sector can't say that. So, we say that Lofa is in preparedness stage".
Dr. Doedeh said despite this feat, people in the county should continue observing the infection prevention control (IPC) measures which include regular hand washing, wearing of nose masks and keeping distance from people, as well as taking the Johnson & Johnson COVID-19 Vaccines (J&J Vaccines) currently available in the county to remain safe.
"Lofa County has borders with Guinea and Sierra Leone and apart from that we have boundaries with other counties and there are economic activities going on between people. So, it's possible that anything can spark up anytime. So, we need to maintain the IPC measures and continue to take the J&J Vaccines", he said.
---
---
Vaccine Intake at Snail Pace
Meanwhile, Dr. Doedeh has disclosed that vaccines intake in the county is low despite ongoing awareness about the availability and safety of the vaccines.
He said out of the 24,805 doses of the Johnson & Johnson vaccines which arrived in the county more than 3 weeks ago, about 8,900 jabs have been administered so far.
"The vaccines in Lofa County are being underutilized because many people are not coming to take the J&J Vaccines. As a result, the coverage is low," he said.
"So what we've decided to do now, we've started to intensify the awareness and we will be counting on the media to use their platforms to encourage people to come and take the J&J Vaccines which is very important. The good thing about the J&J is that it's just one dose. So when we all take the vaccines, there may be less need for us to be wearing masks because we'll all be having protection".
Dr. Doedeh said they are using their various community health structures across the various districts to create more awareness around the vaccines because more people are not aware. He said they will also take awareness to various market places and if possible, set up mini centers there to administer vaccines.
"Our target is to, if we can administer up to 20,000 doses this week, we will be very grateful for that. So we're collaborating with partners like the International Rescue Committee (IRC), Community Safety Initiative (CSI) to carry on the awareness," he said.
---
---
Mixed Reactions amid Vaccine Hesitancy Lingers
Meanwhile, some residents who are yet to get the vaccines have given mixed responses to LocalVoicesLiberia.
John Morlu, who heads the motorcyclists' union in Voinjama, says he's now prepared to take the vaccines after attending an awareness campaign held by the county health team at the Voinjama Central Market.
"I'm going to take my vaccine this coming Monday," he said.  Just that I am bereaved and had to run to the village. But the last time the county health team people even came here to tell us about the vaccines. So soon morning on Monday I'm going there to take it".
Alima Borzee, a cellphone vendor, is still hesitant to take the vaccines because some of her friends who have already taken the vaccines reported mild fever. However, she's willing to take it once here fears about the vaccines are addressed by health authorities.
"Some of my friends that took the vaccine said they experienced small sickness after taking it. But the day I see the awareness people's car around, I will go there so they can explain to me. Once they give me the right information, I will be willing to take the vaccines", she said.
For Dormawah Ballah, a local businesswoman in Voinjama, taking the jab is very unlikely. "I just don't want vaccines. They [county health team] were in the market yesterday, but I'm not taking it. Virus is not my portion, COVID-19 is not my portion, God knows. Whether you take it, if dying time comes you will still die. So if the time reaches, no problem I can't dodge it," she said.

The claim is rigorous and the content is demonstrably true.
The statement is correct, although it needs clarification additional information or context.
Evidence publicly available neither proves nor disproves the claim. More research is needed.
The statement contains correct data, but ignores very important elements or is mixed with incorrect data giving a different, inaccurate or false impression.
The claim is inaccurate according to the best evidence publicly available at this time.
Upon further investigation of the claim, a different conclusion was determined leading to the removal of the initial determination.
A rude, disrespectful, or unreasonable comment that is somewhat likely to make you leave a discussion or give up on sharing your perspective. Based on algorithmic detection of issues around toxicity, obscenity, threats, insults, and hate speech;