Latest From Across the County: Grand Gedeh County Health Makes Plans to ensure Covid-19 prevention ahead of by-election; Flood leaves over 50 people homeless in Gbarpolu County; Efforts to tackle substance abuse heightens in Maryland County, and journalists in Bong County Learn how to mainstream challenges affecting people living with disabilities
---
Grand Gedeh County: Health Team Plans Measures Ahead of By-Election  
---
---
Zwedru – The county health team has announced its full readiness to put into place all precautionary measure against Covid-19 during the conduct of Tchine District by-election.
Speaking to a group of reporters in Zwedru, Mr. Netus Norwine, the County Health Team's Community Health Department Director, said they are working with the National Elections Commission magistrate to put into place all measures.
Mr. Norwine added that plans are also underway for the CHT Risk Communication Department to conduct refresher trainings for health volunteers that will begin carrying out Covid-19 prevention awareness in Communities across Tchine District.
"While it is true that the county is currently in a green zone, citizens have to be aware that we will have to interact with different people from out of the county that are still in red zone or affected coming for campaign purposes and voting," he said.
"If those people come, we will have to lodged them in our homes, motels, hotels and they will go to the various entertainment centers, so we must start preparing ourselves before time."
He also called on all aspirants of the pending Tchine District by-election to ensure that their supporters adhere to all Covid-19 preventions.
---
Gbarpolu County: Flood Leaves Dozens Homeless
---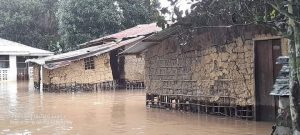 ---
Weasua Town — Heavy down pull of rain has left one person injured and 53 persons homeless in Weasua Town, Gbarma District in Gbarpolu County. The incident took place on Monday morning, September 26 at about 2am. The victims are now seeking urgent support.
Meanwhile, Superintendent J. Keyah Saah has dispatched a delegation to assess the damage done and report back to his office.
He is, at the same time, calling for humanitarian organizations to intervene. On the other hand, a son of Gbarma District, Mr. Tom Toweh has made LD$23,000 available to the affected families.
For further information of the incident, please call 0880228291.
---
Maryland County: Tackling Substance Abuse
---
---
Harper — In an attempt to tackle the menace of drug abuse across the country, Partners In Health (PIH) have collaborated with Maryland County Health Team to conduct intensive training in Harper.
The training was aimed at raising awareness and sensitization about the danger of substance abuse and possible ways of curbing the problem.
"We have organized this training workshop in Maryland County because 'substance use' is on the increase daily in the county," said Mr. Willie Yansine, Mental Health Coordinator for Partner in Health (PIH) in Maryland County.
"With the involvement of the participants, the use of illicit substances will be reduced."
Identifying the consequences of substance abuse, the PIH Mental Health Coordinator said: "It lowers the user's immunity, causes Cancers and liver disease as well as promote risky behaviors that can lead you to contract HIV/AIDS, Hepatitis B, and Hypertension/Stroke."
Health workers, local authorities, education officers, women, youth, religious and traditional leaders along with security officers, and media practitioners made up the 40 participants.
Maryland County Education Officer, Rev. Prof. Tehneseo P. Brohdonyen thanked PIH and the CHT for the training.
"We must be grateful to PIH for organizing this workshop because illegal drugs consumption among young people is a serious problem," Prof. Brohdonyen said, noting that drug abuse is destroying boys and girls.
Another participant, Philomena Arkue of the William V. S. Tubman University, expressed optimism in the success of efforts to minimize substance abuse in the county but stressed the need for collective efforts.
---
Bong County: Journalists Urged to Mainstream Issues affecting People Living with Disabilities
---
---
Gbarnga — The Sustainable Agriculture Programs (SAPRO) in collaboration with the National Union of Organizations of the Disabled (UNOD) have concluded a day long media engagement to enhance journalists' knowledge on issues effecting persons living with disabilities.
The journalists were urged to also report on the various issues they learned about people living with disabilities.
The project, "Inclusive Media Project" is designed to amplify the voices of People with Disabilities (PwDs) in the County. The gathering brought together ten (10) local journalists from five community radio stations in Gbarnga.
SAPRO-Liberia Executive Director, Melvin L. Harding called on journalists to use their different platforms and elevate the voices of People with Disabilities.
Also speaking, the Bong County Coordinator for the National Union of Organizations of the Disabled thanked Internews Liberia for providing the training opportunity.
For their part, participants assured SAPRO Liberia, Internews, and NUOD for providing the opportunity to learn how to mainstream issues affecting PwDs.
Speaking on half of the participants, Rancy Clarke of Hot FM Gbarnga and Obe G. Smith of Radio Gbarnga assured the organizers that the "knowledge gained here will be use to speak on issues affecting people with disabilities".

The claim is rigorous and the content is demonstrably true.
The statement is correct, although it needs clarification additional information or context.
Evidence publicly available neither proves nor disproves the claim. More research is needed.
The statement contains correct data, but ignores very important elements or is mixed with incorrect data giving a different, inaccurate or false impression.
The claim is inaccurate according to the best evidence publicly available at this time.
Upon further investigation of the claim, a different conclusion was determined leading to the removal of the initial determination.
A rude, disrespectful, or unreasonable comment that is somewhat likely to make you leave a discussion or give up on sharing your perspective. Based on algorithmic detection of issues around toxicity, obscenity, threats, insults, and hate speech;