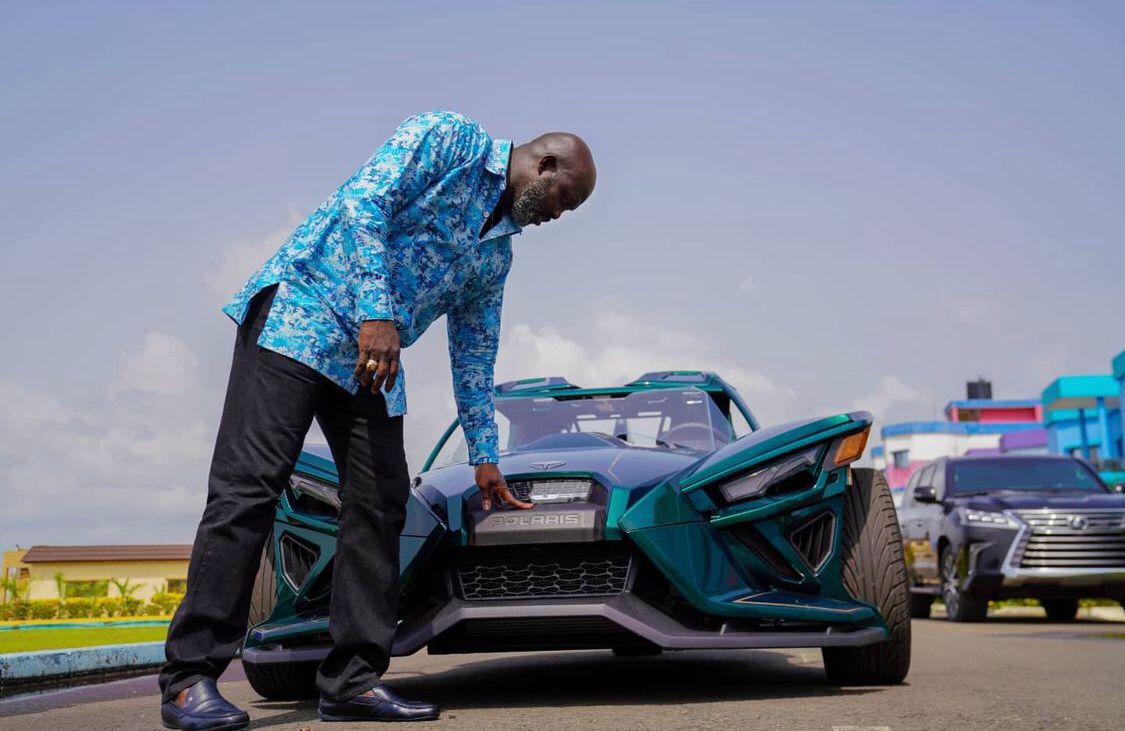 Paynesville – Social media has been buzzing since images of President George Weah showing him displaying a new electric vehicle surfaced on Wednesday, December 15, 2021. Some social media users have been putting different price tags on the vehicle, while claiming that it belongs to the President.
Some Facebook users have also claimed that the vehicle is cost around US$26,000 while others are arguing that it is sold for around US$31,000.
LVL Fact Checking Desk did quick research to know the price of the Polaris Slingshot vehicle, which is built by American car maker Tesla.
And this is what we found:
According to Slingshot.Polaris.com  there are different brands and models of the Slingshot Polaris with different prices starting from US$19,999 (Slingshots S model) to another brand being sold for US$32,499 (the Slingshot R model).
Other prices are US$25,999 for the Slingshot SL model, US$28,899 for the SLR model, and US$33,999 as the starting price for the Slingshot Grand Touring LE, amongst others. Some of these prices include shipping and setup cost while others are excluded, according to the company.
These prices displayed on the Slingshot website also corroborate with the prices of other dealers, including Autocar based in the UK which puts the based price at £14,000. Also, Motor Trend, puts the base price for the 2020 Polaris Slingshot R at US$30,999.
Conclusion
Following a reverse image search done with the vehicle's image seen in the photographs with the President, we found that the particular Slingshot Polaris vehicle he is seen flaunting is the Slingshot Grand Touring LE, which price starts from US$33,999 excluding shipping cost.
---
You may contact us to fact check any claim or information relative to Liberia. Contact us on:
Factcheck.localvoicesliberia@gmail.com or  WhatsApp: +231880986778
---


The claim is rigorous and the content is demonstrably true.
The statement is correct, although it needs clarification additional information or context.
Evidence publicly available neither proves nor disproves the claim. More research is needed.
The statement contains correct data, but ignores very important elements or is mixed with incorrect data giving a different, inaccurate or false impression.
The claim is inaccurate according to the best evidence publicly available at this time.
Upon further investigation of the claim, a different conclusion was determined leading to the removal of the initial determination.
A rude, disrespectful, or unreasonable comment that is somewhat likely to make you leave a discussion or give up on sharing your perspective. Based on algorithmic detection of issues around toxicity, obscenity, threats, insults, and hate speech;