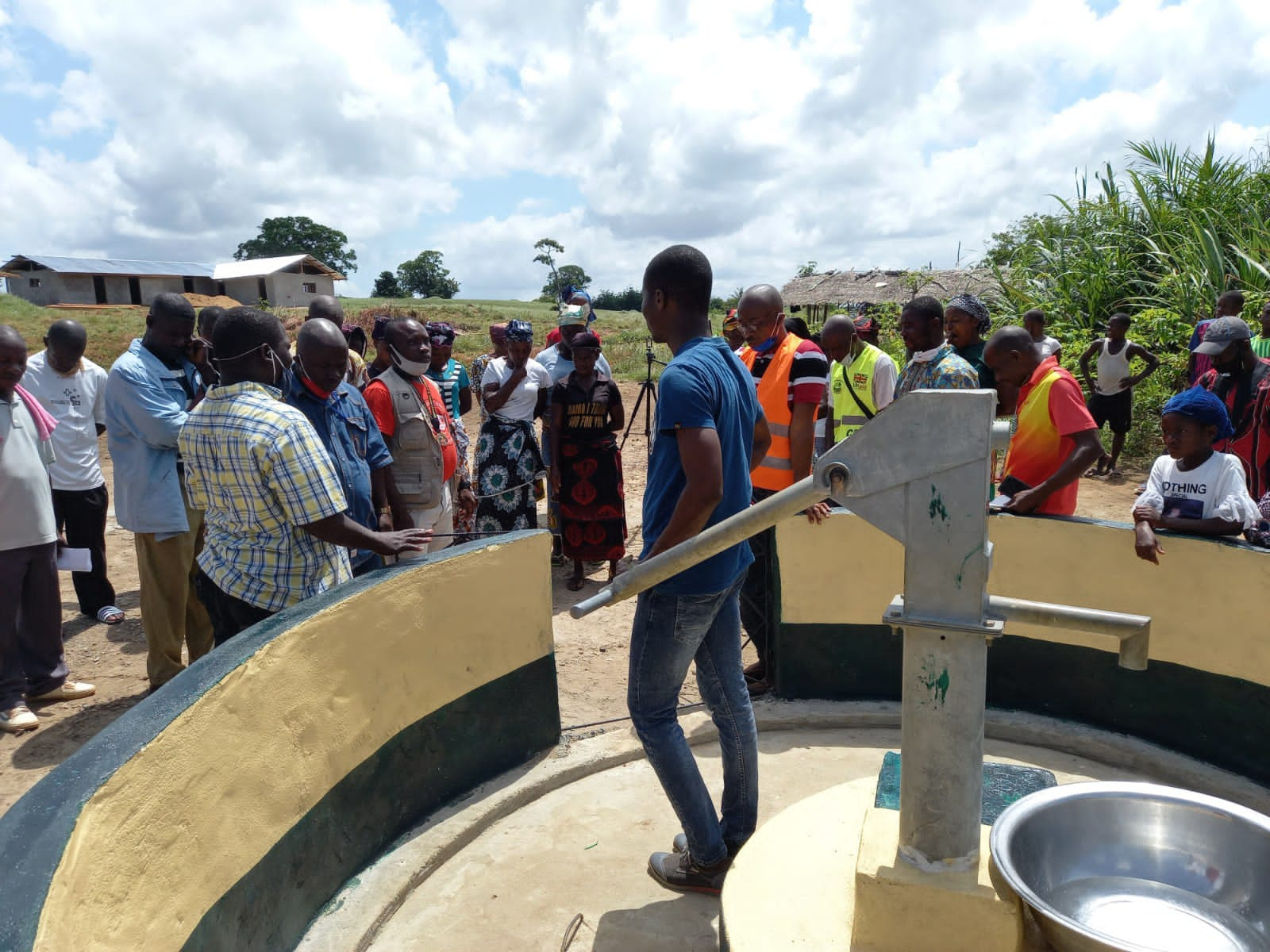 Dekpiliken, Maryland County – Joy filled the air in Dekpiliken town as residents celebrated a newly constructed handpump in their town. It is the first since the town was established in 1999. The new handpump is expected to end the longstanding problem created by the lack of safe drinking water, which also presented a potential health risk to residents of the town.
---
Report By: Bryan Dioh in Maryland County
---
Before the hand pump, residents relied on a nearby creek to fetch drinking water. But a report about the dire situation in the town was published by KMTV Liberia and attracted instant concerns which translating into a direct intervention by Marylanders For Progress – a group of diaspora Liberians based in the United States.
Solo Gaye, who is the county focal person for the NGO, disclosed that the hand pump project was influenced by the media report, thereby prompting his organization to intervene.
He indicated that "for too long residents of Dekpiliken town have suffered due to the lack of access to safe drinking water", stressing that the situation had often put them at health risk.
"Today, we are here to officially turned over this modern hand pump which will now give you access to drinking clean and fresh water and at least reduce the walking distance of you who use to drink from unsafe creeks just because you were either tasty or wanted to cook," Gaye said on January 15, 2022 at the dedication of the handpump, which cost was put at US$6,000.
"Your family in America who are all children of this county, Maryland, thought to help you all and that's why we are here [for this dedication of the handpump]. Let's also thank our news people who came just this far and wrote about the condition you were going through which led to our intervention as Marylanders."
---
---
Residents of the town had to trek for about 45 minutes to fetch water from the creek. The town, which is located in Karluway – District #2, Maryland County, has a little over 150 inhabitants. It takes about two hours motorbike ride to travel from Harper City to Dekpiliken. The town is inaccessible to other vehicles like trucks, pick-ups and cars.
There were reported incidents of cholera and other water borne disease occurring in the town. Some residents alleged that gold mining activities in the river have contaminated their water source and made access to clean water from the river impossible.
When a reporter visited the town in August 2020, the residents decried the unbearable condition and asked for intervention.
Now, the newly constructed handpump has brought some relief to the town. And Mr. Gaye has also promised residents that the construction of the hand pump is not the only project the diaspora-based group will initiate in the town.
Meanwhile several residents of the town have lauded the group for the construction of the handpump. Sarah Budu Clarke, who is the woman leader in Dekpiliken Town, said she never thought her town would be rescued from the problem.
"I don't know how to even say thank you to our children because right now I can say there is no way my stomach can hurt again," Clarke said.
"My son we suffered too much here. Can you imagine, since we founded this town in 1999 we've been walking far distance just for water to drink and cook, even not good water or good, we will take it and drink."
A 76-year-old elder of the town, who joined the celebration along with other residents, said with a bright smile on his face: "I don't think that us here today [we are the ones here today] – seeing pump in our town, because we really suffered a lot here".
Elder Youlomon Wilson continued: "Thank you because I was among the first people who brushed this place and started building house here since we came from exile, and we used to suffer when getting water. Here we are here today, all our [water] trouble over. We will now drink fresh water and our woman including children will not suffer again".