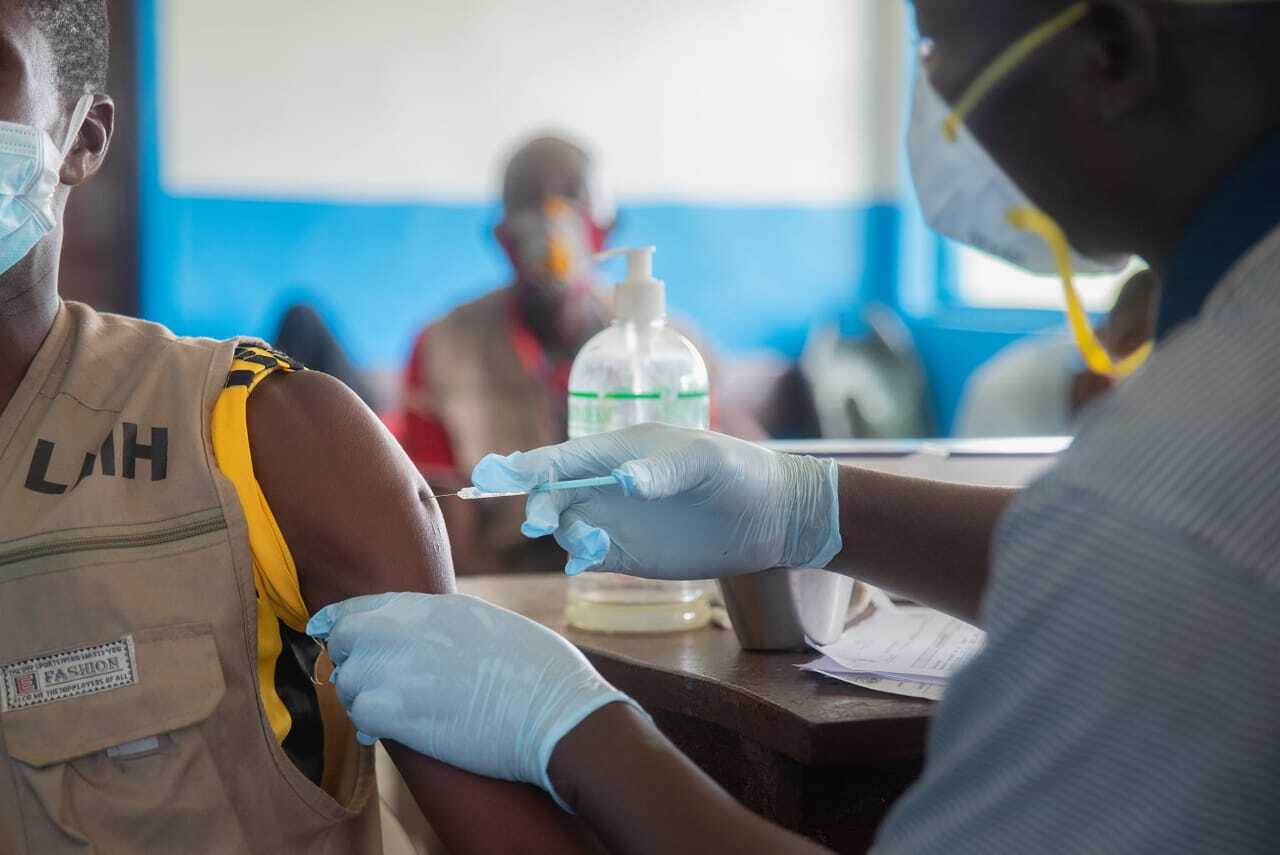 Paynesville – A recent claim made in an article published by a Kenyan online news claimed that people who have gotten vaccinated with the Johnson & Johnson vaccine have suffered blood clots. The article also claimed that "Research done by the Janssen pharmaceutical companies has shown that the Johnson and Johnson vaccine have bad side effects."
However, a thorough research done by LVL Fact Checking Desk found that the company that produces the Johnson & Johnson vaccine has only warned that individuals who have previously had capillary leak syndrome should not take the vaccine. It didn't generally warned that the "vaccine has bad side effects" as claimed in the article.
Although there have been incidents of blood clots in other countries like the United States, the report which quotes Ktn News presents an exaggeration of the overall situation involving the side effects of the J&J vaccine.
According to the World Health Organization, Johnson & Johnson vaccine has been authorized for use since March 2021 with over 8 million doses administered in the United States since May 7, 2021. There have been a small number of incidents of blood clots in the US, according to an article published in The Conversation.
The article states that out of the 8 million doses administered about 16 people (all females) developed blood clots. The blood clots occurred from six to 13 days after immunization, and majority of these adverse events occurred in women between the ages of 18 and 48.
In 2021, the administration of the J&J vaccine was paused temporarily in South Africa, Europe and the US after these blood clots adverse events. But it was later resumed with the E.U.'s regulator saying that the shot should carry a label to avoid these trouble side effects.
What We Found
The WHO has ever since reviewed these incidents and described it as thrombocytopenia syndrome or TTS, adding that it is an adverse event that might happen to people who take the J&J Covid-19 vaccine.
Blood clot is a mass of blood that forms when platelets, proteins, and cells in the blood stick together. For example, when a person gets hurt, your body forms a blood clot to stop the bleeding. Platelet is responsible to stop a person from bleeding when they are injured. If someone has a cut or has an injury, the body responds by sending platelets which act as a temporary area.
According to research, scientists still don't know what makes women more vulnerable to this adverse event than men, or what puts a person at risk of experiencing blood clots after getting vaccinated. However, studies have shown that these clots can also occur, though not frequently, in people who do not event get a Covid-19 vaccine.
Women are three times more likely to develop this type of clot without receiving the vaccine which is linked to the likely use of birth control or other hormonal replacements that women take. Like the article published in The Conversation, other research has shown that blood clot is an adverse event of the J&J vaccine but clarified that these incidents only occur on a small scale. It mostly happens to women, but it is very rare.
According to another article published in the New York Times which cites data from the US Center for Disease Control and Prevention, more than seven million people in the United States have received Johnson & Johnson shots, and another 10 million doses have been shipped out to the states.
Why the blood clots?
Researchers believe that the J&J vaccine has a specific low platelet clotting which is like a reaction some individuals get when they receive a blood thinner called heparin. Heparin is a substance that slows the formation of blood clots. Heparin is made by the liver, lungs, and other tissues in the body and can also be made in the laboratory. Heparin may be injected into muscle or blood to prevent or break up blood clots. It is a type of anticoagulant.
Doctors sometimes use heparin to thin a person's blood in the case of a heart attack or a blood clot when blood flow needs to be reestablished. But some people experience the opposite reaction, and their blood ends up clotting more instead. This happens because the body triggers an unwanted immune response after receiving heparin.
Additionally, an online article published by Yale medicine in December 2021 explains that thrombosis occurs when blood clots block veins or arteries, and thrombocytopenia is a condition characterized by abnormally low platelet levels in the blood. The latter is unusual in someone with a major blood clot because platelets are colorless blood cells that have the function of helping blood clot.
The article, which quotes several medical experts, described the blood clots in vaccinated people as "quite unusual" and "surprising". The article furthered that the fact sheet released by the Food and Drug Administration has emphasized that the risks of the virus are greater than the risks of the J&J vaccine, adding that the risk of blood clot is very low and is likely to occur within two weeks after getting vaccinated.
Conclusion
Based on our check and research conducted, incidents of blood clot in people who take the J&J Covid-19 vaccines are very rare. Medical experts say the risk of this adverse event (blood clot) is very minimum compare to the benefits of taking the Covid-19 vaccine.
In fact, the data show that out of the 17 million people that have taken the J&J vaccine in the United States, there were 54 cases of blood clots out of which 36 persons recovered and at least nine persons died. This means only a small number of people were seriously affected by the blood clots as compare to the number of people that took the jab and this was principally because these individuals had health condition that was triggered when they got vaccinated.
Based on some of the reasons why blood clot may occur, we conclude that even though there are incidents of blood clots, it happen at a very small scale. Therefore, we conclude that the article published by the Kenyan online news is an exaggeration of the real situation.
---
You may contact us to fact check any claim or information relative to Liberia. Contact us on:
Factcheck.localvoicesliberia@gmail.com or  WhatsApp: +231880986778
---