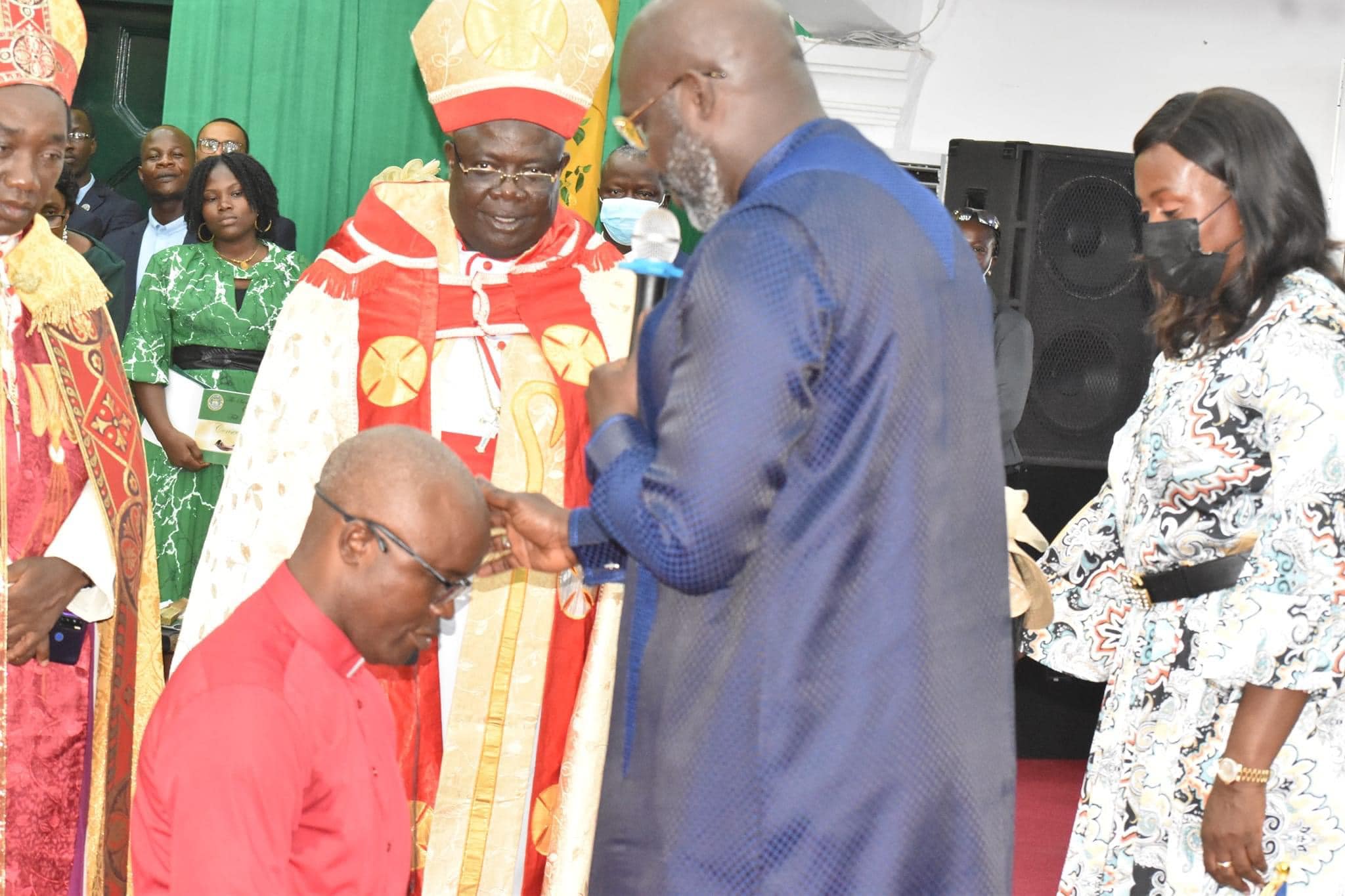 Paynesville – On Sunday April 24, 2022, at the Restoration Baptist Ministries Inc. located in Congo Town, there was an array of Bishops from the United States, Togo, Nigeria and Liberia who attended the coronation of the General Overseer of the church — Reverend Joseph Gardea Johnson.
---
Report By: Jerry Gaye | LVL Fact Checker
---
After the coronation program, images of the clergyman showing him kneeling before President Gorge Weah circulated on social media with some Facebook users criticizing prelate for kneeling before the Liberian leader.
The Facebook users claimed that Bishop Johnson was ordained and anointed by President Weah, who they claimed is not fit to perform such religious rite.
But a careful review of the video footage of the ceremony by Local Voices Liberia Fact Checking Desk shows that the President was called upon by the officiating Bishop Emmanuel Musa Jatau of the Faith Hill Prophetic Ministries of Nigeria to lay hands on Rev. Gardea Johnson before his (Rev. Johnson) coronation as Bishop.
At the 01hr:50min:34sec of the video the Archbishop Jatau said: "Before we begin the consecration, Daddy (George Weah) will lay hands on the bishop-elect while Mamie (Clar Weah) will lay hands on the wife."
The archbishop asked Rev. Johnson to go down on his kneel to allow President Weah to touch him.
---
---
President Weah then made a brief remark: "I am glad to be here; God is the ultimate. Through your wisdom by the grace of God on me to touch my foster brother; we pray that my foster brother will do the work of God."
President Weah then touched the shoulders of Bishop Johnson and then his head and added, "May God bless you reverend Gardea, thank you".
Conclusion
From a careful review of the video, we found out that Bishop Joseph Gardea Johnson knelt before President Weah based on instruction of Visiting Bishop Jatau. This occurred before the coronation of Rev. Johnson as Bishop.
Therefore, we conclude that the photographs circulating on social media showing the newly ordained Bishop kneeling before President Weah is correct. However, the purpose for kneeling before the president was not for him to be coronated as Bishop.
---
You may contact us to fact check any claim or information relative to Liberia. Contact us on:
Factcheck.localvoicesliberia@gmail.com or  WhatsApp: +231880986778
---