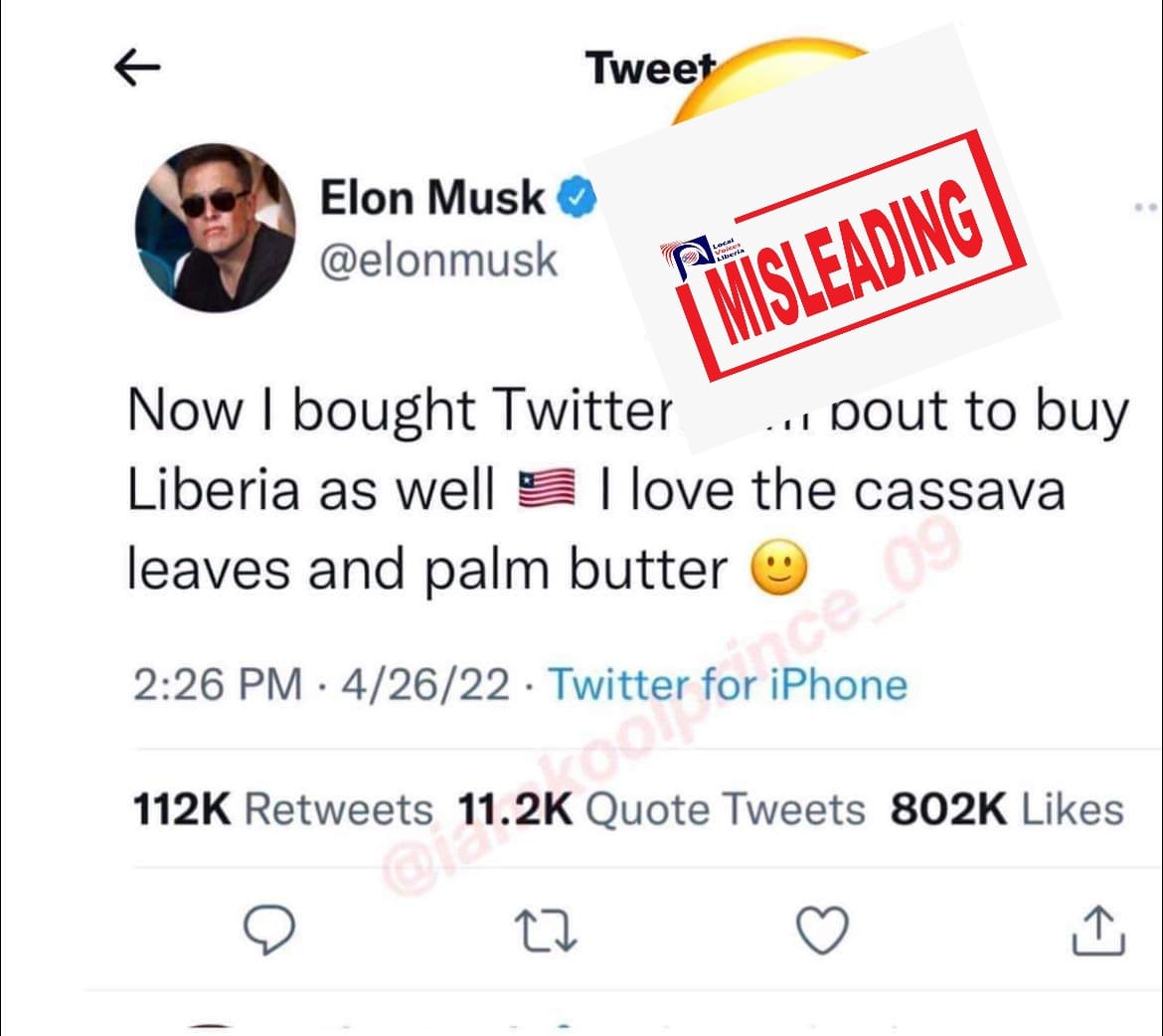 Monrovia – A screenshot of a purported tweet claiming to have been made by the world's richest man Elon Musk is being spread on Facebook in Liberia. It claims that Mr. Musk is "bout to buy Liberia". The tweet surfaced following his purchase of Twitter on April 25, 2022.
---
Fact Check By: Varney Kelvin Sirleaf | LVL Fact Checker
---
A screenshot of the purported tweet shows that it was made on April 26, 2022, at 2:26pm. It reads: "Now I bought Twitter. I'm bout to buy Liberia as well I love the cassava leaves and palm butter".
This screenshot was also shared by Moriah Yeakula, a popular political figure and social media user in Liberia, on April 28. Her post generated dozens of comments made in jest about the topic of buying Liberia.
But did Mr. Musk make any tweet of sought? LVL checked and found that no such tweet was ever made by the world's richest man about Liberia.
What did we Find?
A careful review of Musk's official Twitter account since his US$44 billion takeover of the tech company shows that he made 24 tweets from April 25 to May 1 – this period includes the time the purported tweet was made. However, none of his tweets carried a message about buying Liberia as claimed in the screenshot making rounds on Facebook.
Throughout our search for the purported tweet on Musk's Twitter account, we did not find any comment and did not see any notification that a tweet was deleted from Mr. Musk's account.
What Did Mr. Musk Say?
The attribution of false tweets to Mr. Musk since his acquisition of Twitter has prompted his subtle reaction. One tweet falsely attributed to Musk claimed that he was going to buy a popular fast-food company. The inscription on the false tweets attributed to his Twitter account reads: "Now I'm going to buy McDonald's and fix all the ice cream machines".
---
---
But On April 28, 2022, Mr. Musk also shared a screenshot cautioning his followers. He tweeted: "Listen, I can't do miracles ok". The screenshot he tweeted about his purported plan to purchase McDonald was also never made by him.
Conclusion
Based on our review of the screenshot claiming that Elon Musk wants to buy Liberia and a careful search on Mr. Musk's twitter account where we found no such tweet, we conclude that the tweet is false. It was likly created as a meme but may also be used to mislead users of Facebook.
---
You may contact us to fact check any claim or information relative to Liberia. Contact us on:
Factcheck.localvoicesliberia@gmail.com or  WhatsApp: +231880986778
---


The claim is rigorous and the content is demonstrably true.
The statement is correct, although it needs clarification additional information or context.
Evidence publicly available neither proves nor disproves the claim. More research is needed.
The statement contains correct data, but ignores very important elements or is mixed with incorrect data giving a different, inaccurate or false impression.
The claim is inaccurate according to the best evidence publicly available at this time.
Upon further investigation of the claim, a different conclusion was determined leading to the removal of the initial determination.
A rude, disrespectful, or unreasonable comment that is somewhat likely to make you leave a discussion or give up on sharing your perspective. Based on algorithmic detection of issues around toxicity, obscenity, threats, insults, and hate speech;