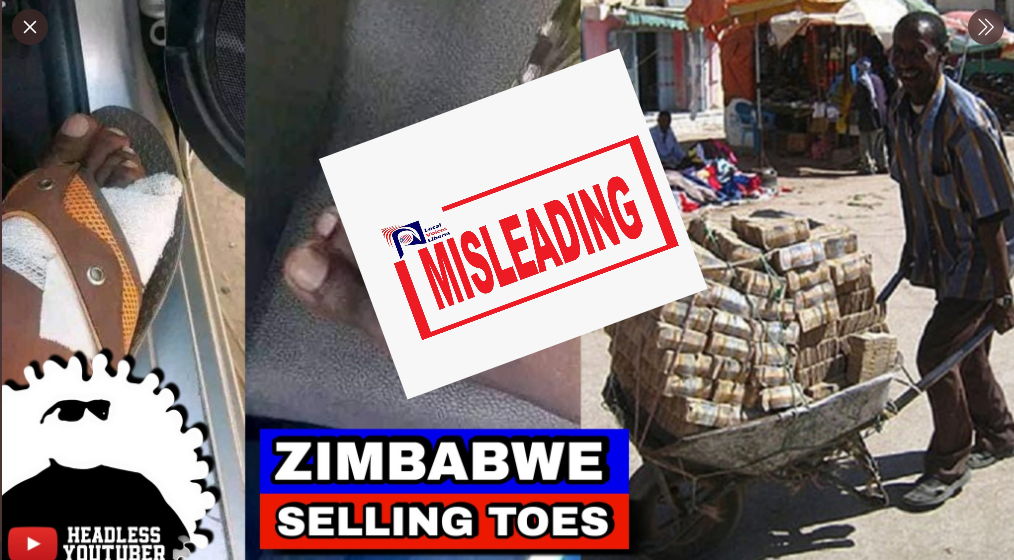 Paynesville – For the past weeks, social media platforms here in Liberia and across Africa have been flooded with claims that Zimbabweans are selling their toes for huge sums of money. One of the social media posts made by a popular Liberian sports journalist, T. Kla Wesley, Jr. on May 31, 2022, claimed that "people in Zimbabwe have started selling their toes due to the high cost of living and failure for the government to create jobs."
---
Fact Check Report By: Jerry Gaye | LVL Fact Checker
---
The post, which generated 716 comments and 169 shares, claimed that "the big toe is being bought for US $40,000 dollars while the smaller one is being bought for US $20,000."
Another post by a Facebook blog named Morning Gees, reads: "Nigerian man, known as Kayode Shobiye had traveled Zambabwe to sell his toes. Report says that the big toe is sold for US$40,000 and the small toe is sold for US$20,000. Kayode has sold all of his toes from one of his feet. After selling his toes, the Nigerian man purchased luxurious cars. In total, Kayode had gotten US$120,000 N$48million."
Elsewhere, another Facebook account Zambian News also posted a video with text: "in Zimbabwe, people have started selling their toes for thousands of dollars."
What We Found?
After coming across these claims making rounds on social media, Local Voices Liberia Fact Checking Desk decided to verify. We carefully followed credible news media reports in Zimbabwe and social media posts on the issue and found the claim to be false.
News reports in Zimbabwe disclosed that Police in the country were investigating possible trafficking of human body parts, following reports that people are selling their toes in exchange for riches to people who use them for ritualistic purposes, Bulawayo 24, an online news claimed.
LocalVoicesLiberia Fact Checking Desk reviewed a number of posts, photos, and videos. These comments depicted that Facebook users were making jokes and jest out of the information.
Although there is no credible media outlet that has provided evidence of people trading their toes for money in Zimbabwe, a local Newspaper, H-Metro claimed in its  May 31, 2022 edition that a "Dealer confirms toe trade". However, an initial fact check by Fact Check Ghana found that the online news did not provide any further evidence about the claim.
The Zimbabwean government announced that the claims were a hoax and are being spread to tarnish the country's image, Nigerian online platform, Paradise News reported on June 8.
It quoted Zimbabwe Minister of Information, Kindness Paradza as saying: "As a government, we researched the issue, and we realized that it is false. These social media reports are aimed at tarnishing the country's image".
Prankster Arrested
The man who said he was buying human toes claimed that he was making a prank – an act ment to deceive another person or persons. On June 7, 2022, David Kasege was arrested and was sent to court in Harare — the capital of Zimbabwe.
Keseke, who has been charged with "criminal nuisance",  said claimed that he was "drunk and joking" when he made the claim, according to News24 – a major news online news in South Africa.
Conclusion
 After a careful review of all the posts, photos and videos making the rounds on social media, and relying on credible news media, we conclude that there's no evidence supporting the viral claim that Zimbabweans are selling their toes for cash due to high cost of living. We conclude that the claim is false and that the man who said he was buying human toes was a prankster.
---
You may contact us to fact check any claim or information relative to Liberia. Contact us on:
Factcheck.localvoicesliberia@gmail.com or  WhatsApp: +231880986778
---


The claim is rigorous and the content is demonstrably true.
The statement is correct, although it needs clarification additional information or context.
Evidence publicly available neither proves nor disproves the claim. More research is needed.
The statement contains correct data, but ignores very important elements or is mixed with incorrect data giving a different, inaccurate or false impression.
The claim is inaccurate according to the best evidence publicly available at this time.
Upon further investigation of the claim, a different conclusion was determined leading to the removal of the initial determination.
A rude, disrespectful, or unreasonable comment that is somewhat likely to make you leave a discussion or give up on sharing your perspective. Based on algorithmic detection of issues around toxicity, obscenity, threats, insults, and hate speech;